Many reasons to show your FIU pride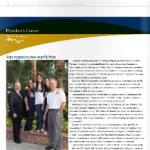 By Mark B. Rosenberg
I recently had the pleasure of meeting Stephanie, Michelle and Kristen Ferrare, triplets who graduated from Our Lady of Lourdes Academy in Miami and started classes at FIU this fall. The Ferrare sisters are just three of the many students who have put their faith in FIU to give them a cutting-edge, 21st century education that will provide them with the tools they need to compete in the global marketplace.
Close to 150,000 students have likewise entrusted their education to FIU over the past four decades and thousands of hard-working students, the best and the brightest, continue to enroll at our university, confident that an FIU degree is their key to success.
I am proud to lead an institution that has played such an important role in transforming lives. Every member of the FIU family – students, alumni, faculty, staff, family and friends – should be proud as well.
We have so many reasons – just look at FIU alumna Carmen Reinhart '78, who was recently featured in The New York Times for her pathbreaking research. Her latest book, This Time is Different, (co-authored with Kenneth Rogoff), is a highly acclaimed examination of the history of economic crisis and collapse. The Times called her "…the most influential female economist in the world."
Or look at how Garrett Wittels, a top student and athlete, put FIU in newspapers, television and computers across the nation last spring as he pursued the NCAA Division I hit streak record. During an incredible season in which our baseball team won the Sun Belt Conference Championship, Garrett racked up an amazing 56-game streak. I hope to see all of you in the baseball stands next season as he continues to chase the record!
I encourage everyone who loves FIU as much as I do to show your pride.
Tell your FIU story! Tell the story of how the great education you received at FIU prepared you for a competitive career. Tell the story of how an FIU education impacted the life of a loved one. Tell the story of how working at FIU has empowered you to make a difference. Tell the story of how a professor made a difference in your life.
Show your pride! Buy an FIU license plate and show this community that FIU is thousands strong. Wear your FIU t-shirts and hats. Encourage the stores in your neighborhood to carry FIU gear.
Live as a proud FIU Panther! Join our Alumni Association. If you are already a member, become a lifetime member! Participate in the many events we have on our campuses – games, lectures, exhibits, and performances. Pantherize your business.
Homecoming is a great time to come back to FIU and see how much we've grown. We're planning Homecoming celebrations from Nov. 1 to Nov. 6 that will be bigger and better than ever. I want to see you back on campus and I want to see you on Nov. 6 cheering our Panthers to victory during our Homecoming football game.
Join me in sending a message about how proud we are of our university! Go Panthers!