10 questions for award-winning costume designer Caroline Spitzer '12
August 22, 2012 at 12:00am
---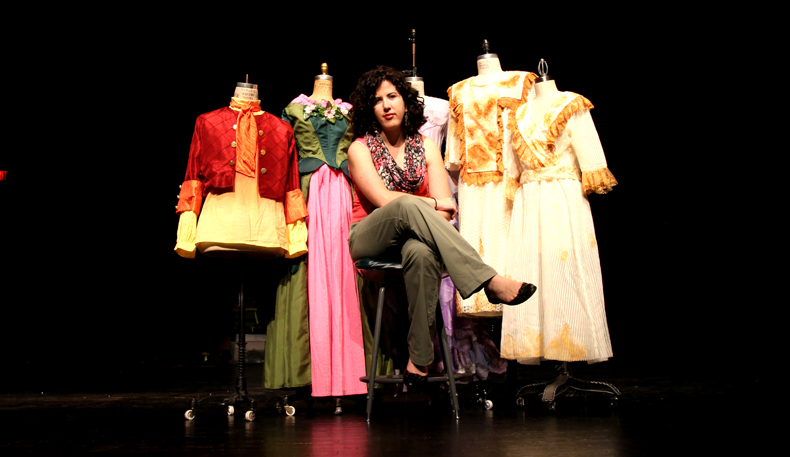 Caroline Spitzer '12 graduated in May with a bachelor of fine arts in theatre with a focus on costume design. An Honors College graduate, she was recognized as one of the top college costume designers in the nation by the Kennedy Center American College Theatre Festival for the costumes she designed for FIU Theatre's Fall 2011 production of The House of the Spirits. FIU Magazine writer Marianela de Armas '02 sat down with her to get her thoughts on Roary,
 Lady Gaga and Halloween.
1. If given the opportunity, what costumes would you design
for Roary?
Roary definitely needs more outfits. I think it would be fun to model him after celebrities, like Roary Elvis or even Roary Kanye.
2. Did you always want to be a costume designer?
I actually intended to become a pastry chef, but something about it wasn't settling right with me, so I changed my major to theatre and here
 I am four years later.
3. What is your favorite fabric?
Silk dupioni. It's expensive, but absolutely fantastic because it resists wrinkles and has a tendency to take creases very well, which gives the final product a crisp look.
4. Tell us about your experience at the American College Theatre National Festival.
Participating in this festival at the national level was definitely an honor. I feel I am now part of this elite group of costume designers that have had this amazing opportunity. At the festival, I took master classes with professional designers from across the country. Having my work reviewed and getting that one-on-one feedback was the most important part of this experience.
5. What is your creative process?
In an academic setting you get the luxury of time. For example, with The House of the Spirits, I read the script four times and read the novel before I began sketching. In the professional world, you have to start designing right away.
6. During this process, do you ever look at costumes from other productions?
No. I don't want to be influenced. But, I do look at them after the show is over.
7. If you could, for a moment, imagine Lady Gaga's costume closet. What would you recommend she wear next?
Actually, I wouldn't recommend a costume at all. I think she should perform in regular clothes and shock her fans and critics.
8. Your thoughts on Halloween?
Halloween is my favorite holiday! last year I was Rosie the Riveter and the year before I was one of the toddlers from the TV show, Toddlers
& Tiaras.
9. Normally we wouldn't ask, but in this case we feel it's appropriate what is your favorite color?
Apple green.
10. Do you judge what people wear?
I do notice. I'd actually like to ask you a couple of questions about 
your outfit.   ♦