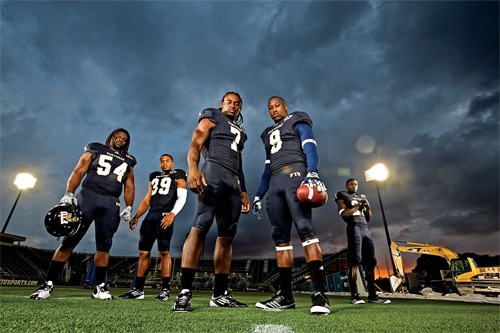 Sports writer Pete Pelegrin '96 chronicles the first decade of FIU football and takes a look at how the Panthers built their Cage.
FIU football opens the home schedule of its 10th anniversary season on Sept. 8 against Akron at a newly enclosed FIU Stadium. The upgrade completed over the summer marks a major development for FIU fans, putting the Cage at 20,000-plus seats. Coming off its second consecutive bowl appearance, FIU aspires to continue its rise to the upper echelon of college football in 2012 with its highest-rated signing class and the largest senior class in the team's history.
The Panthers return 10 of 11 starters from the No. 14 scoring defense in the nation. Record-breaking running back Kedrick Rhodes aims at another 1,000-plus rushing yards season for the FIU offense behind the senior-laden offensive line led by Rupert Bryan. All-Sun Belt Conference senior defenders Johnathan Cyprien and Tourek Williams anchor the tenacious Panthers defense. Defensive backs Jose Cheeseborough and Sam Miller lead the secondary.
This will also be FIU's last season in the Sun Belt Conference. Starting in 2013, FIU will be part of Conference USA. The move will introduce FIU football to a new audience, opening new bowl opportunities and expanding FIU's reach to markets like Houston, New Orleans and Charlotte.
The 2012 season provides an interesting point in the history of FIU football to reminisce and peek into the future. The 10th anniversary is an opportunity to look back on how far FIU football has come. In the span of one decade, fans witnessed:
A sparkling inaugural game – a 27-3 defeat of St. Peter's in front of a sold-out crowd at old FIU Stadium
The Panthers' leap from Division I-AA Independent to Division I and the Sun Belt Conference and, eventually, Conference USA
A change in head coaches
Four players drafted into the NFL: T.Y. Hilton in 2012, Anthony Gaitor in 2011, and Antwan Barnes and Chandler Williams in 2007
FIU closing the doors on the venerable Orange Bowl with a resounding win over North Texas and ending the then-nation's longest losing streak at 23 games
The dazzling career of the electric Hilton, selected in April by the Indianapolis Colts in the third round of the NFL Draft
The program's first conference championship in 2010
Two bowl appearances: against Toledo in the Little Caesars Pizza Bowl and versus Marshall at the Beef 'O' Brady's Bowl
With the continuous infusion of talented players, a relentless coaching staff, an improved FIU Stadium and the promise of a new conference, fans eagerly await the new season. However, before the new season begins, it's time to look at the first 10 years of FIU football, as well as the building years that made the inaugural 2002 season possible.
1998: The early years
The beginning of FIU football came to light in the blue sky above the Orange Bowl Oct. 10, 1998. As Florida State and Miami battled it out on the field below, a plane above trailed a banner reading: "FIU Football…Still Undefeated."
A year earlier, then-FIU President Modesto A. Maidique appointed a task force to investigate the possibility of FIU football.
In the days following the plane's flight, former FIU Alumni Director Eddie Hondal '88, MS '00, said FIU got the response it had hoped for: "We got a ton of calls from alumni excited about how they could help create the football program." T-shirts were printed with the catchy slogan, "FIU Football…Still Undefeated" and handed out around campus.
And so it began.
2000: The First Coach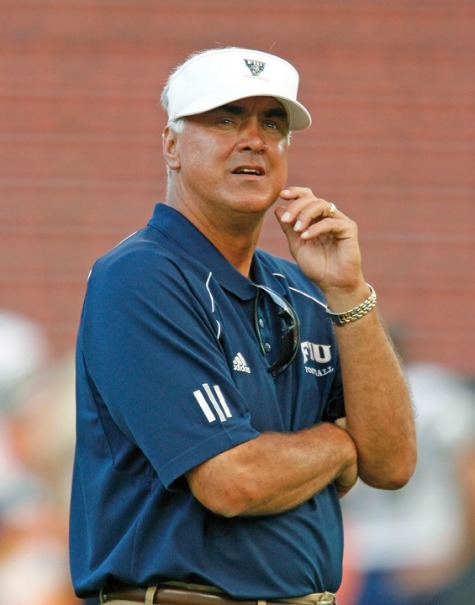 In September 1999, FIU hired former Miami Dolphins quarterback Don Strock as its director of football operations. The university and Strock consulted with Miami Dolphins coaching legend Don Shula and community leaders about how best to establish the new program.
More than eight months later, on May 17, 2000, the Florida Board of Regents approved the establishment of Division I-AA football at FIU, to begin competition in 2002. FIU football was a reality.
"For years I attended chamber of commerce meetings, board of directors events and university functions, and more than any other question, I was asked, 'When will we be able to cheer for an FIU football program?'" Maidique said. "I was very happy when I was finally able to answer that question with an actual date."
FIU had 24 months to field a team and hire a head coach.
Immediately after the Board of Regents gave the green light to FIU, Strock left the Gainesville meeting, changed into coach's garb in a McDonald's bathroom and traveled to Kissimmee to see FIU's first recruit and eventual first signee: Poinciana High quarterback David Tabor '05, MS '07.
Strock was named FIU's first head coach Sept. 13, 2000. He and assistant coaches Bruce Hardy and Carmen Grosso spent the next two years sharing an office with one telephone and one computer, building a program from the ground up.
Nearly one year later – Aug. 27, 2001 – Strock led FIU's first football practice. "That first year, anybody that called and we knew played high school ball, we got them," Strock said. "It was quite a group."
With the on-campus football facilities being built, the team practiced the entire 2001 season on the university's intramural field. They wouldn't face an opponent for another year, but the players didn't care.
"We would stretch and there were ant piles everywhere and lines wouldn't be straight," recalled former FIU defensive back James Knapp '05, MS '08. "But it's funny. We didn't complain because we were happy to just play football."
"It was the hardest year coaching you could possibly have," Strock said. "There were no real rewards for the team. So we tried to do things to lighten it up, like if a kicker made a certain amount of field goals there would be no gassers."
That year, FIU signed its first highly touted recruit, Sarasota quarterback Jamie Burke, who chose FIU over Florida, when former Gators coach Steve Spurrier left to coach the Washington Redskins.
2002: The Inaugural Game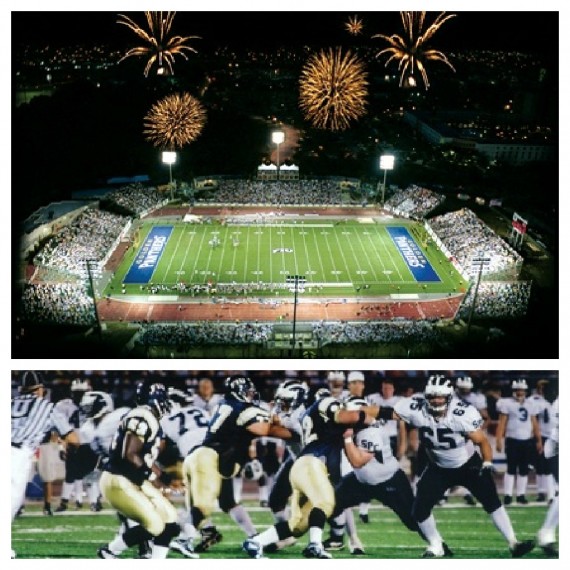 In October 2001, FIU announced its schedule. The inaugural game would be played Aug. 29, 2002, at home against St. Peter's. The university was busy getting FIU Stadium ready, installing 10,000 temporary end-zone bleachers and laying down new AstroPlay field turf. Some players asked for scrap pieces of the turf.
"We put some of it as carpeting in our dorm rooms," recalled former defensive back Kevin Timothee '07, who went on to become the first FIU player to sign with an NFL team – the Tennessee Titans in 2005. "Late at night, we would sit at the stadium and envision making plays. It's something that we dreamed about. We really loved being part of an inaugural college football team."
On that late August night in 2002, FIU Stadium was alive with the sights and sounds of a sold-out crowd wearing blue and gold. Former Dolphins quarterback Dan Marino was in attendance. Fireworks lit up the night sky.
In front of a statewide television audience, FIU prevailed, 27-3, in impressive fashion.
FIU Football (1-0)…Still Undefeated.
Burke, who threw the most touchdown passes that season (14) by a freshman in Division I-AA, recorded the first touchdown in program history with a 5-yard scoring pass to running back Jerrid Lundstedt midway through the first quarter.
"It was an electric and historic night," said Roberto Valcarce '89, an alumnus and FIU sports fan for more than 25 years. "I mean, how many people can actually say they literally saw the program's birth? I was there."
The team would finish the season 5-6. FIU's final game was a 31-21 loss to Florida Atlantic in the first annual Don Shula Bowl.
The Panthers went a combined 5-17 the next two seasons.
2005: Move to Division I-A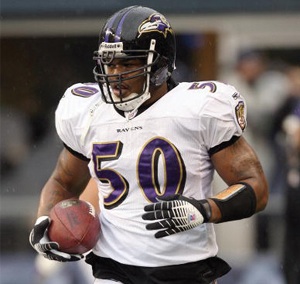 FIU and rival FAU joined Division I-A in 2005. Already competing in the Sun Belt Conference in other sports, both football teams joined the SBC.
The Panthers got off to a slow start that season with a 2-6 mark. The team achieved its first Division I-A victory at ULM on Nov. 5 with a 31-29 triumph. The team finished the season strong, matching its best season record of 5-6.
Entering the fifth season of FIU football in 2006, many thought the Panthers would contend for the SBC title. FIU had an experienced offense and a speedy defense led by Antwan Barnes. The future Baltimore Ravens and current San Diego Chargers defender would finish the 2006 season leading the nation in tackles for loss.
Said Paul McCall '08, MS '10, the backup quarterback that season, "The expectations were very high considering the progress that had been made the year before."
Success proved elusive. The Panthers lost the first four games of the season by a total of 11 points. The team fell to 0-6 after a seven-overtime, 25-22 loss to North Texas.
Pete Garcia, a former executive with the Cleveland Browns, was hired a week later as FIU's new athletic director. He joined FIU Athletics the week before FIU faced off against cross-town rival UM. The tense game unraveled when UM took a 14-0 lead midway through the third quarter. After an extra point attempt, emotions boiled over. Both teams' benches emptied onto the field before order was restored.
In the aftermath of the brawl with UM, FIU suspended 18 players indefinitely, including 11 starters. The team could not recover from its 0-7 start and the suspensions. In early November, Strock resigned. He coached the final four games of the season as FIU finished 0-12.
2007: Cristobal Era Begins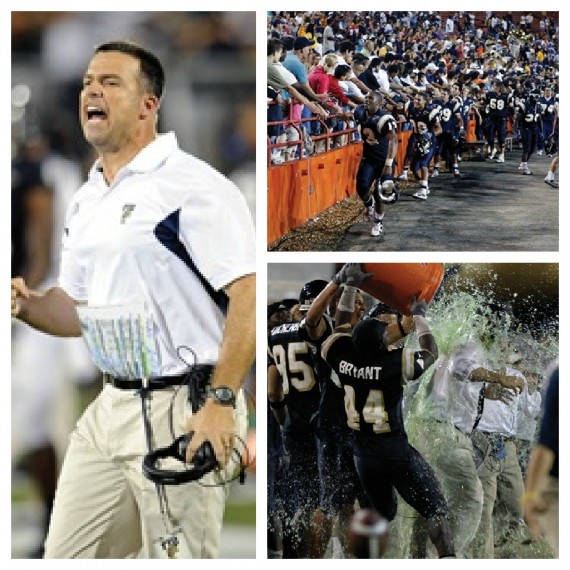 Renewed hope came with the hiring of Mario Cristobal as head coach. A tireless recruiter with a keen eye for talent, the former UM assistant coach brought a relentless work ethic to FIU. For Garcia, the decision to hire the young coach was an easy one.
"Knowing that I was getting a coach that knows football and was regarded as one of the best recruiters in the country and was familiar with the area was actually an easy decision," he said.
Cristobal's first season at the helm of FIU football was challenging. The Panthers lost their first 11 games. FIU played its home games in the Orange Bowl because FIU Stadium was being rebuilt along with construction of a field house that included a weight room worthy of a Division I-A program.
It wasn't just the facilities that needed building. Losses of 59-0 to Penn State, 55-3 to Kansas and 47-6 to Middle Tennessee showed the program needed to be built as well. FIU went into the final game of the 2007 season riding the country's longest losing streak of 23 games. It was to be the final college football game played in the historic Orange Bowl, which would eventually be demolished to make room for the Miami Marlins' new ballpark.
The season finale against North Texas was magical. The Panthers manhandled the Mean Green, 38-19, snapping the lengthy losing streak and sending the Orange Bowl out in style.
"That night was special for many different reasons," said McCall, who threw three touchdowns in the game. "The fact we snapped a two-year losing streak meant a lot to our program. The venue being the Orange Bowl and being the last collegiate game played there makes it all the more memorable. I still remember the celebration after the game – it was as if we had won a championship."
2008: T.Y. Hilton becomes a Panther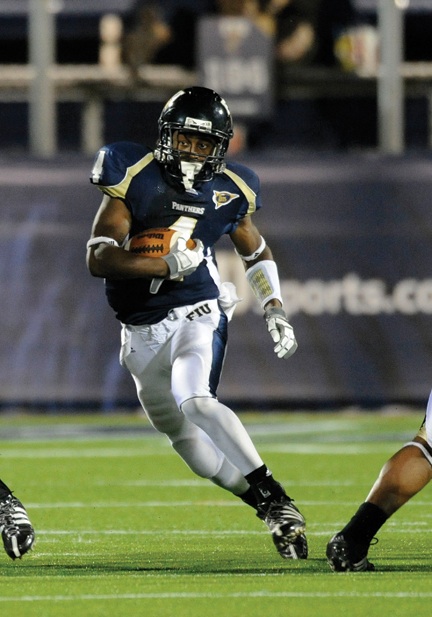 The FIU record books would be rewritten the following season with the arrival of highly touted freshman receiver T.Y. Hilton.
That season, FIU Stadium opened with a seating capacity of nearly 20,000 and the two-story R. Kirk Landon Fieldhouse, complete with a weight training center for all FIU athletes, coaches' offices, meeting rooms, new locker rooms and a stadium club. The 2008 team embraced the renewed enthusiasm for FIU football, tying the program's season record for most wins.
After signing his letter of intent with FIU, Hilton told Cristobal that he would score a touchdown the first time he touched the ball. Sure enough, the first time he touched the ball in competition – against Kansas – Hilton returned a punt 74 yards for a touchdown.
"It was just a feeling I had," Hilton said of his signing-day promise. "When I reached the end zone, it hit me. I thought, 'I just did what I said I was going to do.'"
Hilton went on to set FIU single-season records for receiving yards (1,013), average yards per reception (24.7) and all-purpose yards (2,162).
Miami Northwestern High defensive back Anthony Gaitor '11 was another highly regarded recruit signed by Cristobal.
"I would call these guys hybrids," former FIU linebacker Scott Bryant said of his new teammates at the time, "because they can do a little bit of everything."
With a tough, non-conference schedule to start, FIU began the 2008 season 0-3 but picked up steam with the program's first Division I non-conference win – a 35-16 triumph at Toledo. After a 22-21 nail-biting victory over Arkansas State, FIU was 4-5 and in position to become bowl-eligible for the first time in program history.
A loss to ULM the following week dropped FIU to 4-6, but the team was still within reach of the necessary six wins when it ventured to Dolphin Stadium to take on FAU in the Don Shula Bowl. What ensued was a classic – a 57-50 FAU overtime win that saw the teams combine for more than 1,000 yards of offense, had several lead changes and ultimately knocked FIU from bowl contention.
FIU finished the season 5-7; Hilton became the program's first Freshman All-American; and the Sporting News named Cristobal Coach of the Year.
In 2009, the Panthers were hit with a rash of injuries, and they still lacked quality depth. The team struggled to a 3-9 mark. The highlight of the season came in a sweltering Halloween noon game against Louisiana. In overtime, FIU got a field goal from Dustin Rivest, stellar defensive play by linebacker Tyler Clawson '09 and a field goal block by precocious freshman defensive end Tourek Williams to seal the 20-17 victory.
2010: The First Bowl Game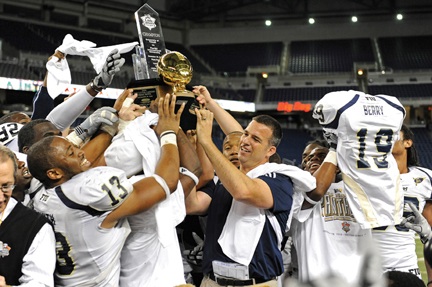 The Panthers began their 2010 season 0-4, and one of the losses was particularly tough. FIU raced to a 20-6 lead at national power Texas A&M and throttled then-Heisman Trophy candidate, quarterback Jarrod Johnson, sacking him six times and forcing four interceptions. A&M rallied in the fourth quarter, winning 27-20.
The road to the team's first conference championship and first bowl game began two weeks later with the first win of the season – a thrilling 28-21 triumph over WKU at FIU Stadium.
After a stinging defeat to FAU dropped FIU to 2-5 on the season, the Panthers dug deep. Hilton scored four touchdowns in three different ways (kick return, receiving and rushing) and made a game-saving tackle to spark a 42-35 double overtime win over ULM. Hilton and Darriet Perry scored rushing touchdowns in overtime to lead FIU to victory.
The season-defining victory came the following week when the Panthers beat perennial Sun Belt champion Troy for the first time. En route to their 52-35 thrashing of the Trojans, FIU racked up a program-record 448 rushing yards and a program-record 668 total yards of offense. Three FIU rushers – Perry, Hilton and Darian Mallary – each tallied more than 100 yards rushing. The victory was so physical, and so dominating, that Troy's best receiver Jerrel Jernigan said, "FIU came in here and point blank kicked our asses."
An easy win over Louisiana the following week set up a potential Sun Belt Conference championship-clinching game versus Arkansas State at FIU Stadium. The Panthers had only one win all-time against the Red Wolves, back in 2008. The 2010 game would be close.
Tied at 24-24 with less than two minutes to play and the Panthers inside Red Wolves territory, Hilton caught a short pass from quarterback Wesley Carroll '11. FIU receiver Wayne Times delivered a crushing block to give Hilton just enough room to go 42 yards for the game-winning, conference championship-clinching touchdown. FIU won 31-24 and walked off the field Sun Belt Conference champions.
The historic conference title assured that FIU would play in a bowl game for the first time in program history.
FIU received a bid to the Little Caesars Pizza Bowl against Toledo. The game was the day after Christmas in snowy Detroit, but nobody was complaining. Why would they? It was an indoor game at Ford Field, and FIU would be playing in front of a worldwide ESPN audience. It was the only televised football game that night.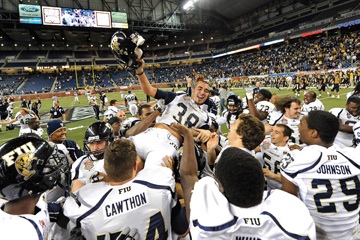 The first bowl game did not start as FIU envisioned. The Panthers trailed the Rockets, 24-7, in the third quarter. Team captains Hilton and linebacker Toronto Smith '11 were tired of the sloppy, tentative play.
On the sideline, Smith challenged Hilton to make a play. Hilton challenged Smith and the FIU defense to stop Toledo. Before lining up for a kickoff return in the third quarter, Hilton told Smith, "Watch me return this kickoff for a touchdown."
Eighty-nine yards later, Hilton scored, narrowing the Rockets' lead to 24-14. The FIU defense stepped up, with safety Kreg Brown intercepting two passes. Pizza Bowl Defensive MVP Jarvis Wilson recorded two sacks.
The teams traded leads. FIU faced 4th and 17 from its own 41 with a little more than 30 seconds left. They were down, 32-31. That's when "The Motor City Miracle" happened.
Carroll connected with Jacob Younger on a 9-yard pass, Hilton trailed Younger on the play. Younger flipped the ball to Hilton, who tiptoed eight yards down the sideline, picking up the first down and keeping FIU's hopes alive.
Three plays later, with 4 seconds left on the clock, Jack Griffin split the uprights with a 34-yard field goal to give FIU a 34-32 victory and its first bowl championship.
2011: Record-winning season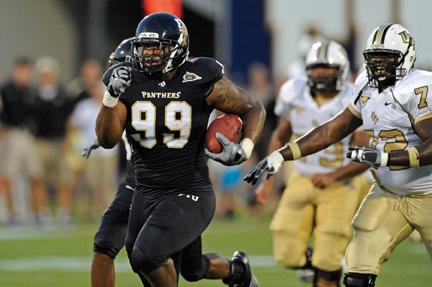 FIU got off to a rousing start in 2011, winning its first three games. Among those contests was a landmark 24-17 victory against Louisville before a worldwide ESPN audience. It was FIU's first victory against a BCS opponent. FIU's defense sacked Cardinals quarterback Will Stein six times and linebacker Winston Fraser returned an interception for a touchdown. Hilton dazzled with 201 receiving yards and two touchdowns.
The following week the Panthers stuffed cross-state rival Central Florida in front of a sold-out FIU Stadium. Again the FIU defense recorded six sacks and defensive lineman Isame Facianereturned a fumble 51 yards for a touchdown in the 17-10 triumph.
For the second consecutive season FIU became bowl-eligible. The Panthers achieved the feat after thrashing FAU 41-7 in Don Shula Bowl X, taking back the coveted Don Shula Trophy after it resided in Boca Raton the past five years.
In his final home game as a Panther, Hilton gave those in attendance another moment to remember. Pinned back on the FIU 3-yard line, Hilton caught a punt and sprinted 97 yards for a touchdown, giving the team a 31-0 lead it would not relinquish.
Two weeks later, FIU achieved another milestone in its young program. By defeating Middle Tennessee, 31-18, the Panthers recorded their eighth win of the regular season – the most wins ever in a regular season in the history of the program. Less than a month later, the Panthers would be in their second bowl game against Marshall at the Beef 'O' Brady's Bowl in St. Petersburg.
A version of this story first appeared in the Sun Belt Conference Football 10th Anniversary book.