Alumni couple makes wine with big personality at JC Cellars Winery
Jeff and Alexandra Cohn made their way to the top echelons of the wine world with pluck and talent.
---
By Deborah O'Neil MA '09 | Photos by Eduardo Merille '97, MBA'00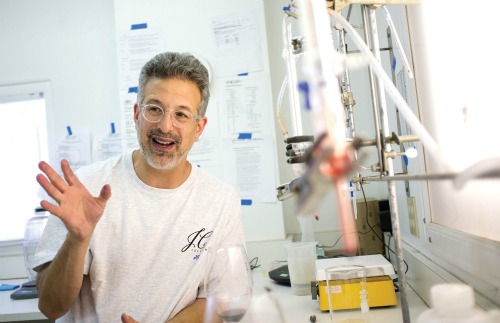 On a Sunday afternoon at the end of harvest,  JC Cellars owner and winemaker Jeff Cohn '84 is talking about wine. With him, it's easy to see just how much wine can express the personality of its maker.
"With cabernet you have to dress up in a jacket and tie. With zin and syrah you run around naked and free," he says with a grin. "Syrah, petite syrah, marsanne, grenache are all very romantic."
This is no stuffy lecture on the secrets of the cellar. Cohn sprinkles the conversation with words like "sexy" and "exciting" to describe wine. He uses grape-stained fingers to point out the big fermenting tank that they call "the hippo."
It's not hard to imagine why his mentor and fellow winemaker Pam Starr jokes that Cohn is "not allowed in the suit club." Cohn's wines – lively Rhône varietals and opulent zinfandels that regularly earn 90+ ratings – are bursting with joie de vivre.  Wine Spectator has named JC Cellars one of the top California zinfandel producers and given Cohn the title of Zinfandel Specialist.
"He's known for his zinfandels and zany left-field varieties. It's just appropriate for Jeff," Starr says. "He has an enthusiasm and zest for winemaking that I rarely run across."
Cohn and his wife Alexandra Cohn MS '87, a fellow hospitality graduate, opened JC Cellars in 2005 as an urban winery in Oakland, Calif. They are successful entrepreneurs in a highly competitive industry, combining her business savvy and his artistic vision with a lot of hard work. Owning a winery means wakeup calls before dawn to check on fermenting grapes, hours on the road visiting vineyards, business trips around the country and the risk that comes with depending on Mother Nature's generosity.
An accountant with a background in hotel and winery consulting, Alexandra runs the business side of JC Cellars. She travels for the winery, "eating my way across America," she jokes, managing business relationships and public relations. "There are tons of fabulous people in the wine industry," she says. "I'm really proud to say those people are my friends. You have a growing, close-knit community."
The serious work of making a mark in the wine industry seems to have done little to diminish Cohn's irreverence. A few years ago, the winemaker promised to dye his hair purple if he received a score of 95 or above on any JC Cellars wine. He got two, a 95 from  Connoisseurs' Guide for his Fess Parker 2005 Syrah and a 96 from  The Wine Advocate for the Philary Syrah.
The winemaker made good on his promise, posting the proof online and noting, "It won't wash out. I still have some pink highlights."
An irresistible calling
Neither of the Cohns was born into the wine world. Pluck and talent got them there.
Although both attended FIU, they met after graduating during an orientation at the Hyatt Regency Crystal City in Virginia. Alexandra was an accounting trainee and Jeff was the food and beverage cost controller for the large convention hotel. Alexandra even remembers the day they met: June 3, 1987.
Their leap into the wine industry didn't come for years, although wine seemed to beckon Cohn everywhere he landed, starting with FIU.
Cohn took his first wine class at FIU and remembers tasting two wines in David Greer's class that got him excited: a Ridge Fiddletown Zinfandel and a Châteauneuf-du-Pape. "They had so many layers and were so complex because they were blends," he says. "The influence I got from that has carried through."
With help from then-Professor Steve Moll, now the BBC vice provost, Cohn landed a job as the food and beverage manager for Windjammer Barefoot Cruises. He spent two or three weeks a month cruising and in his downtime, he hung out in his friend's wine shop in Martinique.
Later, he took a job at Sutton Place Gourmet in Washington, D.C., where the wine buyer began teaching him about wine. He took advantage of his employee discount to taste and learn more.
He worked one harvest season at Boordy Vineyards in Maryland, doing everything from picking grapes to cleaning barrels.
And finally, after years of working in various hospitality jobs, Cohn told Alexandra: "I think I want to go back to school and become a winemaker. I think I can do it."
Cohn enrolled at California State University, Fresno to earn a master's degree in agricultural chemistry with an emphasis on enology. Early on, he met Starr, then the winemaker at Spottswoode in Napa Valley. Cohn's earnest desire to learn made an impression on her that still lingers.
"I remember being grilled by a very enthusiastic student of enology, asking questions like, 'Why isn't my wine going through malolactic fermentation?' It was so pure and honest," Starr says. "I told him to go back and work on it some more. I didn't know that would lead to more phone calls and visits. He's just not going to take no for an answer."
Cohn remembers how Starr made him taste grapes off the vine, week after week. He learned from her one of the most important lessons of winemaking: Don't rely on numbers to make your wine. "If it's not ripe, you need to wait, even if the numbers say otherwise," Cohn wrote in his newsletter. "I live by this every year, even when I see rain clouds on the horizon (more gray hairs)."
Starr says Cohn hasn't changed much since she first met him 20 years ago. He still asks her questions that are "sideways enough to make you think, 'Why is this person asking that? Some of his questions have led me to say, 'Well, why don't I do this?'"
"He has become a really great winemaker," she says. "He has a very good reputation with growers and that's an excellent reputation to have – your ability to be true and honest."
Science and art
While he was studying enology at Fresno State, Cohn had the chance to pick a quarter ton of fruit from Robert Biale's Aldo's Vineyard in Napa Valley, famous for its old vine zinfandel. With those grapes he made "Wild n' Zinful," the wine that convinced Kent Rosenblum to hire him at Rosenblum Cellars, the acclaimed producer of zinfandel.
During his 10 years at Rosenblum, the young winemaker became a star. Cohn made the first zinfandel ever to grace  Wine Spectator's  Top 10 Wines of the Year – the 2003 Rosenblum Rockpile Road Vineyard Zinfandel. Cohn's zin was the third best wine of 2005, right behind a Joseph Phelps Insignia and a Châteauneuf-du-Pape, the wine that had opened his eyes at FIU.
He left Rosenblum in 2006 to dedicate himself to JC Cellars. Today, his winery produces 5,000 cases of wine per year with a staff of five, including the Cohns. Their wines are sold in 26 states and range in price from $25 to $85.
The accolades keep rolling in for the winery. In January 2012,  Wine Spectator's Tim Fish described JC Cellars recent releases as "outstanding," singling out the "big, distinctive St. Peter's Church Vineyard bottling, loaded with flavor and personality."
The creation of a single bottle of wine takes far longer and far more effort than many people realize, Alexandra points out. "People think the wine industry is such a romantic industry. It's a lot of hard work," she said. "You have 18 months when you are making product before you have anything to sell the first vintage out."
Here's how it happens: It takes one year to grow the grapes, and hopefully the weather cooperates, giving the vineyards just the right sun and rain, at the right times. The winemaker decides when to pick the fruit. There's no formula for knowing when the moment is right. Cohn relies more on his senses than the myriad measurement tools available to the winemaker. By the end, the winemaker is praying day by day that the weather will hold out.
After the grapes are harvested, it takes three weeks to ferment them, a process that involves more important choices for the winemaker. Which yeast to use, whether to do whole cluster fermentation, the temperature of the fermentation, how many times to punch it down, when to press. These decisions are part science, part artistry and all affect the quality of the wine.
"I try not to let the chemistry rule what I do," says Cohn. "A lot of people who make wine say it has to be this pH and that acidity. I don't follow those rules. My friends will say, 'Didn't you look at the sugar? And I say, 'I don't know anything about that.' I go by what I think is best for the wine. I go off the wall."
Go for it
Cohn relishes the pressure and exhilaration of harvest season. "It's what makes me go. This is my most favorite time of the year. This is when I get to create my vision."
He makes his blends with a 60-milliliter syringe during marathon tasting sessions in his Oakland lab. "To really get the feel for what the blend is about, you can't spit," he said. "By the time I'm done, I'm done."
He always tests his blends twice, coming back the next day to recreate the wine and see if he likes it as much the second time. "Ninety-five percent of the time, I nail it. If they come out the way they should, I go for it."
He remembers his 2005 wine, The Impostor, a zinfandel blend. The fruit wasn't what he'd hoped. It just wasn't coming together. He kept working at it in the lab, ultimately coming up with a blend that was 72 percent zinfandel with syrah, petite syrah, mourvedre and viognier.
He wondered if anyone would understand this big, exotic blend. He had taken zinfandel to a new level, making a wine that was bold and balanced. Someone did.
The Impostor was selected as No. 52 on  Wine Spectator's Top 100 Wines of 2007.
When a wine comes together perfectly, it's hard to pinpoint exactly why. The outstanding vintage of 2005 left Cohn pondering the wonder of it all in his newsletter. Maybe it was the amount of rainfall. Maybe it was when the showers occurred. Or it could have been how the sun shined at a particular time.
"Or it could have been that every so often Bacchus smiles down on all of us and provides winemakers a chance to just make great wines."    ♦