Alumni family pioneers fine dining in Atlanta
February 14, 2012 at 12:00am
---
The Karatassos siblings – Pano Jr. '93, Ann '92 and Niko '98 – continue a family fine dining tradition
By Sissi Aguila '99, MA '08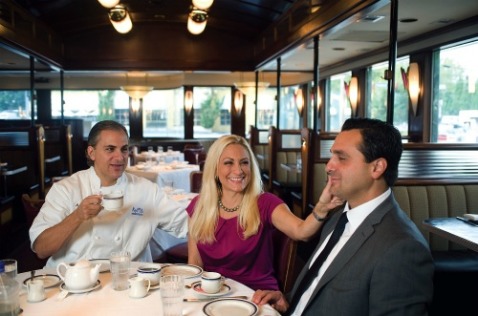 It's Sunday morning and the Karatassos family kitchen is prepped. Handpicked herbs and vegetables sit on the counter waiting to be chopped and diced. Pots crackle over the heat anticipating the freshest ingredients.
The two boys in this family of five join their father, Pano Karatassos Sr., in the kitchen. Sons Pano and Niko will learn from their father how to prepare a gourmet menu, all from scratch. Every detail, from the slicing of an onion to the garnish on the baked fish, is fine-tuned to perfection. Meanwhile the Karatassos women, mother Georgia and daughter Ann, are busy in the dining room. They set the table with white linens, fine china and crystal stemware.
Reminiscent of the finest restaurants in Paris, this has been the Karatassos' Sunday family tradition for more than 30 years.
Today, the Karatassos family is synonymous with fine dining in Atlanta, Ga. Pano Sr. is the founder and CEO of the Buckhead Life Group – 14 restaurants in the area, each with its own style, atmosphere and flavor. Pano Jr., Niko and Ann, all graduates of FIU's Chaplin School of Hospitality and Tourism Management, each play a role in Buckhead's success. Pano Jr. is the master chef of the renowned Kyma restaurant. Niko oversees all the restaurants as Buckhead's director of operations, and Ann keeps the books for the company.
The family's serious devotion to food has earned their restaurants wide acclaim: Food & Wine, Esquire, Gourmet and The New York Times have all ranked their restaurants among the best locally and nationally for more than 20 years. On a grand scale, they have recreated the same fine-dining experience for the public that they have long cherished at home.
From an early age, the Karatassos children all knew they wanted to be part of the restaurant company their father was building. "We talk about the restaurants as a family," Ann says. "It's a big part of our lives."
As a youngster, their father, Pano Sr., worked with his father, a first-generation Greek immigrant who ran a restaurant food-import business called Pano's Food Shop in Savannah. After working in the Navy's food department, Pano Sr. attended the renowned Culinary Institute of America.
He met chef Paul Albrecht in 1968 while working in Washington, D.C., and later worked with him in Missouri. Ten years later, the friends opened Pano's & Paul's, the flagship fine-dining restaurant that brought national attention to Atlanta's culinary scene.
As a child, Ann enjoyed watching Pano Sr. work at Pano's & Paul's. Her first job was helping her dad's assistant confirm reservations. "I loved everything about the restaurant business. I never considered doing anything else," she says.
Knowing she would work in the restaurant industry, Ann looked for a university that blended academic instruction with hands-on experience. She discovered FIU after she heard from industry insiders that FIU's hospitality program was the best in the country. Her brothers followed in her footsteps.
"FIU opened my eyes to the human resources side of running restaurants," says Niko. "It gave me all the facets of the industry." After college, each found their niche within Buckhead.
As the eldest son, Pano Jr. first learned the art of preparing a fine meal from his father and maternal grandmother, Athanasia, who came to live with the family when he was 10. After school, the budding chef would help grandma cook for the day, and prep the kitchen for the next day much like a chef at a restaurant would. At the local grocery store, she paid close attention to the freshness of the food, like everyone did in her homeland of Greece.
"Here we are at Kroger's," says Pano. "She'd ask the bag boy when the fish had come in or why the price of vegetables went up. And she'd smell everything!"
In honor of his grandmother, Pano brings the same attention to detail to his restaurant, Kyma. "It's about bringing everything up to the highest level you can."
After graduating from FIU, Pano Jr., like his father, attended the Culinary Institute of America. He trained one year as saucier under chef Thomas Keller at the Michelin 3-Star French Laundry in Napa Valley and two years as saucier under chef Jean-Georges Vongerichten at the Michelin 3-Star Jean-Georges in New York City. He also spent two-and-a-half years under chef Eric Ripert at the Michelin 3-Star Le Bernardin in Manhattan.
In 2001, Pano Jr. opened Kyma, "wave" in Greek, to fill a void in Atlanta's fine dining scene. Unlike other local Greek restaurants, Kyma features upscale Greek food prepared using the techniques of French culinary masters.
Chef Pano's cooking has garnered a lot of attention for the restaurant. Kyma was named one of the Top 20 restaurants in the country by Esquire in 2002 and has been featured in Wine Spectator, Cooking Light, Gourmet and In Style magazines.
The success of Kyma has been echoed by Bistro Niko, a French neighborhood restaurant that opened in 2009. Esquire said, "Any skeptic who questions whether the south – which of late has come into its own as a cradle of intensely personal, adventurous cooking with indigenous ingredients – is ready for a serious French bistro should try to get a table on short notice at Niko."
Bistro Niko gets its name from the youngest Karatassos, Niko. He is the businessman of the family, but you won't find him behind a desk. He says you can't run a restaurant company from corporate headquarters. He's in the restaurants every day working with the managers and chefs.
"My role in the restaurants is keeping everyone excited and working toward a single goal," Niko says. "We're about impeccable customer service at every level, from how we prepare the food to how we serve it."
The company maintains a family environment with employees, nurturing talent, promoting from within and rarely recruiting from outside. "Our general managers move up from servers," he says. "They've been working with us 10, 15, 20 years and get the company culture. They believe in us."
For years, it was Ann who worked at the company's headquarters as the director of strategic development. More recently, she scaled back her work to raise her two daughters, Georgia and Alexandra, but she still takes care of the company's payroll. She says it offers the perfect balance. "I still feel included – a part of the things, a part of the family."
The Karatassos siblings are passing on their love of food to the next generation. Niko carries on the family tradition of Sunday dinners, cooking for his wife Bronni and two children, Ignace, 6, and Christian, 4.
Pano Jr. is teaching his children to cook. Oldest son Pano, 10, makes a fantastic omelet; Lucas, 7, makes pasta from scratch; and Sophia, 4, helps her brother roll out the dough. "It's not uncommon to start the morning out in our house with a pound of dough on the counter," Pano Jr. jokes.
"Growing up in a Greek family there is serious devotion to food and family get togethers," he says. "Food has always been a big part of our lives."
They all enjoy getting together in the family restaurants. Ann's children often celebrate birthdays at Kyma. And her daughters Georgia, 9, and Alexandra, 11, order their favorite dish – octopus.