The  FIU Alumni Association welcomed a new president and a new executive director this summer, marking the start of the next era of alumni engagement.
President Gonzalo Acevedo '91, MBA '10, will lead the university's 30-member volunteer alumni board. The Alumni Association's 29th president is the managing senior vice president/director of the Private Client Group at City National Bank.
Executive Director Duane Wiles served as associate executive director of the Alumni Association from 2006 to 2011. In his latest role, he is now the associate vice president of Alumni Relations, leading the university's professional alumni office.
Wiles was selected for the position following a national search. Former Executive Director Bill Draughon, who led the association for eight years, now heads fundraising for the FIU Alumni Center in University Advancement.
FIU Magazine  Editor Deborah O'Neil MA '09 sat down with Acevedo and Wiles at the Alumni Association Annual Meeting in May to talk about the future.
How are we doing in terms of building our alumni base?
Acevedo: When I became president, I asked Duane to take me back to 1991, because that's when I graduated. That gives us 20 years of growth. In 1991, the Alumni Association had 501 members. Fast-forward to 2001 and we had 800 members. Not spectacular growth. The numbers for 2011 are 19,800. You're talking about 2,400 percent growth and that speaks to what's been done in the last 10 years and what we can do going forward.
Is there a target for what our membership should be?
Wiles: I'd like to kick off a campaign called Drive for 25. Over the next five years, I'd feel very good with 25,000-30,000 dues-paying members.
Acevedo: In the next 10 years, we are going to graduate 100,000 students. You can quickly come up to 30,000 to 40,000.
Wiles: We are just now beginning to expand the network outside South Florida. In the next five years, I'd like to see 30 active alumni networks across the country and internationally that are supporting the priorities of the institution. We want to create a network of 1,000 volunteers to help us recruit new students. Secondly, we are asking alumni to support the brand of the institution. Wear FIU gear wherever you are. We are also going to launch our own online store so it's easier for alumni to go online and shop. We also want alumni involved with legislative advocacy. I want to make sure Tallahassee and Washington, D.C., hear our voices.
Gonzalo, what brought you back to FIU?
Acevedo: Early on, I didn't come back to FIU. I didn't have a reason. I just wanted to get to work and make some money. But there was certainly something going on at FIU. When I finally came back because my professors brought me back, my degree had been raised in value. There were more buildings, more students. The university was more robust in its programs. It was more ingrained in the community.
Your professors brought you back?
Acevedo: I had the good fortune of being in a terrific program – political science – with professors John Stack and Nicol Rae and Eduardo Gamarra. When I graduated, I remember picking up the diploma and getting a slap on the back. It was one of my economics professors telling me, 'Go get 'em!' Years later, I became a vice president with Bank of America and it hit the paper. I received a call from FIU's University Advancement Office and they said, 'We want you to come back. Your professors are very proud of you.' They brought me back and I haven't left since.
That's a great story and it raises an important question. How can the university leverage the affinity alumni feel for their faculty mentors?
Wiles: Every time I meet an alumni member they ask, 'Is professor so-and-so still here?' Part of our plan is to reach out to the faculty so they are part of  Silver Pride, our 25-year reunion. We are also going to establish a lifelong learning program for alumni. We want to do a one-day experience where we bring alumni back to campus and put them in a classroom with our renowned and excellent faculty. The other way we are going to engage faculty and staff is through our travel program. If we are  going to wine country, then we'll involve someone like Professor Chip Cassidy.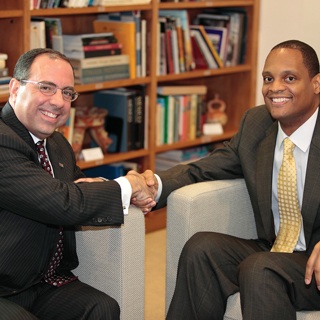 Gonzalo, what do you most want to accomplish as president?
Acevedo: I want the national and global community to know FIU and the great things that are happening here. I want to make sure we grow and serve the alumni. I want to work with Duane and give a terrific client /alumni experience and provide a network for them.
Tell me about the FIU network.
Acevedo: I've used the network. My professors have helped me. A year-and-a-half ago, I went through a job transition and it was kind of difficult. I received counsel here through the business school.
Wiles: We just launched the Alumni-to-Alumni Career Mentoring Network. These alumni are volunteering to provide career advice to another graduate who may be in transition from one job to the next or looking to advance in their current position. In our initial launch we have 80 mentors and 85 mentees ready to get involved.
You are a banker, Gonzalo, so what is the return on investment for an alumnus to give back to FIU?
Acevedo: It's a better community. It is building that network. I work for a bank that has been in the community for 60 years. The president of the bank who reached out to me and offered me the position I am in right now graduated from FIU. I found out after taking the job that President Rosenberg was on the board of directors. That FIU network is there, and it is growing.
Wiles: It comes full circle. The more alumni get involved, the stronger the institution becomes. The stronger the institution gets, the higher value that brings to your degree. That elevates you when you come up for a job promotion or you are looking to change careers or start your own business.
Duane, what do you most want to accomplish as executive director?
Duane: Ultimately, I want to see more alumni engagement. How do we get alumni more engaged? You provide more programs and services that will tap into various segments of the alumni population. We have to personalize that experience. For our alumni who aren't here in South Florida, I want to host a virtual alumni career fair, a virtual Homecoming.
You can't do this alone. What is the responsibility of the institution to alumni?
Wiles: It's important from the top down that everyone plays a role in communicating and engaging the alumni base. Everyone.
Acevedo: For me, the responsibility has to do with the value that my degrees have. I want to see not just the business school getting better or political science getting better, but the entire university getting better.
What's the biggest challenge?
Wiles: One of the biggest challenges that we face relates to social media. It can be a huge plus, but it's a challenge to compete for attention. Another big challenge is identifying revenue sources to support our programs. We are talking about exponential growth. So, that's a huge financial impact.
Acevedo: Right, how do you serve an additional 20,000 people? You have to have the resources, the people and the technology. That has to be part of the strategy. There are a lot of people who want to give back to FIU.
Wiles: It's treasure, talent and time. If the treasure is there, you give that. If you have the talent, give that. If you have the time, give that.
How does the alumni center fit into the future plans?
Wiles: In the next five years I'd like to be breaking ground. But we have to do a better job of engaging the alumni base and getting them excited about it. Alumni have to see the possibility of an alumni center so they support the effort. I talk to some graduates and they say, 'When I come back to campus, I get lost. I don't really know where to go.' Having a place where alumni can feel comfortable is so important.
Do you feel like you are about to start a new era of alumni relations?
Wiles: Absolutely. Yes, I do.
What's this new era going to look like?
Wiles: It's going to be an era of increased alumni participation. We are going to be visible, not just here on campus, but online through social media. It's an era where we are going to engage alumni in a more meaningful way.
Acevedo: I do see it as the start of a new era. Duane, you are in for the long haul. I am in it for the next two years as president. As an alumnus, I'm in it for the rest of my life.    ♦