Behind the scenes with 'FIU Magazine' football photo shoot
---
Around this time every year a whole lot of us start getting revved up for college football. My diehard football friends – Alberto Padron '98, MBA '09; Eddie Hondal '88, MS '00; Joann Adkins; Julian Kasdin; Robert Valcarce – are posting on Facebook almost daily about our team.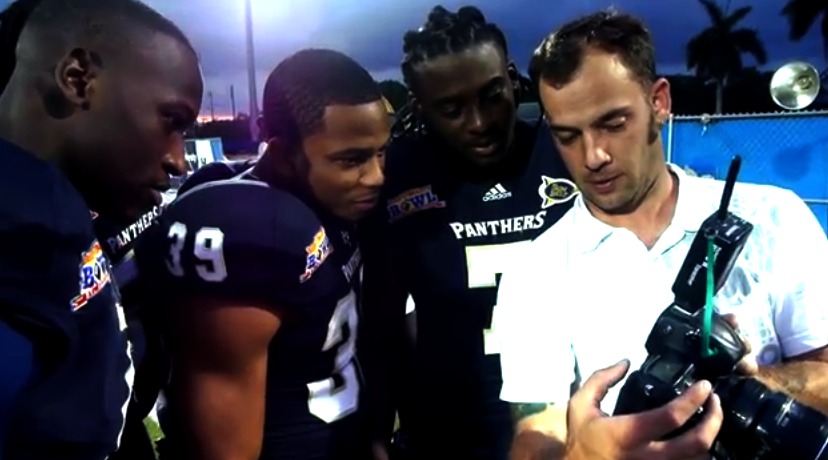 To feed the excitement, I always plan a pre-season spread in the August issue of FIU Magazine. It's one of my favorite projects. I get to hang out with the players and then show them off in the magazine. I call in one of my favorite "big shot" photographers, Josh Ritchie. Josh is a genius at composing big production photos. You can check out his work here.
This year, Coach Mario Cristobal suggested we consider incorporating the construction of the north side of the stadium into the image. It's the 10th anniversary of FIU football and we wanted to play off the theme of building a winning program. However, from a photography point of view, it wasn't going to be easy to fit a 17-ton excavator, some very large football players and the stadium in one photo – AND make it look amazing. I had confidence Josh could pull it off.
Art Director Aileen Solá and I had several scouting sessions and chats with MCM Project Manager Juan Campos about the construction site. After weeks of planning, we were ready for the photo shoot at sundown one Friday in April.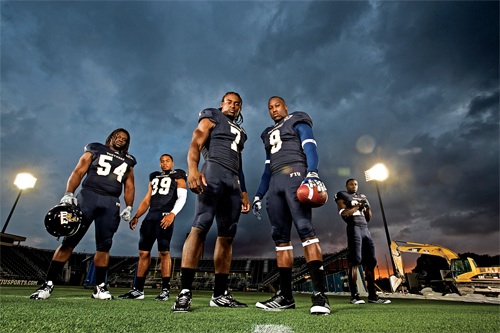 Josh rented Profoto 7b heads and battery packs. Then used a combination of magnum reflectors, beauty dishes, soft boxes and a parabolic umbrella to control the light in a way to work with the ambient light and create the dramatic look with the football players. He used a Nikon d3 with a Nikkor 17-35mm 2.8 lens. It was shot at 17 mm on iso 100 at f-16 at 1/30 of a second.
The whole time, we kept looking at the sky. It had been raining all week and the sky was turning black. At one point, it began to drizzle. Not good when you have thousands of dollars of rented lighting equipment on the field.
When Josh started shooting, the football seniors Rupert Bryan, Sam Miller, Jonathan Cyprien, Kedrick Rhodes and Jose Cheeseborough did their thing. Menacing. Intense. Ready. As it turns out, the storm clouds added moodiness and personality to the photo.
Josh wasn't the only one with a camera. FIU Magazine's Senior Multimedia Producer Doug Garland '10 captured the whole thing on video. Check out his video for a behind the scenes look.
– Deborah O'Neil