Composer/pianist Nancy Luzko captures in music the story of Paraguay's notorious 19th-century first lady
November 2, 2012 at 12:00am
---
FIU alumna uses music to illuminate the heart and soul of a woman alternately beloved and reviled
The life stories of Paraguayan composer and pianist  Nancy Luzko MM '01 and nineteenth-century Irish-born, "French-trained" courtesan-turned-mistress-turned-first-lady-of-Paraguay Eliza Lynch could not be more different. And yet the two women share an important connection.
In what might be called the crescendo of her still young career, Luzko, 38, received a commission from the Ballet Municipal de Asunción to compose the music for a full-scale production about the enigmatic Lynch, who in the 1860s and '70s generated both fascination and contempt. Over the course of a year, Luzko and her brother Daniel collaborated from either side of the United States – she in her adopted hometown of Miami, writing the music, he in Southern California, orchestrating the music to accommodate 65-70 instruments – to create 42 movements that together represent some 600 pages of musical score.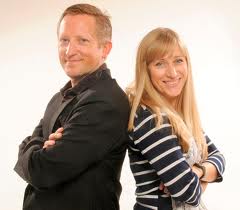 When the music premiered in 2010 with a series of performances by the National Symphony Orchestra of Paraguay accompanying the ballet production, the results earned critical acclaim and represented a personal triumph for Luzko.
"It was very, very rewarding for me to see the complete work," Luzko says. "To see these two combined – the ballet and the music together – and also the costumes, the decoration, the scenography. Everything was very artistic."
Seeking a muse
Undertaking the project meant that Luzko, who received her masters in piano performance from the  FIU School of Music before going on to a doctorate at the University of Miami, would have to travel frequently to Paraguay for rehearsals. The time commitment put an end to her teaching at FIU, where she had been an adjunct professor of piano for 10 years.
It also meant that the calm and composed Luzko – a woman that her FIU mentor, the renowned pianist  Kemal Gekic, describes as having "inner quiet" – would have to get into the heart and head of the most controversial woman in Paraguayan history. Lynch and her lover, Francisco Solano López – whose ascension to president/dictator upon his father's death in 1862 made her de facto first lady – never married, despite having six children and remaining together until his death on a battlefield.
"I said, 'Eliza, tell me what to write,'" recalls Luzko about starting the project. Not long after, she got a reply to that plea. "It was amazing, really. Something came to my head, and I identified that melody as Eliza's melody."
That tune, known as "Eliza's Sorrows," eventually defined the entire score. "That melody is definitely the heart of the work," says Daniel Luzko, who admires what his sister accomplished. "The movement is brilliantly written."
Luzko says she approached Lynch's story as strictly one about the passion between a man and a woman and not as a political drama a la Argentina's Eva Peron, with whom comparisons have been drawn.
Although no voices accompany the score, the original ballet production called for the dancers to weep aloud over the sound of the music. They wailed in reaction to the violent deaths of Eliza's mate and her teenaged son, both of whom were killed on the same day.
"They pretended to cry and  really cried," she recalled of the dancers on stage, "Every rehearsal, they cried. The music was so sad and so powerful."
Listen: "Triunfo de Curupaity" from the ballet

 
Madame Lynch
, composed by Nancy Luzko, arranged by Daniel Luzko and

 

performed by the National Symphony Orchestra of Paraguay
 
Finding a fit in Miami
In contrast to that tearjerker, Luzko's life has moved along in the smooth style that musicians call  legato. Hers is a tale of five siblings who grew up playing piano at the encouragement of a musical father who with his wife ran a very successful alterations business in the small town of Encarnación. The youngest, Nancy at age 20 followed brother Daniel to the Chopin Conservatory in Warsaw for a year of instruction, an easy leap culturally as their parents have roots in Poland.
Luzko went on to earn an undergraduate music degree from the University of Kansas and then, tired of punishing winters, started looking for graduate programs in warm places. A move to Miami fit the bill perfectly: aside from the weather, Gekic had just started teaching at FIU.
"I felt I would love to go to Miami, but I wondered if there was anything going on there in the graduate area that I could take advantage of," Luzko remembers. "And then I saw his name and that he was coming to FIU. It was a really attractive idea to study with a European teacher in Miami. I heard his performances on CD and I really wanted to study with him."
Croatian-born Gekic remembers clearly those early lessons with Luzko.
"She looked like a little girl. Very, very shy, modest," he says of his first student at FIU.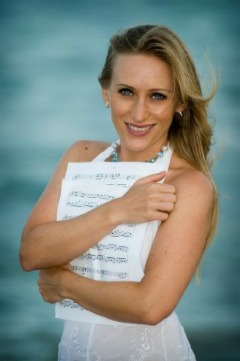 Very soon, however, he saw something else in her. Finding out that she also composed, he asked to hear her work. "I liked the pieces very much, and I encouraged her," recalls Gekic, who was struck by her depth and her commitment to her craft.
"She's an extremely serious person. It doesn't mean she doesn't know how to joke. But about those things that matter to her, she is very serious. She likes challenge. She is an absolutely interesting person, I would say, in every possible way."
Looking to the future
Luzko continues to compose "contemporary classical" music that embraces influences from a variety of musical genres, including Latin America rhythms and elements of jazz. She has performed in the United States, Canada, Austria, Poland, Spain and Argentina in addition to Paraguay, where she remains a beloved native daughter.
As the only Paraguayan woman to hold a Ph.D. in music, she has received considerable recognition in her homeland, including a young composer award in 2001 when she won a competition there. She was invited to present a concert of her own music this past summer, and in 2013 Paraguayan pianists will play her songs and vie for the Nancy Luzko Prize in a contest that she will judge.
Here in the states, Luzko continues to serve as an artistic director, along with her brother, for the annual Paraguayan Music Festival, which in 2012 was held in New York and in 2013 comes to Miami. She recently published a collected volume of her compositions and released a CD on which she plays her original songs. (In an introduction on the latter, Gekic writes about her compositions' "underlying complexity of design" and calls her playing "proof of how it is possible to be sincere, straightforward, not seeking for effect and yet true to one's innermost being.")
Listen: "Lara" by Nancy Luzko, from her solo album 
Piano Works – Obras Para Piano
Currently living in a small apartment in South Miami, she and her husband have purchased property on which they plan to build a home in the near future. The extra space will open up some new possibilities.
"I would like my piano to be important in my house," says Luzko, who has had to stuff her black Steinway "middle grand" into a back room. In the same tight space she also keeps an electronic keyboard (not a typical compact model but a larger one that looks like an upright piano) to which she connects headphones to avoid disturbing the neighbors.
"We would like to make music – loud music," she says, adding that her husband, an aerospace engineer originally from Brazil, is a sometimes drummer.
Professionally, she is also thinking about her future. "Right now I want to enjoy working with music but in a different way. Maybe help people through music somehow. I have several ideas.
"I want to keep writing and leave some legacy to my country. There is so little in the repertoire of piano there."
It is accepted widely that Lynch introduced the piano to Paraguay, and biographers write of her having carted around the instrument from one battle encampment to another throughout the course of a war that sealed her tragic fate. (She eventually died penniless in Paris.)
"She really influenced Paraguayan society," Luzko says. Lynch brought French and Italian architects, theatre groups and musicians to the capital city, arranged balls in the Club Nacional and provided lavish public entertainment for the masses. Through her popularizing of the polka she made a lasting contribution to the country's folk music.
And like Lynch, Luzko too is leaving her mark on Paraguay's culture.  
If you enjoyed this story and would like to receive FIU Magazine  online, subscribe here:  go.fiu.edu/subscribe.