For Raja Bell – most recently a player for the Utah Jazz – education has always been something to shoot for in life.
By Ryan Jones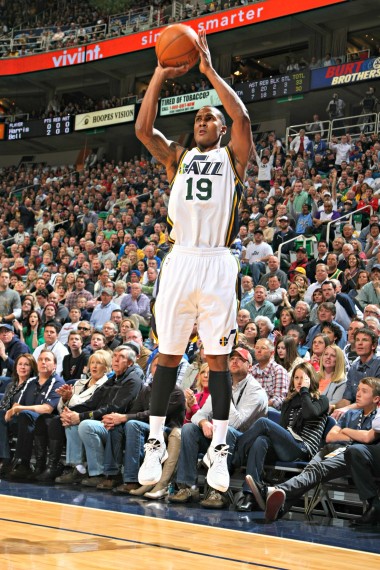 He doesn't need a college degree. With Raja Bell, that much is abundantly clear.
An 11-year NBA veteran, Bell has made plenty of money over the course of his pro basketball career. He's married with three young sons, so he's not exactly lacking for distractions in his free time. And even without a piece of paper declaring him a college graduate, Bell has a terrific résumé with which to prepare for a gig in coaching or broadcasting, his preferred options for a post-playing career.
For all that, Raja Bell will be back at FIU this month to claim his diploma in recreation and sport management from the College of Education. Thirteen years after the end of his brief but stellar FIU playing career, Bell has finished his coursework. Why? Because for all the reasons he didn't need that degree, there are just as many reasons that he did.
"I come from a family of educators," Bell says, laying out all the academic connections in his extended family tree: His mother was a teacher, and his father for years oversaw academics for student-athletes at the University of Miami. His wife, former FIU soccer standout Cindy Greenman '97, taught grade school before embracing full-time motherhood, but as Bell points out with a smile, "she's still teaching every day."
Ultimately, Bell says, not coming back to finish his degree wasn't really an option. "I promised my dad and mom that it would happen," he says. "I know that's a cliché, but I told them I wouldn't neglect it – that I wouldn't say that I don't need it just because I've had a successful career."
Joining the NBA
Spoken like a man for whom valuing education is a birthright, and who never forgets his unlikely path to a lengthy professional career. Born in the Virgin Islands and raised in South Florida, Bell matured into a very good college basketball player at schools – first Boston University, then FIU – that weren't known for their basketball. Despite leaving school as arguably the best player in Panther history – he scored 965 points in two seasons – Bell says, "I didn't know I was going to play in the NBA."
He didn't at first, going undrafted by the NBA in 1999 and spending a year in the basketball minors. But late in the 2000-2001 season, he earned a contract with the Philadelphia 76ers, appeared sparingly in the team's final five regular-season games, then ended up playing vital minutes in Philly's run to the NBA Finals.
A physical, savvy defender and terrific outside shooter, Bell parlayed his impressive debut into a career, going on to play key roles with the Dallas Mavericks, Utah Jazz, Phoenix Suns (with whom he averaged careers highs in points and minutes in 2006 and '07), Charlotte Bobcats and Golden State Warriors. He spent the past two seasons back in Utah, and at press time, he was a deciding between free agent options for 2012-'13.
It's been quite a career for a guy who was a long shot to ever make the league, but even as he was establishing himself in the NBA, Bell remembered what he'd left unfinished at FIU. Others remembered, as well.
Back to class
"He was one of my students, a bright, articulate kid," remembers Robert Wolff, professor and program director of Recreation and Sport Management. "But you could see his focus wasn't really on finishing school. His focus was on the NBA. I gave him the same advice I gave all the kids: Your degree is the one thing they can't take away from you."
A few years into his career, Bell decided he was ready to finish what he'd started. He gave Wolff a call, and with the help of folks from the admissions and registrar's offices, they came up with a plan that would allow Bell to finish his degree. Among the obstacles: adapting to changes in degree requirements since he left campus and figuring out a schedule that would allow him to do coursework during an NBA season that, with preseason camp and playoffs, can run from September to June.
Bell came back to campus when he could, and the rise of online courses allowed him to squeeze in homework between practices and games. During the spring 2011 semester – in the stretch run of the NBA season – he took Wolff's sports law class online and this past summer, he knocked off his final math credits. Later this month, he'll make it official: Raja Bell, proud graduate of Florida International University.
"If I didn't have Dr. Wolff in my corner, supporting me and urging me on, this would never have gotten done," Bell says. "He's really been a mentor for me. It was a priority for him, and he was excited when it became a priority for me."
Panther connections
Bell also credits Athletic Director Pete Garcia with strengthening his connection to FIU. Garcia worked with Bell's father at the University of Miami and has known Bell since he was a kid. One of Garcia's first priorities when he arrived at FIU in 2006 was reaching out to prominent former student-athletes – chief among them the gym rat he knew from his days at Miami.
"I know how hard Raja works," Garcia says. "Nothing's been given to him. He's a self-made guy. He's always had a lot of confidence, and he knew what he wanted to achieve. A lot of guys would say, 'I made a lot of money, I don't need a degree.' Most guys would put it off. To come back and finish school while he's still playing, that's remarkable. I couldn't be prouder."
Bell is proud, too, of finishing his degree, and of his connection to FIU, the place he met his wife and many of his best friends, and where he returns each summer to get in shape for the coming season. He says he'd like to spend three more years in the NBA, long enough for his sons – 5-year-old Dia, 3-year-old Tai, and 7-month-old Zen – to "remember their daddy playing."
And then? He's thinking of going into coaching or broadcasting – careers that, like playing, won't require a college degree to excel. But Bell will have that degree, and in his three young sons, he'll have ever-present reminders of why it matters – a chance to set the example he himself followed, and another generation in a family for which education is essential.   ♦
Ryan Jones is a freelance writer in Pennsylvania.