FIU celebrates alumni, remembers fallen hero at Torch Awards
---
Anyone who knows Rocco Angelo knows it's not often the professor and dean goes speechless. On March 3, however, he could only describe the 11th Annual Torch Awards Gala with one word: "beautiful."
"It was a beautiful evening," the tuxedo-clad Angelo said as he led freshman hospitality student Herline Emmanuel onto the dance floor after all the awards had been presented. "Just beautiful."
College of Education alumna Jeanette Rego '10 and her political science grad-husband, Carlos Rego '08, agreed. The couple attended the ceremony for the first time this year and found it to be a great event.
"It was eye-opening," Carlos said. "You come to an event like this and hear about how FIU is progressing and you see that through its alumni. You see the strength, the unity of FIU."
Those qualities were in full display throughout the evening, which included memorable moments that were equal parts touching, solemn and, well…beautiful. From a heartfelt salute to one of the FIU Alumni Association's most steadfast supporters to the moving standing O in honor of a fallen soldier, the 2012 gala provided almost 500 guests with many an opportunity to celebrate.
The evening began with a cocktail reception where honorees mingled with FIU President Mark B. Rosenberg and his wife Rosalie; Duane Wiles, interim director of the FIU Alumni Association; deans and representatives from the university's different colleges and schools; and, of course, Roary.
Herline Emmanuel found herself at the center of a crowded ballroom at the JW Marriott Marquis early into the gala when she represented her freshman class while participating in a traditional passing of the torch among classmen. Freshman to senior, the torch made its way to the stage and the ceremony officially began.
'I love the guy'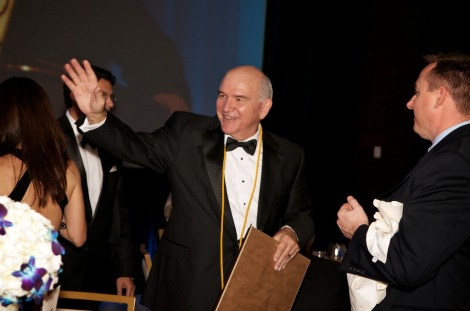 Before alumni received their awards, Howard Lipman, senior vice president of FIU Advancement, presented Bill Draughon with a special alumni recognition in honor of his eight-year run as associate vice president of FIU Alumni Relations. Jack González '97, the president of the Alumni Association Board of Directors, joined Lipman, Rosenberg and Wiles to celebrate Draughon. The four men presented their friend and colleague a rocking chair bearing a special engraving: "Bill Draughon, FIU Honorary Alumnus 2012."
Draughon smiled and waved off the chair amid thunderous applause and cheers. As an associate vice president in Advancement, the Lifetime Member of the Alumni Association still has work to do and is in charge of fundraising for the proposed Alumni Center at Modesto A. Maidique Campus.
To further recognize Draughon's efforts on behalf of FIU alumni, Stewart L. Appelrouth MBA '80 and his wife Gail made a $10,000 gift toward the Alumni Center at the gala.
"When Bill took over the Alumni Association, we had fewer than 1,000 members. Today, we have, what – 20,000? He's our spearhead," Appelrouth said. "And now he's in charge of making our Alumni Center a reality, something that will be the pinnacle of FIU's future. We have all these great colleges graduating thousands of students…alumni who need a place to come home to on campus.
"I look to Bill to get this done. I love the guy."

Celebrating, remembering
Throughout the evening, honorees mingled with one another and with their friends and family. Anthony Leone '91, who was recognized by the Chaplin School of Hospitality and Tourism Management, broke bread with Rocco Angelo, an associate dean at the school, and Jessica Siskind, the school's director of Development.
Milagros Fornell '77, MS '84, the associate superintendent of Curriculum & Instruction for Miami-Dade County Public Schools and the College of Education's honoree, struck a pose for FIU Magazine with Darlene Boytell-Perez '89, MSN '96, an advanced registered nurse practitioner and clinical researcher at Gastro Health.
Jorge Perez, the Miami real estate developer, was proud to be there for his wife, Darlene.
"It's always great to honor alumni who are successful," he said, "because it shows students what they can aspire to achieve. And Darlene is definitely a great medical professional and an accomplished alumna of FIU."
"And mommy," added their 8-year-old son, Felipe.
One of the most touching moments of the gala came when Rosenberg presented the parents of the late U.S. Marine Corps 2nd Lt. Michael Felsberg with a posthumous Torch Award. Felsberg, an FIU cross country/track & field standout, was killed in Iraq in 2004. The late Panther was a consummate student, excelling in and out of the classroom. He graduated with a near-perfect GPA and his spirit led to the renaming of the FIU Athletic Spirit Award in his memory.
His parents, Paul and Arlene – who have worked with the Alumni Association on a scholarship endowment for track & field student-athletes and have included the university in their estate plan – received their son's Torch Award. As their son's achievements were read and a video of Michael played on screen, the Felsbergs received a proud standing ovation from their FIU family.