From FIU to the French Riviera, DJ Irie brings the heat to the clubs
November 2, 2012 at 12:00am
---
Since 1999, Ian Grocher '99, a.k.a. DJ Irie, has been pumping up crowds for the Miami Heat and at clubs around the world, never forgetting that home is where his Panther heart lives. 
As DJ Irie, the official DJ for the Miami Heat, producer/entertainer Ian Grocher '99 was made to be in the spotlight.
The School of Journalism and Mass Communication grad and winner of the 2012 Charles E. Perry Young Alumni Visionary Award thrives as a party starter.
The guy is equally at ease commanding the decks at some of South Beach's hottest clubs as he is taking the stage for an FIU fundraiser to the tune of PSY's "Gangnam Style" – complete with all the right dance moves.
"Irie…Ian's energy is infectious. He is a tremendous entertainer and he has amazing passion and love for what he does and FIU," said Lourdes Balepogi '00, the chair of the FIU President's Council's First Generation Task Force, which hired him to serve as master of ceremonies for a recent event. "Everywhere he goes he brings what is needed to pump up a room and get them excited for the occasion.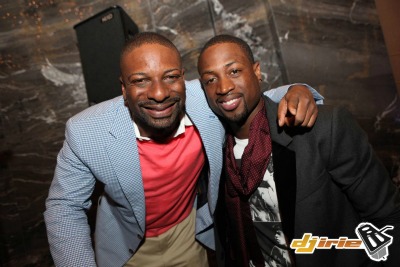 "It's so great to see him doing his thing both at home, at the clubs and at FIU and all around the world."
Ian Grocher is a natural born entertainer, a Miami boy through and through. Born in St. Croix, he was raised in the Magic City and Jamaica.
"I was what my mom called the 'wash baby' – the last one – and I was outgoing, the life of the party. I always spoke my mind," he said. "My parents get all the credit [for my getting into music]. Growing up we had a music room, and my dad had this big sound system and vinyl everywhere. I used to sneak in there and play his Stevie Wonder records and his Marvin Gaye records. Bob Marley…."
He was completely hooked. "Next thing you know, I'm off to school and I'm using my lunch money to buy records," he said. "I was like, 'Who needs food, man – give me the latest singles.'"
Growing up the son of education-driven Jamaican parents (dad was a Sears services station manager, mom an RN), however, he knew they had firm ideas about the kind of life choices he should make. Music wasn't on the list. He had his doubts, too.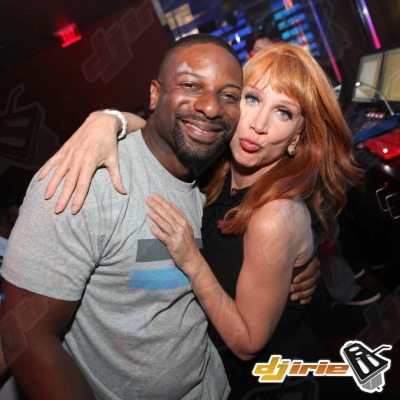 "There were pretty much two options when it came to a career: doctor or lawyer. Check A or B," he said. "I always wanted to be in music, but I guess I was in denial for a while because I didn't really understand that you could actually have a career [in music] or thought that that was out of reach for someone like myself."
So Grocher did the practical, please-your-parents thing: he enrolled at FIU and was initially on a medical path. It wasn't long before he veered off track, however, as he found himself spending his every free moment playing at the turntables. Dropping out, however, was never an option. He had a full scholarship at the university and he knew he had to show his parents something to earn their blessing so he could pursue music.
Junior year was the turning point.
"I was already doing parties on campus and in the Grove and on the beach. I was sustaining myself and paying my own bills and I was happy doing that," he said. "By the time graduation rolled around, I knew I had to make a decision about the rest of my life.
"So I decided to focus on music as my business and on making myself happy, and it was the best decision I ever made."
A star is born
Grocher became Irie at Hot Wheels, the beloved Miami skating rink where he worked as a skating guard and did "my DJ thing on the side."
It was the head DJ there who put in a good word for him with the manager, who was looking for another act for the rink's lineup of entertainment.
"So I get this shot, and I'm about to grab the mic, and Manny, the head DJ, asks for my DJ name, and I say, 'DJ…Ian?' and he says, 'That's horrible!' and he asks for something else," Grocher recalled. "He knows I'm Jamaican and he dubs me DJ Irie right then and there."
"Irie" means happy, pleasant. "I guess it fits," he said.
Irie as a business, as a brand, soon followed suit. Grocher established his company, Irie Music, Corp., and began assembling his team, marketing his name and developing a sought-after persona.
Today, his passion for music has given way to a lucrative business that includes ventures in talent development/management and commercial/voiceover work. He also has a thrice-a-week radio show on 99 Jamz and is a regular fixture on TV's Good Morning America.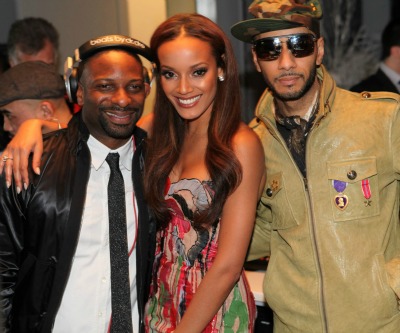 The once twinkle-eyed college kid who got his start with gigs that paid $8 an hour is now a go-to bold-name entertainer that commands a cool five figures a show. Plus, he's also the official tour DJ for the Oscar-winning actor and entertainer Jamie Foxx – the pair traveled to the French Riviera just a few months ago for a couple of late-summer parties – and a pioneer of his field as the first official DJ for any professional sports team in the United States.
"The Heat job came about in 1999, when I was just getting started," he said. "They really courted me and, get this, I remember turning them down – I thought I was keeping it real, but they wouldn't take no for an answer. And I did say no."
Grocher figured he had a good thing going. He was the resident DJ at one of the old Level nightclub, and he think feel the music he was playing would translate for a basketball audience.
The Heat brass persisted, though, and eventually, they struck just the right chord.
"No one was doing this. No team in the NBA had an official DJ; no one in the NFL or the MLB, either," he said. "It had never been done before. So to have the opportunity to open a door, to be a trailblazer – they had me at that."
Fortune always has been on Grocher's side, on DJ Irie's side. The proof in this case isn't in the pudding but hanging on his walls – and on his ring finger.
His home office is decorated with several plaques recognizing his efforts as a breaker of Def Jam Records artists like Foxy Brown, Ja Rule and Ludacris. And he has not one but two NBA Championship rings for his efforts with the Heat.
Those who know the guy well know success has not gone to his head.
One of the good guys
"I've known Ian for years and I can tell you that the guy he was back when we were at school is the guy he is today," said Orlando Amorin '01. "He is humble. He always puts the interests of others ahead of his. He's not just a friend – he is a brother for life."
Amorin would know: In 1998, the pair ran a successful campaign for the presidency and vice presidency of the Student Government Association at University Park (now know as Modesto A. Maidique Campus). Amorin, the co-founder and marketing director of the HipStar skaterwear clothing line, remembers meeting Grocher when they worked at the on-campus radio station and striking up a friendship almost immediately.
"We really got along really well from the get go, so when I decided to run I couldn't think of anyone else I wanted to run with but Ian," he said. "It took some convincing, and we were a late addition to the ballot. But I had to have him. He's easy to work with and his energy and ethics were and are contagious."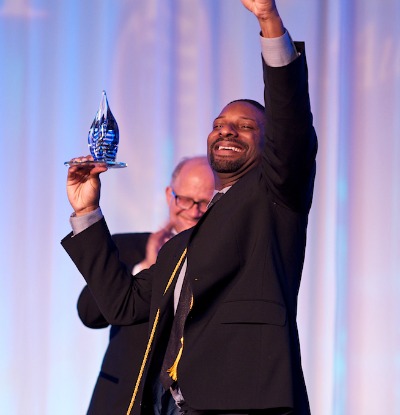 Amorin and Grocher ran what would today be considered a vintage campaign. They had buttons and flyers and relied on word of mouth to earn their votes. Among one of their platform's promises was to deliver to FIU its first FM station, which they did when WRGP began broadcasting on the FM dial as 88.1.
"That was one of my proudest moments," said Grocher.
Another point of pride for the Panther: his ability and willingness to give back, to his community and to his alma mater.
For years, Grocher has supported and worked with Big Brothers Big Sisters, the Mourning Family Foundation and the Special Olympics, among others, and he has hosted the annual Irie Weekend for the past eight years.
The weekend's centerpiece is a star-studded golf tournament that raises funds for the Irie Foundation, which supports educational and extracurricular programs for underprivileged kids.
And every chance he gets, Grocher comes back to FIU to lend his star wattage to a university celebration or initiative. In addition to fundraisers, he has played at Homecoming and campus parties.
"If there is a place where FIU lives, that is in my heart," he said.
"Everything Ian has accomplished is because of that big heart he has," Amorin said. "I'm not surprised he's as successful as he is."   ♦
If you enjoyed this story and would like to receive FIU Magazine online, subscribe here: go.fiu.edu/subscribe.