For your ears only: Interview with Evelyn Saavedra, voice student
November 2, 2012 at 12:00am
---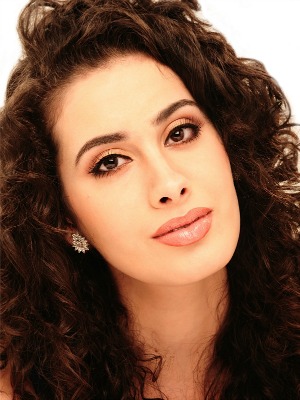 Cuban-born soprano, Evelyn Saavedra, dreams of the day she will sing at The Metropolitan Opera. A vocal performance student in her junior year at FIU's School of Music, she is working to make that dream come true. Balancing classes, rehearsals and performances, Saavedra's passion and will is evident.
Listen to Saavedra's interview, where she discusses:
Being the first of her family to arrive in the United States.
How a teacher discovered her talent.
The FIU School of Music.
Singing with the Florida Grand Opera.
Her dream gig.
[Audio player no longer available]
Listen:
FIU Magazine
interview with Evelyn Saavedra  
—
Transcript:
[Lip buzzing noise]
We literally do that all day.
And what does that do?
It makes sure you're supporting correctly, because if you're not using your air then the buzz won't happen.
That's the sound of Evelyn Saavedra, a voice major in her junior year at the FIU School of Music. She's showing me a typical warm-up exercise before belting out an aria.
[Saavedra singing]
Originally from Cuba, she arrived in Miami at the age of 4 with her mother.
We were the first of our family to come here, so she literally came with a 4-year-old child by herself to a new country with no English. She was a doctor in Cuba, so she left a pretty good career to come here and do something else and start over.
One day when Saavedra was in elementary school, the music teacher discovered her talent.
The music teacher at my elementary school did choir auditions. He told everybody to sing "Twinkle, Twinkle, Little Star" or some children's song, I don't remember. He went one by one by one and he would write on a paper. He got to me, and he was like, "Whoa…okay. You can sing!" And I was like, "Oh, I can?"
My mom always says, "You must have been a mutation." You see, in Cuba they have huge children's choruses, and her whole school did auditions for a children's chorus. Every single person in the whole school got in except for two people, and my mom was one of them.
The FIU School of Music is one of those hidden gems that nobody really knows about. You think FIU School of Music and you think, "What? Really?" But we have really talented professors and people from all over the world.
A typical day for me: I have opera lit in the mornings, then we have opera workshop. It's a three-hour class where we sing opera, we do acting, we do movement, we do all sorts of things. We coach. And then we have choir and then we have voice forum. I have my lessons. I have coachings. I have conducting. Oh, and music history. I think that's pretty much it.
The School of Music's guest artist and artist-in-residence programs bring FIU voice students the opportunity to perform with major artists and companies from around the world.
What about your partnership with Florida Grand Opera? I think last year you were able to perform with them, is that right?
Oh, that was so exciting! The Florida Grand Opera contacted FIU, and they were interested in partnering up and perhaps using some of the FIU vocalists for a concert that they did. And I was so lucky. We had to audition for the Florida Grand Opera. They didn't just want FIU to choose singers – they wanted to hear the singers and choose for themselves to make sure they were up to par. I was so lucky – out of the entire vocal department they only chose six singers. Five of them were master students, and I was the only undergraduate. I was 19, and I was just overwhelmed. I was really happy that that happened. It was an incredible opportunity. Of course, it was a very very very small role that I played in the concert – I think I only sang in the chorus – but we actually did the Carmen scene with the [sings a strain] and I had Frasquita's part. It was a page…it was miniscule. But I was so excited.
My dream gig would be…I'm sure it's going to change, maybe like next month or whatever… but today it would be probably singing at the Met or winning the Metropolitan National Council Auditions. In the future I would like to do that and then sing at the Met. That would be awesome.
For FIU Magazine, this is Marianela de Armas.    ♦