Grape Expectations: Honig Vineyard and Winery sets a high bar for wine and sustainability
Dawn approaches slowly on the Napa Valley floor. When the sun finally brushes across the top of the Vaca Mountains, the Honig wine estate begins to glow with all of the promise and spectacle that nature has to offer. Solar panels project an iridescent rainbow of butterflies and bees. A red winged hawk watches over the grape vines, soaring over the golden-green cascade that stretches into the horizon. This is what FIU alumna Stephanie Honig '97 sees from her back patio. So sublime is the view that the Honig family hired California artist Tom Hennessey to create an illustration of it for their sauvignon blanc label. The label was all the buzz when it debuted and brought renewed acclaim for their wine.
---
By Deborah O'Neil MA '09 | Photos by Eduardo Merille '97 MBA '00
"It turns out the wine inside the bottle is as refreshing as the label," wrote California wine blogger Peg Melnik. "It has aromas and flavors of grapefruit, pear, melon and spice. The wine has a round texture and vibrant acidity. A great package inside and out."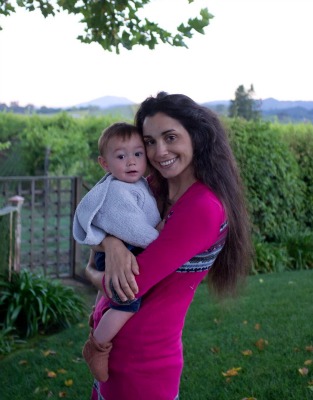 Honig lives on the estate with her husband, Michael, who brought new life to the family winery when he took it over in 1984. Their three children Sophia, 4, Lola, 3, and Sebastian, 1, are growing up nibbling on sauvignon blanc grapes.
Raised in Argentina, Honig discovered her love of wine in college when she took a class and did an internship with Chip Cassidy in the School of Hospitality and Tourism Management.
"Chip became my mentor," she said. "He had me sitting in meetings with distributors. He had me tasting wine all the time. I realized I really wanted to get into the wine business."
After graduating, Honig went to work in sales for Clicquot Inc. in New York and for Rudd Winery of Napa Valley. In 2004, she completed an Advanced Certificate and Diploma with the Wine and Spirit Educational Trust. She later started making wine in Argentina and imported her own wine brand. She now handles public relations and develops international and national markets for Honig Vineyard and Winery.
"If it had not been for wine classes at FIU and my FIU professors who got me educated and excited about wine, I wouldn't have taken this path," Honig says. "There is a lot about wine that I love. It's a very dynamic business, wine is a fun product, and you are selling something that makes people happy."
At 60,000 cases annually, Honig is a medium-sized winery that makes two wines, a cabernet sauvignon and a sauvignon blanc. At $40 for the red and $17 for the white, both are praised as exceptional values. Honig wine is sold in 19 countries and featured in hundreds of restaurants around the country.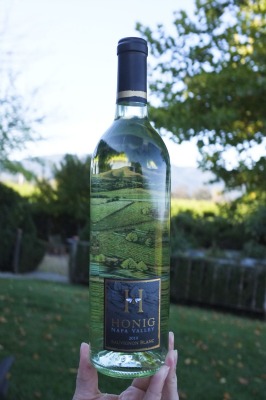 The little creatures that inhabit the Honig vineyard bring more than rural charm. They are part of the Honig family's approach to winemaking. Their 70 acres of cabernet sauvignon and sauvignon blanc grapes are grown according to California's new code of sustainability standards.
In 2010, Honig was one of 17 wineries to participate in a pilot project for the state's new sustainability certification. They have maintained the certifications since then, even publishing their "Green Report Card" online. They were rated "excellent" in almost every category from minimizing water use to their comprehensive employee benefits.
Instead of spraying chemicals, the winery uses owl boxes, which provide a habitat for owls that control rodents. They've also created a natural habitat for blue birds, bats and bees.
Five wind machines protect crops during the winter by mixing the air and raising the temperature by a few degrees to prevent freeze. This is a more eco-friendly approach than pumping water to protect against frost.
The Honig wine bottle is 15 percent lighter than standard wine bottles. Less glass means less energy used in its production and less fuel needed to ship. The winery also saves on fuel by coordinating its pickup and delivery schedule so that delivery trucks always leave with a full load of bottled wine. Plus, the tractors in its vineyard use biodiesel fuel.
In 2006, the Honigs installed 829 solar panels at a cost of $1 million. The panels power the winery and their private home, saving them $42,000 a year in electrical bills and preventing the emission of more than 7.5 million pounds of carbon dioxide.
The family focuses the long-term viability of the soil, the vineyards and their business. Honig says, "We are stewards of the land and it is our responsibility to take care of it and pass it on to our children in excellent condition. Better soil and better grapes also make better wine. If you buy
a nice heirloom tomato and you buy a commercially grown tomato and make sauce out of each, clearly you're going to have better sauce with the heirloom tomato. It's the same with grapes and wine. A beautiful vineyard is a healthy vineyard that produces great wine."