Lisa Mattson '97 combines traditional and modern media to tell stories
---
Originally from Gerard, Kan.,  Lisa Mattson '97 studied communications and hospitality management at FIU. She lives in California's Sonoma wine country and works as communications director for  Jordan Vineyard & Winery, a producer of high-end cabernet sauvignon and chardonnay. She's also the author of an irreverent memoir on the dating career that led her to her husband and soul mate, Damon Mattson. North Carolina-based author and wine lover Bryan Gilmer had some questions for her.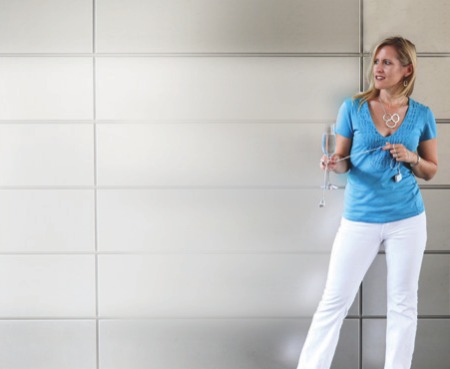 As a teenager, you worked at the McDonald's drive-through in Pittsburg, Kan. What wine would pair ideally with McDonald's famous french fries?
Got to be Champagne.
Oh, wow. I would've gone red with that.
No, salty foods are perfect for the acidity and the bubbles in Champagne or sparkling wine. I just bought three cases of sparkling wine last week. I think drinking Champagne is something that people should not reserve for special occasions. On a Monday night with broccoli and grilled pork, open a bottle of Champagne. It always makes you feel good, popping a cork and listening to the bubbles.
I notice you said you bought cases of wine. I thought a big perk of the wine biz was lots of free wine.
Well, it depends on what job you have and how much access you have to different wines.
I guess you don't get a free $52 bottle of Jordan cabernet as often as a winery would give away a $9 or $10 or $12 bottle, huh.
Right. But I have friends at different wineries, and all of us get an employee rate for our companies' wines, so I'm able to keep the cellar going a little bit.
You started college at Kansas State. How'd you end up transferring to FIU?
I had a bad winter. Every now and then people from small towns get it and say, "Oh, I don't have to be here anymore. I'm an adult now, and I can go wherever I want." I was dating a guy at K State who wanted to be a dive instructor and he said, "Why don't we move to Florida?" So I did.
And you majored in communications with a concentration in hospitality management. Sounds like perfect preparation for your current job.
I love the wine business, and I credit that to the School of Hospitality at FIU and to Chip Cassidy's wine class. It got me excited about wine. And so I've made a career in something I always wanted to do – communications – in an industry that's fascinating. Over the years, there have been so many times when I've paused and thought, "I can't believe I get paid to do this."
I think you have my dream job. Can you explain how I failed to choose a career in the wine industry?
That's easy: Because you didn't go to FIU.
Oh. Tell us about your gig at Jordan.
Since we're a family winery, it's pretty all encompassing – everything from the marketing and messaging for the brand to public relations and digital media strategy and execution. I do a weekly video blog. I write all the copy for our direct-to-consumer newsletter and sales rep presentations.
How do you use social media?
We never directly try to sell on social media. Our idea is that if you take care of your customers, your customers will take care of you. We ask ourselves, what do we have to share where we could be a helpful resource for our followers? We did a piece on how to make French macaroons with our chef in the kitchen. How to prune an olive tree. Stuff like that.
Right now, I'm enjoying a glass of the '97 Volpaia Chianti Classico Riserva, and I know you used to represent the importer of that wine. What's in your glass?
Um, right now Gatorade, because it's 7 in the morning here, and I just got back from running 4 miles at the gym. Last night it was Gloria Ferrer Sonoma Brut, a sparkling wine, and yesterday at work I had our Jordan 2002 cabernet, an incredible wine. We did a vertical tasting (several consecutive vintages) up through our 2008 cab. It's amazing to see how those wines age. Hmm…isn't it only 10 in the morning on the East Coast where you are?
So it is. I, ah, wrote that question last night. Next topic: At wine tastings, it's customary to swish and spit to avoid unseemly drunkenness. Explain how to do this gracefully and without staining your blouse.
I think at everybody's first tasting, you don't follow the spit rule and you get burned. At a winery, especially in Europe, it's easy, because you can just spit on the floor. When you're in a hotel banquet room, professionals bring their own plastic Dixie cup. You put the cup almost to your lip and spit into it. That's the sign of a true professional: a wine glass in one hand and a Dixie cup in the other. Also, watch out for a full dump bucket because there's the possibility of something splashing up on you.
You're looking to publish your memoir,  The Exes in My iPod, in which you use a 13-song playlist as a window into your previous relationships – as your book's pitch notes, "a string of exes that could fill a National Football League roster, 53 men." One song on the playlist is "Brass Monkey" by the Beastie Boys. Tell me about THAT guy.
Oh, God. I met that guy at FIU. In my media law and ethics class. He was the carefree slacker type, and I was the girl who wanted to sit in the front row and fill up two binders with notes. We dated for almost two years. I would be trying to study, and he'd come over with a six-pack of Heineken and take out whatever CD was in my stereo and put in the Beastie Boys – because that was the only one I had that he liked. He taught me to relax and have fun.    ♦
Get in touch with Lisa Mattson '97 at facebook.com/exesinmyipod or @lisamattsonwine on Twitter.