It's Saturday night at the Cage. The Panthers are battling it out, hoping to bring a win to the thousands of fans at Alfonso Field at FIU Stadium. The quarterback hikes the ball and connects a pass into the end zone. 
Touchdown FIU!
Over the cheers and cannon blast, the FIU Marching Band, 100 strong, belts out our fight song, "Go-F-Go-I-Go-U-Go-F-I-U." I find myself smiling in their direction because, this past summer, I was with the band.   
By Marianela de Armas '02
For one week, I was embedded with the FIU Marching Band. Their pre-season camp began in August, the week before the fall semester began. For five days, and a total of 55 hours, both returning members and potential new members tried out for a slot to be a part of the 2012-13 FIU Marching Band.
The camp was just the first of many investments of time and energy required of potential band members. Making the band commits students to attend football games and community parades, among other events throughout the year, while juggling schoolwork with part-time jobs. But, after a week with my new friends, I understood that this endeavor was more than a club or an association, but more like a family, made up of a diverse group of majors, backgrounds and ages that if not for their shared loved for music, would never have met.
The days began at sunrise and went well into the late evening. The temperature neared three digits on the hottest days and, at times, sporadic summer showers had us scattering toward the nearest parking garage or rehearsal hall. The color guard spent five days synching their choreography, while the band learned more than 20 songs in that time. They rarely ever got it on the first try. But, by the last day, our  FIU Marching Band was stronger, louder and ready to continue the tradition.
Day 1: Putting the march in marching band
Neither the sun nor I were fully up that first Monday morning, but we found ourselves on the soccer field near U.S. Century Bank Arena. It was only 7 a.m. and nearly 100 students, ranging from first-time-in-college freshmen to seniors from a wide sampling of majors, were already there, in formation, waiting to hear instruction from  Barry Bernhardt, associate director of bands.
"Set-mark-time-hut. Quarter turn to the left, and step, two-three-step," shouted Bernhardt while clapping in time.
And, suddenly, the formation responded. They not only understood this secret language, but within a few hours of practice, turned and marched in unison in perfect choreography.
All the while, I tried to follow along from the sideline, as I was convinced I would cause a chain reaction and eventually ruin the formation. Good thing I kept my distance, too. Right when I thought I had it down, I stepped on my own shoelaces and tripped. Mind you, I was marching without an instrument. Imagine what would have happened if I'd tried strapping on a 50-pound quad tenor drum and playing it while keeping step.
After a break for lunch, the band trekked to the Wertheim Performing Arts Center and divided into their instrument sections, where they played together for the first time. The cacophony of drum beats, tuba pulses and flute scales echoed through the halls well into dinnertime.
In the midst of this, I met Elizabeth Moreno, a freshman assigned to first bass drum. A former member of Westland Hialeah High School's marching band, she had participated in Band Days, a yearly event where bands across the county are invited to play and participate at a workshop at FIU. When I asked her about her first day at camp, she said, "We just finished practicing music, sight reading, playing with the rest of the band, seeing how our parts sounded with them, and colliding. I liked it."
Just as we finished dinner, Bernhardt announced that we would be playing an impromptu concert just outside of the School of Music. While I struggled with the notion of getting up from my seat, the band was already on the lawn warming up.
With Bernhardt's wave, the drum line counted off four hits and off they went. Onlookers paused to listen; cars drove by at a crawl, some even honked. It was incredibly infectious and, even if they were still a little raw, I felt more than proud to be standing there with them. Especially when a black sedan suddenly pulled up and out stepped the band's biggest fan, FIU President Mark B. Rosenberg.
Listen: President Rosenberg stops by on the first day of band camp
One day down – only four more to go.
Day 2: Rain delay
Exhausted from the day before, I was less than pleased to hear my alarm buzz, until I remembered: Band camp! The only lesson that stuck with me from the day before was the need to dress for the occasion. It was going to be another grueling 11-hour day in sweltering August heat and, although we were hydrating, the potential for this reporter to be sporting unflattering sweat marks – regardless of how light I dressed – was high.
There was also a high chance for rain that morning, but that didn't stop any of us.
The band convened at the soccer field, this time with their instruments, where they marched and played simultaneously while the color guard twirled flags in step.
Bernhardt instructed his graduate assistants to correct the band, while he kept a watchful eye on the dark clouds creeping down the turnpike.
The first sprays of that morning shower were more than welcome. For a moment, I closed my eyes and imagined I was in a fancy resort getting misted by a pool attendant, until the rain pelted a little harder. For fear of ruining the woodwind instruments and color guard flags, Bernhardt instructed those sections to pack up and seek shelter.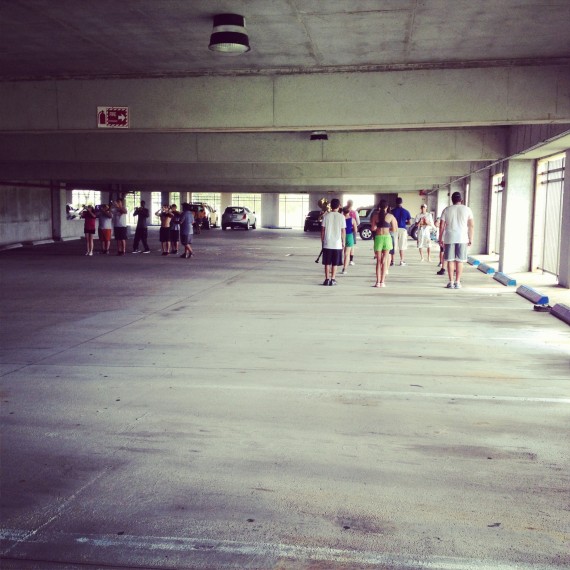 The rain turned into bucket pours and I stood drenched, no longer worried about sweat marks because I was transfixed by the sudden energy of the drum line and brass sections. The harder the rain, the louder they got, the better they danced. And from a distance, I could hear the rest of the band responding to them. They had found shelter in the neighboring parking garage.
When the rest of the band and I arrived at the Panther Parking Garage, the color guard was twirling and the sections were marching and playing under the direction of their peers. Neither Bernhardt nor his teaching assistants had instructed them to do so. They wanted to practice and, when I thought a little rain delay would be a welcomed respite to an already tiring morning, they were still pushing.
Graduates and their loved ones arriving for the morning commencement ceremony were surprised and delighted. By the looks on their faces, they must have thought it was part of their send off.
The band practiced in the garage until the rain let up, and reconvened at the School of Music for another evening of practice.
Day 3: Stopping traffic
After another day of running drills and practice, the band and color guard once again performed in front of the School of Music.
During the warm up, I chatted up tuba player Edward Selgas, an information technology major.
Listen: Band member Edward Selgas talks about why he joined the band
The band played on that night and something pretty amazing happened – they gathered a crowd. Even while receiving corrections on their performance, spectators, both in cars and on foot, waited patiently for Bernhardt to yell out, "Resume."
Day 4: We are family
During dinner, I was able to sneak into the presentations made by music fraternities Kappa Kappa Psi National Honorary Band Fraternity, Sigma Alpha Iota International Music Fraternity and Phi Mu Alpha Sinfonia.
I didn't know we had music fraternities and I certainly didn't expect them to entertain us during dinner. From an a cappella group to a New Orleans-style jazz band performance, it was musicians performing for musicians, without being corrected, without having to worry about being in step with the rest of the group.
The week was almost over, and, even after the all the sweat, bug bites and throbbing headaches, the day was bittersweet. I was reminded that band camp was almost over, which meant I had to leave; for the band, this was just the beginning.
Day 5: Ready, set, resume
And on the last day, we rested.
Well, for a few hours, as Bernhardt changed the call time to 11 a.m. instead of our regular 7 a.m. The band met at the Wertheim Concert Hall, where Bernhardt announced, among other housekeeping issues, that we would be marching throughout campus, from the bookstore to PG5, to play impromptu concerts.
I'm not sure if it was the culmination of camp, or the countless corrections, or the excitement of performing live, but every song exploded out of the band and through the hallways of the School of Music, as they put the final touches on more than 20 songs learned throughout the week. They played throughout the afternoon, while the color guard practiced in the aisles of the hall.
Around 2 p.m. Bernhardt turned to me and said with a smile. "I think they're ready."    
If you enjoyed this story and would like to receive FIU Magazine  online, subscribe here:  go.fiu.edu/subscribe.