Park Ranger Larry Perez '96, MS '08, shares the secrets of the Everglades
Like just about every other urban Miamian, Larry Perez '96, MS '08, grew up not giving the Everglades much of a second thought. Today, the park ranger finds sanctuary in the middle of  South Florida's tropical wilderness.
August 22, 2012 at 12:00am
---
By Sissi Aguila '99, MA '08 | Photos by Angel Valentin
I've been driving for a while now, and I'm starting to get worried. The blue dot on my iPhone seems to think I'm heading in the right direction, but I'm not sure. All I see are miles of farmland. Strawberry fields? Tomatoes? Who knows. All I know is we are not in Miami anymore.
Then I see it: Welcome to the Everglades National Park. Yes!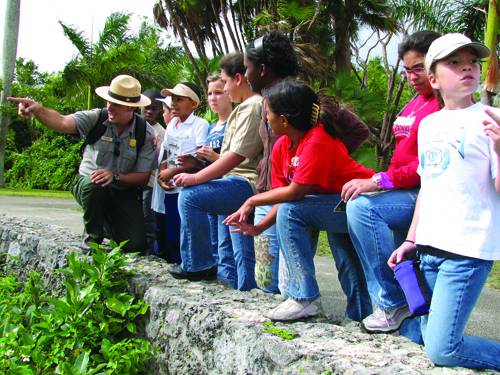 I'm going to spend the rest of the afternoon and evening with Park Ranger Larry Perez '96, MS '08. Perez just wrote a book, Snake in the Grass: An Everglades Invasion, about Burmese pythons in the park. This should be an adventure. I've got my laced-up shoes and long pants, as he suggested in his email, and some bug repellent for our three-hour tour. Our photographer, Angel Valentin, has a net to cover his face. "I learned my lesson last time I was out here," he says. "I was covered in bites."
Perez is waiting in the visitor's center. He's a nature-lover's rock star. Confident, yet goofy. The tall, dark and handsome type in a green uniform and ranger hat. Humble, too. He'll sign as many autographs as his fans demand. Seriously. He was signing a kid's book when we walked in.
Ranger Larry, as his fans call him, has built quite a following in South Florida. You mention his name and you can bet your Hard Rock Casino winnings that you'll get an "Ohhhh, I LOVE him!" Perez speaks all around town, sharing his passion for and vast knowledge of the Everglades with people of all ages.
A Miami native, Perez grew up like most South Floridians a proud urbanite. He never thought much about what lay out west – the famed River of Grass, the largest sawgrass prairie in North America, the largest protected mangrove forest in the northern hemisphere. He visited once in fourth grade and thought it was cool but then moved on, back to reality.
The Everglades became real for Perez his sophomore year at FIU when he was in the Honors College majoring in park and recreation management. While skimming the course catalog, he came across an Everglades course offered by Professor Bradley Bennett. All the classes were held at the park. He says, "That lab course changed my life. Bennett wowed me intellectually. I immediately fell in love." He began working for the National Park Service after graduating in 1999 and went on to get a master's degree in environmental studies in 2008.
Our first stop on the tour is the Anhinga Trail. A card-carrying urbanite myself, I'm relieved to see a boardwalk and rails protecting us from what Perez calls in his book "the critters of ill repute" that call the Glades home: Alligators. Crocodiles. Snakes. Panthers.
As he leads us through the trail, he's clearly in his element. Perez remembers his first trips out to the Everglades for class. "The depth and breadth of this world drew me in," he says.
After 10 years as a ranger, he still seems in awe of the dynamic landscape, pointing out every plant and critter we come across. "What makes this place special is the vegetation – a tropical/Caribbean mixture."
We stop to check out a momma alligator with her eight babies who have taken residence in a drain hole on the side of the road. Ranger Larry drops by periodically to check on them. "They're about a year old," he explains. "There aren't as many babies today. They leave when they're ready."
Ranger Larry has accomplished the unthinkable: He makes me feel all warm and fuzzy about cold-blooded reptiles.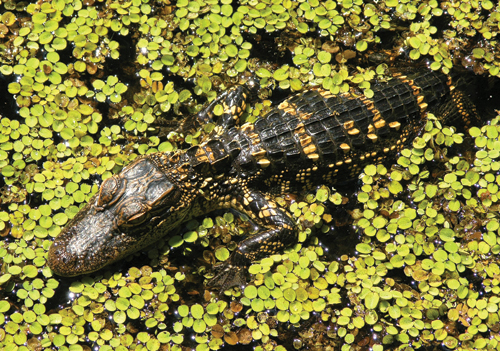 He's a natural storyteller, a skill that he makes the most of in his role as an Everglades educator. His stories from the field are as colorful as the place itself. "Do you know people are allowed to jump into the alligator-infested waters and the rangers can't stop them? It happened on my first day. A guy decided to go swimming. I called for backup and we got him out. And then one of the rangers turns to me and says, 'You know this is wilderness and if folks want to go swimming, they go swimming.'"
For the record, he says, no one's ever been attacked or eaten by an alligator at the park.
Perez asks us to imagine South Florida at the start of the 20th century. "From the Model-Ts, Miamians would look out and see tall royal palms majestically swaying over the sawgrass. But to get to them they had to trudge through swamp." Most dismissed the Everglades and discussed ways to drain it to help fuel the construction boom of the Roaring Twenties.
As Ranger Larry weaves his story, park guests join us to hear what happens next. Soon they are asking questions. Are those royal palms? Yes. What kind of bird is that? Anhinga. Can we…?
"Shhh, everyone be quiet," he interrupts. "Can you hear that hiss?" It's an alligator hissing, warning another alligator to back off. We watch attentively in silence as the two alligators skirt by each other without incident.
That reminds me. What about the Burmese pythons? Where are they? Can we see some? And can Angel get a couple of photos?
In 2005, the photo of a 12-foot python's unsuccessful attempt to consume an adult alligator at Shark Valley made international headlines. Folks were horrified and fascinated. Perez fielded hundreds of questions about the serpent from Junior Rangers, park guests and international tourists.
In his book, published earlier this year by the University of Florida Press, he shares the stories and facts of the invasion with those who can't join him on the trail. The first recorded sighting of a Burmese python in the Everglades was in 1979, but it wasn't that big a deal. There are tons of non-native species in the park. In the present day, officials send an electric shock through the canals surrounding the park. They collect all the stunned fish, weed out the non-native species and return the rest to the water.
The capture of three pythons in one year, 2001, was a signal, though, to park officials that this was a bigger deal. In 2005, 94 pythons were found and removed from the Everglades.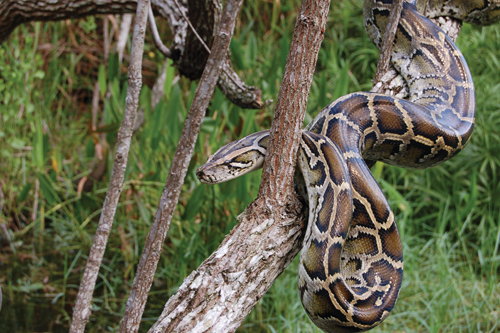 Visitors strolling through the Anhinga Trail that year were "privy to history," says Perez, "the first time ever that an Old World python had ever been observed tangling with a New World American alligator.
"That day, an alligator had grabbed a python just behind the head of its toothy jowl. The remainder of the snake surly girdled the trunk of the now static alligator several times around. The pair remained locked in battle for approximately 24 hours," he writes in his book.
When an approaching alligator hissed loudly in a defensive display, the python, which observers had written off as dead, resurrected, catching his captor distracted and off guard. "The serpent tensed its sinewy muscles and darted like a shot into the nearby vegetation-never to be seen again. Though speculation ensued about whether or not the python was mortally wounded, this much was known for certain: the snake had tangled for 24 hours with the monarch of the Everglades marsh, and somehow, it had ended in a draw."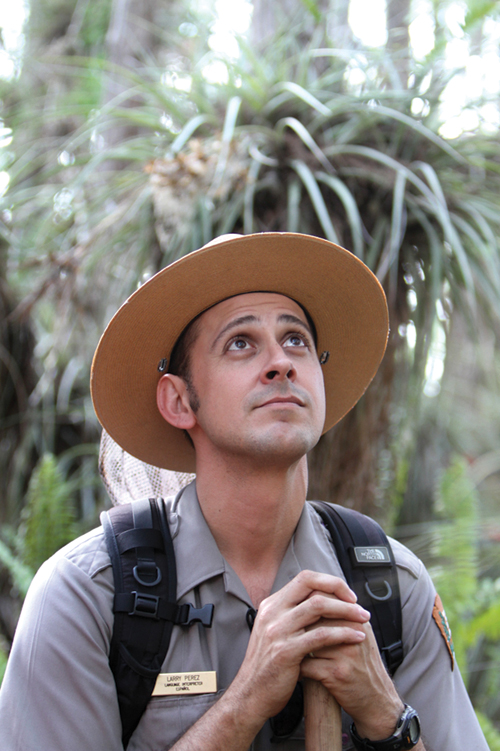 Perez says stories like these lead many to think pythons are everywhere, while, in fact, it is still rare to come across one. So no chance we're going to get a photo for our story? How about a lab we can visit where pythons are being dissected, tagged, hypnotized into submission…something? "Nope," Perez explains, "sadly, most are found dead or they're put down."
The presence of the non-native python has undoubtedly hurt the delicate ecosystem and prompted many questions on how and if the snakes can be eradicated. A study published in the Proceedings of the National Academy of Science journal earlier this year found the population of small mammals in the Everglades has decreased significantly. According to the U.S. Geological Survey, the number of raccoons and possums spotted has dropped more than 98 percent, bobcat sightings are down 87 percent, and rabbits and foxes have not been seen at all in years. All are thought to be victims of pythons. The report concluded there are too many snakes to successfully remove. It's now a question of how to manage the invasion.
"This invasion is unprecedented," Perez says. "In 2009, the peak of recovery, we found 360 pythons in the park. But there are players, other non-native species, that have caused more problems. Every change in the system yields some winners and some losers."
As the day starts to cool off, Ranger Larry has one final stop for Angel and me. "Most people never get off the trail and track through the mud but you all are doing it today," he says. I silently remind myself of what Perez just told me. Pythons are rare. No one has ever been eaten by an alligator in the park.
Our destination is a tree dome in the middle of the marsh. I've seen similar tree domes tons of times as I cruise down Alligator Alley at 80 miles per hour but never imagined I'd ever venture into one. Today, the water is low so we wade through with ease. As we approach the dome, it's like entering a forest – the kind you see in fairy tales. The tall, thin trees curve together. Sunlight barely seeps through. Bright orange air ferns grow midway up the trunks.
Finally we reach an opening in the middle of the dome. There's a pool of water the dry season has spared. Ranger Larry says last week an alligator was hanging out there. He takes his walking stick and starts poking around to see if it's still there. Luckily, it's not.
For a few minutes we explore in silence. There's magic in that dome. Peace that a yoga master would envy. It's allowed to be and for a few minutes we just are. Wait…is that the traffic of the turnpike? No it's just the wind.
Perez shares the secrets of the park with thousands each year. His stories are intense. Captivating. And after one short afternoon seeing the park through his eyes, I have fallen in love with the Everglades.   ♦