President's Corner: Worlds Ahead Tour 2012 stops by eight cities around the world
August 22, 2012 at 12:00am
---
Over the past year, I have had the great pleasure of traveling around the world to reconnect with FIU alumni. As part of the first "Worlds Ahead Tour," I've gone from Los Angeles to New York. I've flown overseas to connect with alumni in China and Jamaica. What a thrill to meet with our alumni near and far! From an overflow crowd in Kingston to a happy and prideful hall full of our grads in Beijing; from high atop a high-rise in Chicago to a neighborhood restaurant in Atlanta, I have been touched by the heartfelt discussions with our graduates.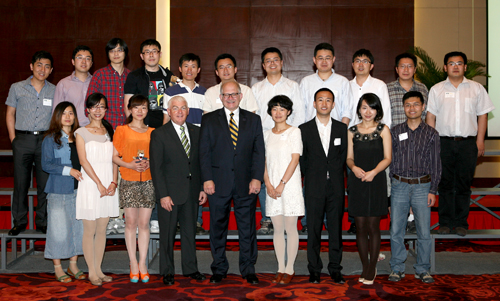 Here at home, I also have had the pleasure of hosting receptions for some of our Worlds Ahead alumni in South Florida. In April, we toasted at the Reagan House FIU alumni who were nominated for or won Suncoast Emmys. And in May, Miami-Dade County's top teachers also joined us at the Reagan House as we honored Miami-Dade County Public Schools' 2013 Teacher of the Year Alexandre "Alex" Lopes, an FIU doctoral student who has since been named Florida Teacher of the Year, and other FIU alumni who were finalists for the award.
I also would like to congratulate our new Alumni Association President Gonzalo Acevedo '91, MBA '10, who took office on May 2 at the association's annual meeting.
So many of our alumni are living examples of the value of an FIU education. Through your accomplishments you are showing the world that an FIU education gives you the tools to succeed in an increasingly competitive and complex global marketplace. You embody what it means to exceed expectations, pursue one's passion and make a difference.
As I always say, you, our alumni, are our lifeline for a lifetime. As alumni, you play an important role in telling the FIU story and in taking FIU to the next level. As we move forward, I am asking you for five things:
Be a proud Panther! Wear your FIU gear!
Make plans each year to attend an FIU Athletics event on campus or on the road.
Help us recruit talented students to attend FIU.
Hire FIU students and graduates!
Make a donation to FIU and encourage others to do the same. Your contribution to FIU will ensure that we can continue to give our students the same high quality education that we gave you.
Homecoming is coming up the week of Oct. 7-13, and it's the perfect opportunity to come back to campus and join your FIU family in celebrating our FIU Pride.
See you there! Go Panthers! Go FIU!
President Mark B. Rosenberg