School of Music faculty recall their greatest musical memories
November 2, 2012 at 12:00am
---
Faculty members from FIU's School of Music share some of the greatest musical moments of their life.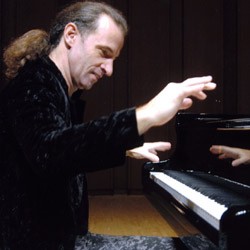 Kemal Gekic, Professor of Piano Performance and Artist in Residence
Pianist Kemal Gekic's playing has been acclaimed worldwide by audiences and critics alike. Born in Split, Croatia, in 1962, Gekic amazed his family by accurately picking out melodies at the piano at age one and a half.
I have found that, aside from a sheer aesthetic pleasure, music offers the most when connected to a social mission. I remember an occasion of which I am very proud. Back in the 1980s, I was living in Europe and the regional hospital needed new equipment, specifically an instrument used for eye surgery. The hospital served a whole province, and lack of equipment meant that interventions had to be postponed indefinitely or people had to be referred to other hospitals that were quite remote and many people wouldn't have the means to travel. I was approached by a delegation of hospital executives who asked if I could help raise $1.5 million.
It was obvious a benefit concert in a normal-sized hall wouldn't do. We launched a broad campaign and booked a sports stadium to play for a larger number of people.
The concert was a success and became a unique event in my life. Thousands of people listened in a sports hall to the music of Bach, Mozart and Chopin – through several dozen huge speakers, each piece enhanced by a color light show. The success was overwhelming. In the end, a number of necessary medical instruments were acquired, and it turned out that a number of people that I knew, including a member of my family, had their sight restored through this service. I received many honors, among them a special recognition by the province, as well as free service from the hospital for life, which I hope never to use.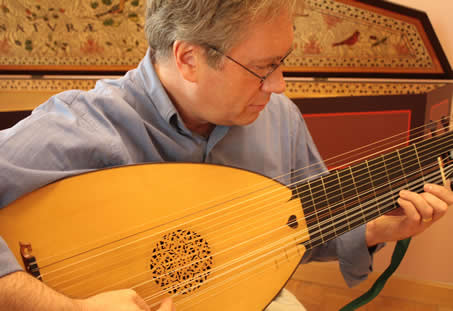 David Dolata, Associate Professor of Musicology
As a lutenist David Dolata has appeared at such venues as the Glimmerglass Opera in New York, the Florida Grand Opera in Miami, the Boston Early Music Festival and the Spoleto Festival's Early Music Series, and on broadcasts and recordings for NPR, BBC and CBS Sunday Morning.
Both my parents had unique experiences as adults that led to my family's developing an appreciation for music. My mother, highly cultivated in all things except music, contracted TB and had to spend several months in the hospital. Next to her in the ward was a delightful woman from Afghanistan with an addiction to opera. My first and most enduring musical memory is listening with my mother to the "Anvil Chorus" from Verdi's Il Trovatore, a melody that still thrills me to the core.
During the Korean War, my father was stationed at a U.S. Air Force base near Munich. Since his native language was Polish, he spent his off-duty hours in the barracks reading to try to improve his English. Another guy in his platoon also hung out there: Johnny Cash. After three years of listening to him practice guitar everyday, my father found the sound as natural as that of the singing birds and missed it after returning to the states. So my mother bought my father a guitar. He never picked it up, but I did.
Years later while working my way through college as a musician, wandering from major to major, a friend suggested that I should bloom where I was planted and pursue music as a career. From that moment, everything changed. Now, my work is my play, and every morning I can't wait to dig in.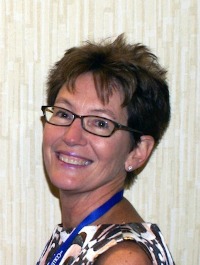 Cathy Benedict, Coordinator of Music Education
Cathy Benedict is the School of Music's coordinator of music education. She advises all music education students as well as teaches undergraduate and graduate classes.

I've been making music as long as I can remember, perhaps because I was always searching for and desiring to construct musical memories. Of course, memories are after the fact and what I am always consciously or unconsciously yearning to experience are moments that most certainly must be called aesthetic encounters. But I have to say that once I began facilitating musical environments with young children my most powerful musical memories came from the joy that is made manifest as we discover and experience singing and "musicing" together.  And now that I am able to lead classes at FIU that bring together parents, FIU students and young children in multi-generational and diverse ways, my life is filled with musical moments that surely will become profound musical memories.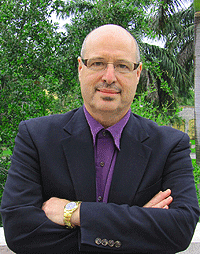 Orlando Jacinto Garcia, Director of the School of Music
Through more than 100 works, Orlando Jacinto Garcia has established himself as an important figure in the new music world. The distinctive character of his music has been described as "haunting sonic explorations" with "a certain tightness and rigor infrequently found in music of this type."

My greatest musical memory was hearing the premiere of my work "Threnody for the Americas" performed by the New World Symphony Orchestra and soprano Joan La Barbara with Dennis Russell Davies conducting as part of the New Music America Festival in December 1988. The performance by these excellent musicians was very important for my career as a then-young composer. The performance was at an incredibly high level. It was extremely satisfying and rewarding and left me hooked on writing for the orchestra – my favorite ensemble to this day.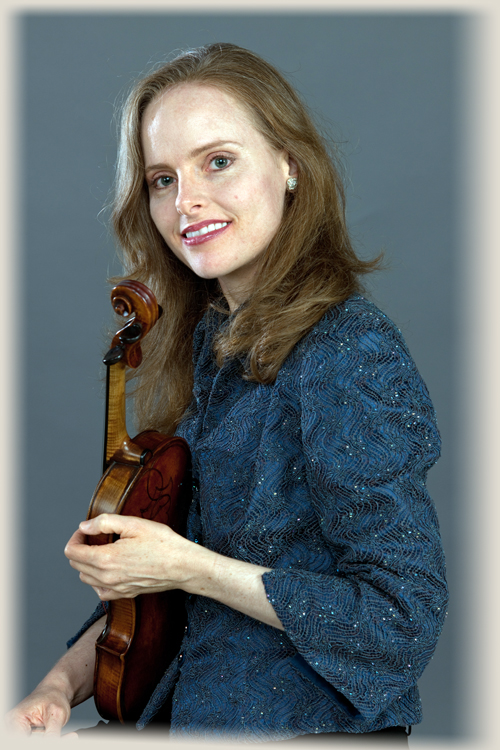 Marcia Littley, Artist in Residence
A violinist and founding member of the Amernet String Quartet, Marcia Littley has appeared as a soloist with orchestras in the United States and in Mexico, and has participated in many music festivals including Aspen, Ravinia, Interlochen, Tanglewood and the Isaac Stern Chamber Music Workshop at Carnegie Hall.
Some of my happiest memories are of my own family's "musicales." We gathered together for the sheer joy of playing. I would grab the violin, my mother would sit at her harpsichord, and my dad and sister would take up their flutes. We would play Bach and Handel and Mozart. It was a real family affair.
With professional musicians as parents, I remember playing the piano since I was very tiny. I remember being held in my parents' laps and looking down at this vast piano keyboard. It seemed ginormous. Later, when I was 7, I switched from piano to violin after I heard an orchestra up close in concert at my school. I loved the instrument and cut out a violin of cardboard and put rubber band strings on it. I showed it to my parents, and they rented me a violin and got me a teacher right away.
As someone who teaches music as well as plays professionally, I love the idea of passing on tradition. My mentor used to tell me stories about his mentor, and eventually I got to study with my teacher's teacher, who by then was a legend to me. My mentor also gave me his violin bow, which I recently gave to a student who was going to a master class in France. It's incredible how something like that can make a huge difference. Not only is it a very good bow, but the act of passing it along represents a vote of confidence in my student and keeps the torch moving forward.
Robert Dundas, Associate Professor of Music, Director of Vocal Studies and Founder of the Opera Theater
Robert Dundas has performed in more than 30 operas, including Almaviva, Tamino, Don Ottavio, Nemorino, Don Jose, and the Duke of Mantua.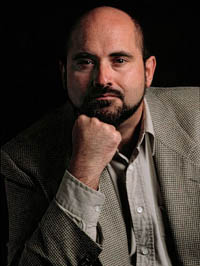 Throughout my musical studies, I dreamed of having a successful career as a professional singer.  I was fortunate to always find part-time employment during my college years, and I also had my share of solos in college productions. However, as I neared the completion of my studies, my teachers all felt that I had a greater talent as an opera stage director. With their encouragement, I even found employment as an assistant stage director at the Metropolitan Opera. It appeared I was headed for a career as a professional opera director—until I went to Germany to attend an intensive German language course.
Prior to beginning the course, friends encouraged me to audition for a German opera agent. Much to my surprise, the audition was very successful, and the agent sent me to a professional opera house for another audition. Again, the audition went very well and, before I could even begin my German language course, I had received a contract to sing in a professional opera house for the following season.
Of course, this was the answer to all my dreams and I remained in Germany for another 12 years, singing many roles in a variety of professional opera houses. I was even able to continue my directing career while I was there!   ♦
If you enjoyed this story and would like to receive FIU Magazine online, subscribe here: go.fiu.edu/subscribe.