Speaking up about homelessness: a classroom project with real-world implications
August 22, 2012 at 12:00am
---
A powerful partnership between communications students and the formerly homeless aims to change perception.
By Deborah O'Neil MA '09
On the first day of class, the stories spilled out, painfully, haltingly, uncomfortably. The morning when school bus driver Christopher pulled over on I-95 to snort cocaine before picking up 72 children. The day Doreen decided being battered by the streets was better than being raped by her uncle. The childhood of beatings and incest that drove Anita to drug abuse and crime, until one day she'd had enough.
The Miami residents, each of them transitioning out of homelessness with the help of the Miami Coalition for the Homeless, had gathered at FIU to tell their stories to Joann Brown, chair of FIU's new communications arts degree program in the College of Architecture + the Arts. As devastating as the stories were, for those sitting in the audience the presentations ranged from confusing to straight-up boring. That would soon change. This was day one of a semester-long journey that would give the 
formerly homeless renewed purpose 
and Brown's public speaking students 
an unexpected lesson.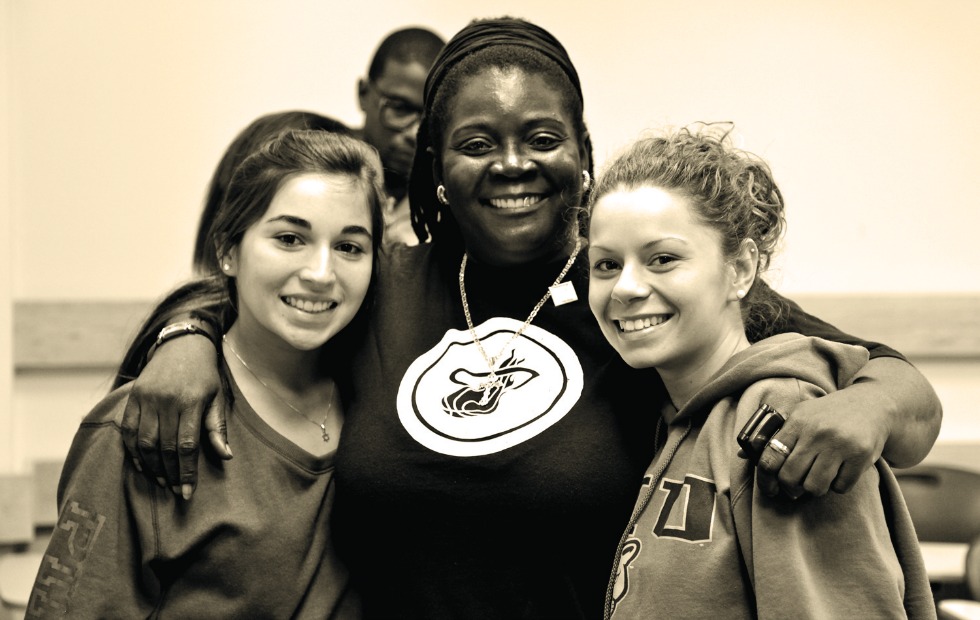 In the early morning hours of Jan. 12, 2006, two Plantation teenagers wielding bats beat to death one homeless man and brutalized two others in Fort Lauderdale. During the criminal trial, one of the survivors, Raymond Perez, described how he'd been sleeping on a blanket in a church courtyard when he was attacked. The teens were grinning and laughing as they struck him. The violent spree brought new attention to the problem of homelessness in America and the realities of life on the streets. The National Law Center on Homelessness and Poverty estimates that each year, more than three million people experience homelessness, including 1.3 million children. Their days are marked by hunger, sickness and violence.
The National Coalition for the Homeless documented 1,182 attacks and 312 deaths of homeless individuals around the country between 1999-2010. Homeless men, women and children have been kicked, set on fire, beaten and
decapitated. Nearly half of the people who commit these crimes are under 
age 20. Three-quarters of the perpetrators 
are under age 30.
In Miami-Dade County, the Miami Coalition for the Homeless recognized education was one part of the answer. The Coalition established a Faces of Homelessness Speakers Bureau in 2009. Through the bureau, homeless and formerly homeless individuals share their personal stories with others to raise awareness of who becomes homeless and why. The speakers visit schools and community organizations throughout South Florida telling their stories.
"We needed to educate the community about the issue of homelessness," said 
Devin Floyd, an Americorps Vista volunteer who heads the speakers bureau with Mabel Colon. "Maybe we can lessen crimes against the homeless."
On the first day, Brown listened, quietly and patiently, as the formerly homeless, all members of the Miami Coalition for the Homeless Speakers Bureau, told long, rambling stories filled with graphic detail. Sometimes they forgot what they were saying. Threads of stories were left hanging. They repeated themselves. Almost no one had a point to make. They just talked.
And when they were done, Brown 
began teaching.
"You all are very strong and have come through a lot," Brown told the speakers on the first day. "Your stories could be so much more impactful to the people who listen to them if you planned out what you were going to say."
The group was participating in an innovative classroom project that teamed them with undergraduates taking Brown's public speaking class. The project, heading into its third year this fall, gives students an opportunity to practice the communication skills they are learning by coaching the Homeless Coalition speakers.The speakers spend the semester writing, refining and practicing the delivery of their personal stories with instruction from the students and from Brown. Each year, some of the speakers drop out of the program. Those who stay learn how to develop a powerful opening statement and circle back to it in the closer. They learn to speak slowly, project their voice and gesture with their hands, but not too much. They find out that, with practice, you really can stop saying "umm."
When the course is over, the speakers take their presentations on the road, bringing a dose of reality to the many wrong assumptions people make about homelessness. Brown's hope is that the speakers will use the tools they learn at FIU to deliver a powerful message. Even though the speakers will eventually find themselves before auditoriums filled to the brim, it turns out that for them, the "Big Day" is the last day of class when they give their final presentations to the FIU students.
On the final day of class, the room was filled with nervous energy. There was a VIP appearance by Dean Brian Schriner. The Executive Director of the Miami Coalition for the Homeless Bobbie Ibarra was there too. Four members of the original group of speakers – Doreen, Anita, Winnie and Dean — had finished the program and today they would deliver their presentations, polished and professional.
Anita went first. Deep breath. She began. "Did you all know…" She stumbled. Then stopped. "Give me a minute. I messed up." Another deep breath. "Good morning ladies and gentlemen. Did you all know that sometimes people live twice? Well I have, and this is my story."
Her gut-wrenching biography unfolded with a clarity she'd never thought possible. Anita's memories are foggy from so many years of drug use. But with the help of the FIU students, she'd put it all together. She never knew her mother. Her father was a pimp. He raped her repeatedly.
"I remember one night the TV was on. I'd pray that the people inside the TV would see what he was doing to me, but the help never came." She started living on the streets at age 11 or 12, sleeping in abandoned buildings. She prostituted herself for drug money and ended up in prison. "Crack cocaine brought me to 
my knees."
Three years ago, on a particularly cold night, she found herself looking up from the street into a condo with a flickering TV. Those people were probably lounging on their sofa in soft pajamas snacking on something yummy. And that night, Anita decided she was done. "I was tired of the life I was living."
Today, Anita is three years clean and works at American Airlines Arena. For her closer on the final day, she spoke of her will to continue on her new path. "As long as I keep being…" She paused, scanning the students for help. "The word is in my head."
"Determined?" a student offered.
"Yes! That's it," Anita broke into a huge 
smile. "As long as I keep being determined, 
I will prevail."
Anita, Doreen, Winnie and Dean finished their final presentations to the admiring applause of everyone in the class. And then they all sat together — as students who had shared something important over the course of a semester — and reflected on how far they had come together.
"It's truly been a learning experience for me," Dean said. "When you go through the process of public speaking training, it educates you. I aspire to be an inspiring, motivational speaker."
Freshman Brianna Phillipe said the class was not only about speaking and structure and delivery. "It was also about what they were saying…what they went through and how they overcame it, and how they were going
to relate that to an audience so
it is inspiring."
Freshman Chelsea Byerly learned in her public speaking class that homelessness is not so simple. "It could be one choice that changes the direction of your life," she said. "I didn't know that."
Hearing about homelessness first hand made it real, the students said. And Naomi Baptiste appreciated the opportunity to do some good for the cause as part of her coursework.
"There are things we can do," she told her classmates. "I've never had a chance to personally feel like I'm doing something and making a difference. I really like that we got the chance to connect on this level as opposed to just donating somewhere."
As the last class ended, Anita looked around the room with the wisdom she's earned. "You all are very beautiful," she told the students. "I didn't go far in school. I left in the eighth grade. It felt good to sit in a university. I can tell my grandkids, I did go to a university."   ♦
The Communication Arts Department Studio is available to alumni and university-affiliated community members interested in receiving assistance and coaching for speeches, presentations and interviews. Contact them at communicate.fiu.edu.