Gold designates Alumni Association members.
Skip to decade: 1970s | 1980s | 1990s | 2000s
1970s
Frank M. Souto '74 is president of FMS & Associates, LLC, a company based in Racine, Wis., that consults with credit and collection companies. He also represents the Texas-based business of his designer brother-in-law, Silvio Menéndez, Wild Timber Designs, which manufactures a variety of wood products. An Alumni Association Silver Pride Inductee, Souto works with alumni associations at different universities across the United States to raise additional funds for those associations.
1980s
Jesus Romero '81, MS '83 was included in Barron's magazine's listing of the top 1,000 financial advisors in America for the first time this year. A Merrill Lynch financial advisor with more than 50 years of experience, Romero specializes in the handling of wealth and liability solutions.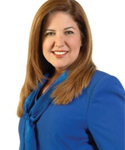 Keren Peters-Atkinson '88 recently was promoted to chief marketing officer of Madison Commercial Real Estate Services. She previously served as the company's director of sales and marketing. In her new position, Peters-Atkinson will direct the traditional and online marketing plans for Madison's 10 companies and 12 joint ventures, as well as those of related entities nationwide. She also will continue to write the company's award-winning weekly work/life advice e-newsletter and blog, "Monday Mornings with Madison," which can be found at mondaymornings.madisoncres.com.
1990s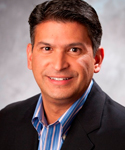 José Tomas '92, MS '03 was elected to the Board of Directors of the Society for Human Resource Management, the world's largest HR association. Tomas serves as president of Latin American and Caribbean operations and global chief human resources officer for the Burger King Corporation.
Gabriel Albelo '93, president of the Miami-based TransAmerica Training, was honored by Oracle University last fall with a National Special Recognition and Marketing Collaboration Awards for his and his company's outstanding track record in selling, supporting or delivering Oracle training. He is a member of the Alumni Association Board of Directors.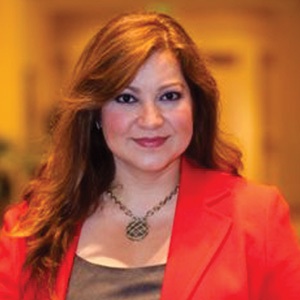 Rosanna Fiske MS '94 was named one of the 100 most influential Hispanic business executives in HispanicBusiness magazine's October 2011 issue.
The associate professor in the School of Journalism and Mass Communication and director of the Global Strategic Communications master's program at FIU was among 30 Hispanic executives selected in the Corporate Influential category. She was chosen for the impact she has had inspiring other Hispanics in their in communications career paths.
"I am honored to have been selected by HispanicBusiness as one of the leading Hispanic business leaders," she said. "As a Hispanic faculty member in the leading communications program for Hispanic students, it is especially rewarding to be part of such a distinguished group of diverse executives and academics."
Fiske was the first Hispanic woman president of the Miami chapter of Public Relations Society of America. She has received a number of industry and academic awards, including an FIU Torch Award, the 2010 Public Relations Professional of the Year PRemio Award by the Hispanic Public Relations Association for her many years of service to advance the profession, as well as her community.
At FIU, Fiske has been instrumental in helping shape the school's Global Strategic Communications program into the largest graduate communications program in Florida. Currently, she also serves as the chair and CEO of the Public Relations Society of America.
Ivan J. Parron '94, JD '05, principal partner of the Miami Beach-based entertainment, media and sports law firm Parron Law, was admitted to the New York State Bar. Parron is already admitted to practice law in Florida and Washington, D.C.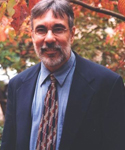 Luis Marcelino Gómez '95, MA '98, Ph.D. '01, a senior lecturer at the University of North Carolina at Chapel Hill, published his fourth short-story collection, Cuando Llegaron los Helechos (When the Ferns Arrived), last November.
Ginelle Santamaria '99 and Michael Joaquin Alvarez welcomed their first baby, a son named Michael Joaquin Alvarez II, last Oct. 9.
2000s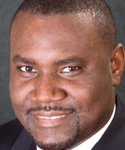 Larry Fleurantin, Esq. '00, an Honors College graduate and the principal attorney at Larry R. Fleurantin & Associates, published an article titled, "Exhaustion of Administrative Remedies in Immigration Cases: Finding Jurisdiction to Review Unexhausted Claims the Board of Immigration Appeals Considers Sua Sponte on the Merits." The article appeared in a 2010-'11 issue of the American Journal of Trial Advocacy.
Maria Arbiol '03 and Luis Lopez del Castillo '04 were married last July 9 at Viña Casas del Bosque, a vineyard in Santiago, Chile. The couple first met in FIU in 2002 and currently reside in North Carolina, where she is finishing a degree in educational leadership at the University of North Carolina-Chapel Hill and he works in the Raleigh office of Wasserman Media Group as a Hispanic marketing consultant.
Al Rego MBA '04 recently was promoted to vice president of Clinical Operations at Miami Children's Hospital. Rego, who has been with the hospital for more than two decades, now oversees its pharmacy; clinical laboratory; departments of radiology, dietary and environmental services; and patient and guest relations.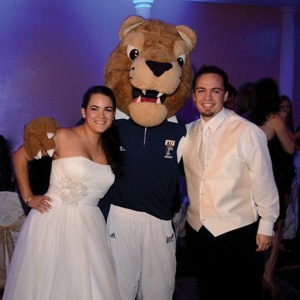 Susan (Novoa) Carvajal '06, MS '09 and George Carvajal '08 were married on Sept. 23, in a ceremony that was dressed up in blue and gold.
The bride and groom reached out to FIU President Mark B. Rosenberg and the FIU Alumni Association to inquire about some FIU goodies that could help enliven the ceremony, since their wedding's colors were navy blue and gold. FIU holds a special place in the couple's hearts: the pair met at FIU in 2006 playing intramural soccer with their respective Greek organizations.
"We bleed Blue and Gold," Susan said. "We both worked on campus and we lived in the dorms, so it's no surprise that the majority of our love story was written with FIU as its stage."
To make their special day even more so, FIU sent beads and pompoms their way, as well as a very special guest: Roary.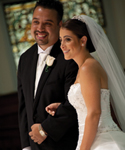 Lourdes Cristina Cortizo '07 
married Edward Joseph Acevedo at Gesu Catholic Church in Miami last Aug. 20. They reside in Arlington, Va., where Lourdes is a practicing attorney in Washington, D.C., and Edward is a professional staff member for the U.S. House Committee on Foreign Affairs under the leadership of U.S. Rep. Ileana Ros-Lehtinen '75, MS '87.
Norma Watkins '08
, a professor emerita at Miami-Dade College, has written a memoir titled,
The Last Resort: Taking the Mississippi Cure
. In her book, Watkins tells the story of a childhood at Allison's Wells, a popular Mississippi spa proper white people run by her aunt, and of a one-woman battle against the hypocrisies of segregated society.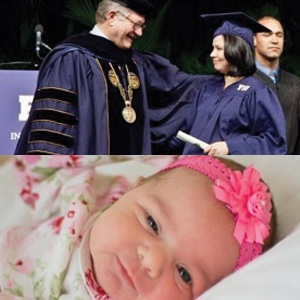 Jenifer Merille '11
and
Eduardo Merille '97, MBA '00
had quite the blessed December 2011. On Dec. 12, Jenifer earned her degree in education and crossed the stage nine months pregnant. Eddie, who is FIU's director of marketing and new media, snapped this picture of her at Commencement with FIU President Mark B. Rosenberg. Less than two weeks later on Dec. 23, baby Melody Blas Merille arrived just in time for Christmas. Melody was welcomed by brother Luke, 4, sister Mila, 2, and by her abuela, fellow FIU alumna Marianela Merille '75, MS '77.