FIU, JPMorgan Chase and Miami-Dade County Public schools come together to transform lives at Miami Northwestern Senior High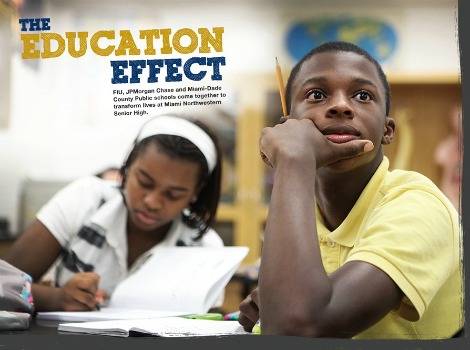 By Deborah O'Neil, MA '09
Every morning, a chorus of cheers and applause greets the students of Miami Northwestern as they start the day at Liberty City's landmark high school.
"It's you! You're here! That's great, great, great!"
"Today is the day you write your future!"
"You are dynamite! Northwestern is dynamite!"
Against the neighborhood soundtrack of gunshots and sirens, the early morning pep rally led by City Year volunteers is unabashedly bubbling with positivity. For sure, some of the sleepy teens walking past roll their eyes. But plenty stroll in with smiles. A few even break out in a dance, right there on the school's doorstep at 7 a.m.
It's a great message for students anywhere. At Miami Northwestern, the educational rally cry competes with a lot of adult-sized distractions: poverty, crime and the stigma of academic failure.
Until this year, the school had received an F or a D every year that the state of Florida has graded schools. Nearly a quarter of the kids passing through the doors don't graduate. That's a marked improvement from 2007 when 59 percent didn't finish and a high-profile study by Johns Hopkins University labeled Miami Northwestern one of the nation's "dropout factories."
Today, there are signs that a transformation is underway at Miami Northwestern Senior High. The school began 2012 with a huge step forward – its grade improved from a D to a B. Graduation rates are up. Discipline problems are down. Reading, math and science scores are steadily improving. The posters up and down the corridors read: "The Pledge: 100% Graduation." A new principal, Wallace Aristide, is setting new ground rules for learning, discipline and school culture.
At the start of the 2011-'12 school year, the school's transformation received an unprecedented stimulus: a $1 million contribution from JPMorgan Chase to fund the start of the community school partnership with FIU and Miami-Dade Public Schools. With the partnership, Northwestern Senior High has become FIU's first "university-assisted community school."
The partnership is called "The Education Effect" and it is unlike any ever initiated at FIU – bringing together the intellectual resources of a research university, the investment of a major corporation, the commitment of the nation's fourth largest school district and the dazzling potential of 1,750 young minds.
The announcement of the partnership was held in the Northwestern College Resource Room with its alumni hall of fame. Each successful Northwestern graduate is a reminder of the powerful effect education can have on a life. U.S. Congresswoman Frederica Wilson. Eleventh Circuit Court Judge Rodney Smith. FIU graduate and Tampa Bay Buccaneer Anthony Gaitor. Harvard University biomedical engineering major Jennifer Arzu.
The kids of Northwestern
Sophomore Marcus Postell carries his assignments in a Captain America folder and keeps a pencil tucked behind his ear all day. A resident of Opa-Locka, Miami Northwestern is not his zoned school. He and his parents chose Northwestern. Like many Northwestern families, the Postells have been graduating from the school for generations. The high school has a strong and active alumni association and Bull pride runs deep in Liberty City.
Among Northwestern's graduates are Marcus's sister, now studying pharmacy at the University of Florida, along with his father, aunts, uncles and grandmother. "I had to keep the family tradition going," Marcus says.
He is in Northwestern's performing arts magnet program, as well as the FIU dual enrollment program for computer science. Through dual enrollment, he is taking a class with an FIU professor and earning college credit in his second year of high school.
"My teachers are pretty superior," Marcus said. "All of them want us to go to college."
College is in the plans for Marcus. He wants to be a computer engineer or a physical therapist. He's involved with a half dozen school clubs and is applying for the National Honor Society.
"I chose to send my children to Miami Northwestern," said his mother Shronda Postell. "A lot of people questioned it. I have the attitude that I send them to school to learn. If I don't feel they are learning and getting what they need, I'm going to the school to talk to them."
There are two worlds at Miami Northwestern, says Principal Wallace Aristide. The school's popular arts and medical magnet programs draw students from around the county. These high performing students like Marcus have a positive influence on their peers, Aristide said. Their parents, people like Mrs. Postell, have bought into Miami Northwestern.
However, the stigma of being labeled a failing school is hard to overcome. Some Liberty City parents send their children elsewhere. "We run into a brain drain," Aristide said. "A lot of kids in our feeder pattern leave."
So, alongside the magnet students is a larger group of low­ – performing students. They are kids scoring at level 1 or level 2 on the state assessment exams. The scale goes up to a 5; a three indicates the student is performing at his or her grade level.
That means some high school students are reading at a fourth, fifth or sixth grade level. A few don't know how to read. Teachers at Miami Northwestern face the enormous challenge of trying to bring students who have fallen behind up to grade level.
Closing that gap is one of the keys to raising Miami Northwestern's overall school grade. Mrs. Postell is more interested in her children's grades than the school's grades. Miami Northwestern has been a great choice for her family.
"My daughter was a very shy kid when she went to Miami Northwestern," she said. "When she left Miami Northwestern she was on the commencement program as a speaker."
Barriers to learning
In early 2011, the Children's Aid Society National Center for Community Schools held focus groups at Northwestern as part of the development of the new partnership. Teachers, students and parents offered up a laundry list of problems and challenges: Not enough textbooks. Outdated technology. Chronic student absenteeism. Lack of parental involvement. Teasing and bullying. Emphasis on football rather than schoolwork. Disruptive students. Inadequate transportation.
The report praised Northwestern's "caring staff who have provided for students personally with either cash, supplies, time etc. to support them with their current situations, crises and lack of resources."
However, it concluded, "The numerous examples of homeless youth, deaths in family, shootings in their neighborhood as a frequent occurrence and lack of school resources depicts the many barriers to learning that plague this community and impact this population of students."
Says Miami-Dade County Public Schools Assistant Superintendent Nikolai Vitti: "That's the truth that has to be told at an urban high school like Northwestern. At the same time, it's a very delicate conversation. It cannot be, 'The kids can't do it.' The reality is the kids can do it. If you provide them with the right opportunities, they will succeed."
Miami Northwestern is one of Miami-Dade County's 26 persistently low performing schools in the district's Education Transformation Office – or ETO, as it is called. Now in its second year, the aim of the ETO is to raise student achievement in these schools. Vitti, who heads the ETO, says it can take three to five years to turn around a high school. Graduation rates among the ETO high schools have improved an average of 10 percent and Miami Northwestern's went up 8 percent from last year.
For FIU Vice President Divina Grossman, the reports on Miami Northwestern were eye opening. She heads the FIU Office of Engagement, established in 2010 to lead and develop the university's community partnerships. The creation of the Office of Engagement heralds a new era for the university, one that prioritizes collaboration to solve community problems.
As Grossman read the reports, she found herself thinking about Liberty City's problems of poverty and violence. A high school cannot be isolated from the community where it lives.
In Liberty City, the median household income is $18,000 and as low as $12,667 in one area. The U.S. poverty level for a family of four is $22,350. Some 40 percent of residents didn't finish high school and 38 percent are unemployed.
The A&E real-life crime drama The First 48 is filmed right across the street from Miami Northwestern. "A lot of those were our kids at one time," Aristide said.
"It's tough out there," he added. "We're safe in this building but when I get kids who have been shot, it's tough."
Every two weeks or so, Miami Northwestern goes into lockdown because of shootings in the surrounding community. During that time, everything and everyone at the school comes to a stand still – even if one period ends and the next begins – until police clear the neighborhood. The lockdowns sometimes go unnoticed. Other times, they disrupt everything.
"For individuals in upper middle class neighborhoods that would create a sense of shock and fear," Vitti said. "At Northwestern it is just part of the culture. Unfortunately, the students grow accustomed to this."
Aristide knows the students can't control all the circumstances in their lives. He tells them to focus on two things: effort and conduct. "You can control that," he says. "You will be successful with those two things."
The principal quietly keeps tabs on the kids without parents and the ones without enough to eat at home. For some of them, Aristide says, school is the only consistency in their lives.
No single program, person or organization will be able to address all of the challenges at Miami Northwestern Senior High School. There are upwards of 20 different organizations like Arts for Learning, City Year and College Summit already working there.
Grossman says the question for FIU was, "What can we as a university really do?"
A community school
Towards the end of 2009, JPMorgan Chase approached FIU about the use of the community school model, which has worked successfully in other parts of the country. JPMorgan Chase was interested in funding a pilot in Miami.
They found an inspiration for how it could work in Philadelphia. The University of Pennsylvania's Netter Center for Community Partnerships has been widely recognized for creating a new vision for university-community relations. The center mobilizes the university's resources to transform local schools in a reciprocal relationship that provides college students with meaningful learning experiences. Penn has eight university-assisted community schools.
"Community schools recognize the importance of both academic and non-academic factors, creating an environment that supports learning, while also fostering engagement to strengthen the surrounding community," said former U.S. Sen. Mel Martinez, chairman of Florida, Mexico, Central America, the Caribbean and the JPMorgan Chase Foundation. "The opportunity to work with Miami-Dade County Public Schools and FIU to strengthen communities and enhance education is part of what we are about."
The community school model makes a lot of sense to Grossman, a nurse who has worked to address health disparities by examining all the factors that influence a person's health.
"It is a very holistic approach that looks at conditions of learning such as meeting health needs, ensuring the safety of students, engaging parents and community members and preparing teachers." Grossman said.
It is not enough to teach well and make sure teachers are prepared, she said.
"You have to look holistically at what is happening at home," Grossman said. "Did the child eat that day? Were they bullied or traumatized? How can you perform well in school if you face all those challenges?"
FIU President Mark B. Rosenberg said the university is ready to get to work with  Northwestern parents, students and teachers.
"We are marshalling our battalions and we are fighting for the Worlds Ahead education our youth deserve," Rosenberg said. "The better our schools get, the better our community gets. The better our community gets, the better our state gets. The better our state gets, the more prepared we are for the competitive rough and tumble of the 21st century."
In the Education Effect, FIU will take a leading role in bringing together community partners, particularly those already working at Northwestern, and other Chase grantees. The hope is that over time, the partnership will grow by attracting more community organizations and funding partners.
The Northwestern partnership is fostered in part by a broader initiative with Miami-Dade County Public Schools called ACCESS, or Achieving Community Collaboration in Education and Student Success. ACCESS encompasses programs focused on minority education, teacher training, tutoring, academic leadership development and college readiness.
Taking a cue from the Netter Center model, the Education Effect will utilize service learning to link FIU courses and research with real-world problem solving. The university will identify existing service-learning classes and develop new ones that will put FIU students in Miami Northwestern. Faculty and students from environmental sciences, education and business are already working with Miami Northwestern teachers, students and parents.
FIU wants its students to emerge from service learning with an understanding of their role in democracy, Grossman said.
"We have a responsibility to help develop a civic-minded student body and one of the ways we do that is by giving FIU students first-hand experience at Northwestern with students and teachers," she said. "It makes our students think about their role in the community and how as leaders they can make an impact in many communities."
Northwestern students will also have the opportunity to spend time at FIU, studying and learning about college life from FIU students.
"When a kid can leave here and sit with an FIU student who is a guide, FIU has made an impact on that young person's life that is never to be forgotten," Aristide said. "You have kids who come here and they don't leave Liberty City. All they know is Liberty City."
The grant supports the expansion of dual enrollment, which allows high school students to take FIU courses for college credit. While that is not going to address the challenges the school faces with the lowest performing students, it will benefit many students in the middle.
"It expands opportunity for kids on the cusp of a 2.5 or a 2.7," said Vitti, the assistant superintendent. "They may catch on fire academically because of the opportunities in this new initiative."
School leaders believe the partnership with FIU will help address the brain drain, motivate students and elevate the school's academic reputation. Parents love the idea of their children taking college classes in high school, said Vitti. And the dual enrollment students, he said, "stand up a little straighter and feel more proud of their school."
"I think it's wonderful," said FIU alumna and Northwestern math coach Adhar Mohamed '04, whose father, Dominic Mohamed, was a founding faculty member at FIU. "Having college professors come in and teach college-level courses for our community is a big deal. It brings a spark of hope."
The Netter Center model views schools as community hubs that can effect change across neighborhoods and cities. Aristide believes Miami Northwestern is such a school.
"We can do it in Liberty City," Aristide said. "Go to college, work hard and transform Liberty City. Go into construction or architecture and design beautiful homes. Be an entrepreneur and build stores and malls so people in the community can be proud and employed and be fully engaged. If kids buy in, as they become adults, they can lead the change."
A long-term commitment
At the September announcement of the new partnership, a little lady in a purple dress and a big red hat stood with FIU's president and the Miami-Dade superintendent during the presentation of an outsized $1 million check from JPMorgan Chase. School Board member and educator Dorothy Bendross-Mindingall grew up in the Liberty Square housing projects and graduated from Northwestern.
She opened her remarks in fearless fashion: "If you are in this room and it's not about children, you need to vacate the premises." Then she gave the audience a talking-to about what it will take to make this partnership work — involving clergy, working with parents and spending time in Liberty City neighborhoods.
"Suppose I go out there and knock on doors and ask, 'How many of you know about this partnership?'" she asked. "We can stand here and talk all day about what we're doing, but what we do is not going to last beyond 2:30. We have to go out in the community."
As this partnership unfolds, FIU will have many longtime and passionate Liberty City and Northwestern advocates like Bendross-Mindingall watching.
Liberty City has seen many years of well-intended programs and initiatives that wither after early success, said FIU alumna Alison Austin MS '96, who was raised in Liberty City and is now the CEO of the historic Belafonte TACOLCY Center in the heart of Liberty City.
Austin, who was involved in the early planning for the grant, says she is cautiously optimistic about the new partnership. What's needed, she said, is willingness to honestly confront Liberty City's problems.
"We are looking at statistics that speak to failure – failure in the home, failure in the academic setting, failure in the final agreement of what the issue is," she said. "I don't believe we are being truthful about the root causes of those multiple failures. Real transformation happens when we address the root cause of problems, as opposed to making changes."
The one thing everyone agrees on is this: The partnership with Miami Northwestern must be for the long term. The progress everyone seeks will take a number of years and the efforts of many.
FIU Human Resources Associate Vice President El Pagnier Hudson, a Northwestern graduate who grew up in Liberty City, has been spending time at her alma mater talking to students about her life, her education and her career. She wants to touch the Northwestern students who aren't in a magnet program or dual enrollment or AP courses. To reach them, she said, "We need to be in it for the long haul. They need to see us with consistency. I am committed to being present."
Mentors can make a world of difference for Northwestern students, said FIU alumna and Northwestern reading coach Cheryl White-Lindsey '98, who is now earning a doctoral degree at FIU.
"Our students have abilities they don't even know they have but because they have not been exposed to things, it's not discovered," she said. "I hope FIU and all of the other supporters are on board for the long term. Our students are worth it."
On the right track
There is serious and impressive instruction going on at Miami Northwestern Senior High every day.  You will not slack off in Rachel Hazel's geometry class. When you walk out, you'll know the difference between a rhombus and a trapezoid and soon enough, you'll be solving geometric equations, too.
A 2004 FIU alumna, Hazel warned her students at the beginning of the semester that geometry was going to get harder.
"The math is coming," she told her sophomores one morning in September. "So I'm preparing you."
She turned to one student. "When the math comes, Taylor is going to say, 'I rock on this. I got this.'"
"No, I won't," said a dubious Taylor.
Yes, the teacher said. You will.
No one argued with her.
Wallace Aristide has made it his mission to nurture the right learning environment with rules and structure. He left an A school to come to Miami Northwestern as an assistant principal in 2006. He was in charge of discipline. "When I got here, I thought it was a theme park," he said. "A lot of the youngsters were very challenging. Maybe five percent of the population created havoc at every turn."
Five years later, Aristide is a first-year principal. Now if the kids are in the hallways, they have a pass. He promotes self-discipline, making good choices.
"Northwestern can go the other way," Aristide said. "When I came here, it was going the other way. Now we have a strong wind behind us."
Northwestern teacher Melissa Phillips is all about making good choices. Her 10th grade writing class is FCAT ground zero. On the back wall is a big sign: "BIG GOAL: 100% FCAT Proficiency Rate." With a goal like that, there's no time for foolishness in her class. When a student asks what time class is over, she's quick with a reply.
"Why are you worried about it?" she said. "You should just be hungry for your learning."
Phillips has a routine that the kids know well. It's a spoken-word styled lecture, delivered amid a lesson on writing a good essay hook.
"When we come in here we are learning with urgency," she says. "When you come in here, be ready. I am here to help students who want to learn. Those students will be on a journey to higher education."
Later, Marcus can recite that lecture nearly word for word. He explained: "She gives us that speech almost every class. Stay focused.  If you are on the right track, that doesn't mean you can't get off."
"I'm not getting off the road," Marcus added. "I'm focused on my education."
The $1 million, three-year grant from JPMorgan Chase supports a variety of learning initiatives for Miami Northwestern students:
Aquaponics Laboratory: Students will learn sciences, math and engineering in the new Northwestern aquaponics lab, which cultivates plants and aquatic animals in a symbiotic environment.
Dual Enrollment: Up to 550 Miami Northwestern students will have the opportunity to chose from 11 FIU courses and earn college credits.
Panther Day: FIU will host the entire student body of Miami Northwestern to attend college classes, learn about academic programs and become familiarized with college admissions.
Financial Literacy: The College of Business Administration will expand its program that brings high school students to FIU to learn about finance, credit, savings and investment.
Service Learning: FIU will develop new courses that integrate service learning at Miami Northwestern as part of the curriculum.