Yasko Cadby '86 brings Opus One to Japan and South Korea
As export manager for Baron Philippe de Rothschild and Robert Mondavi's Opus One, Yasko Cadby '86 keeps an eye on the big picture and the little details.
---
By Michelle Locke
Sitting in the plushly decorated formal salon of  Opus One, Yasko Cadby '86 is the picture of tranquil elegance as she talks about the shaky start to her new job as Japan export manager for the prestigious Napa Valley winery.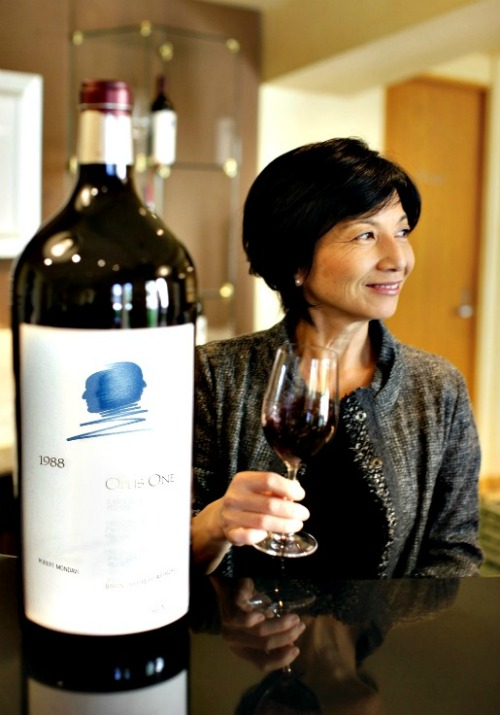 She was apartment hunting in Tokyo on March 11, 2011, when the devastating Tohoku earthquake struck. "I was on the 21st floor and the earthquake hit and it was, 'Do I want to come here?'" she recalls.
The answer was "Yes," and Cadby took on her new duties overseeing markets in Japan and South Korea in June – fortunately with few tremors of the business variety.
Cadby doesn't really have to sell the wine. Opus One, the brand founded in 1979 by California wine pioneer Robert Mondavi and Baron Philippe de Rothschild of France, is wildly popular both in the United States and Asia. (Constellation Brands, Inc., purchased Robert Mondavi Corp., assuming 50 percent ownership of Opus One in 2005.) It's not unusual for the winery to get a call from someone trying to put in an order for 10,000 cases, a flattering but impossible request since it's about half the winery's annual production.
Her job is to make sure people understand the product. "At the restaurant we just don't want people to say, 'Oh, we want Opus One,'" she says. "We want them to say, 'Oh, I like the 2005 Opus One as opposed to 2007 because '05 is a little bit more of a reserved style.' That's the level of communication we want and to do that we need to educate sommeliers."
On a sunny day in the Napa Valley, the Opus One winery is a symphony of good impressions, from the sweep of green vineyards leading up to the winery to the mix of soothing – but not soporific – music playing over outdoor speakers. That last item is no accident. As coordinator of guest relations here, Cadby pulled out her own CDs to help liven up the music selection.
Paying attention to detail is a key part of the Opus One experience, says Cadby. "Even when I come here now, I feel the sense of urgency," she says. "Your back needs to be straight."
The winery, which makes only Bordeaux blends, primarily cabernet sauvignon, is famous for its distinctive architecture, in particular a rotunda set low to the ground and surrounded by a grassy berm, part of a conscious effort to create something that complements rather than contrasts with its environs.
The slender and soft-spoken Cadby is one of the few U.S. winery representatives in Asia. She's also a woman executive in a climate that isn't as male-dominated as it used to be, but can still be conservative. But it doesn't take more than few minutes of conversation to see the expertise and enthusiasm that drive her– and a delightful sense of humor, too. Should she need to be assertive in a negotiation she occasionally brings out her secret weapon: Saying "No" politely but firmly in English. "They understand," she says with a smile.
Cadby, who was born and raised in Japan, didn't start out expecting to be managing the finer points of high-end wine, or any wine for that matter. After getting a business degree from Sophia University in Tokyo she wasn't quite sure what she wanted to do, but she knew she was interested in the airline travel industry. She looked at a few schools but finally settled on FIU because it was one of the few at the time offering a hospitality management program – with the added bonus of being in a warm weather climate.
Her interest in wine came via a class in wine education led by  Professor Chip Cassidy, well-known as a mentor to many in the wine world.
"What I learned from him was his passion for wine," she says. "The wine's not just to drink. Wine has a lot of history and you've got to also understand its agriculture, its chemistry, its biology, all these things. I was so fascinated by this."
Cassidy is "very good at pulling everybody's ability and making them grow into the next step," says Cadby. Even today, when she's feeling tired or at a loss, she'll call Cassidy for help and "just talking to him, my energy level goes up."
Another avenue into the world of wine came through her job as a Japanese-English translator for Florida Power & Light Co. She often went along to local restaurants to translate for visiting executives from Japan, which naturally segued into helping them decipher the wine list once they discovered her expertise.
After getting her degree in hospitality management, Cadby started graduate studies but left that for full-time work, and ultimately, a move to the burgeoning California wine scene. She got married, had two daughters, both now in college, took a little bit of a break in her career and then began taking wine classes and working as a freelance writer and translator. Interestingly, she learned wine first in English and had to turn around and re-learn the terminology in Japanese.
Her job at Opus One started casually as an on-call employee. But by 2007 she was working full-time as guest relations coordinator. In 2011, she took on the export manager job, although she still visits the U.S. frequently.
This harvest, she spent a week in the United States that included getting up at 3 a.m. to experience night harvesting, which is something wineries do to keep grapes cooler and fresher. It made for some long days, but it's all part of the task of learning how to communicate the whole story behind Opus One wine. "The goal is when people talk about Opus One it's because of the quality of the wine, not because of the brand name," she says.
Showing visitors around the familiar rooms, Cadby stops at some of her favorite places, like the salon, with its mix of 18th-century Italian opera chairs and contemporary seating, and the tasting room, bathed in a soft light at day's end. The cellar is another treasured spot with its rows of pristine barrels all meticulously painted with red wine around the middle – no untidy splashes of red wine here.
In the end, it's the details, and the passion for getting them right, that count, she says.
"So many things need to be clicking in your head. You have to have a passion otherwise it will be a pain. You have to work weekends. You have to work nights. You have to get up early. You have a lot of 'you have tos.' If you have that passion, you want to do it and that passion makes everything easy."    ♦
Michelle Locke is a freelance wine writer in California.