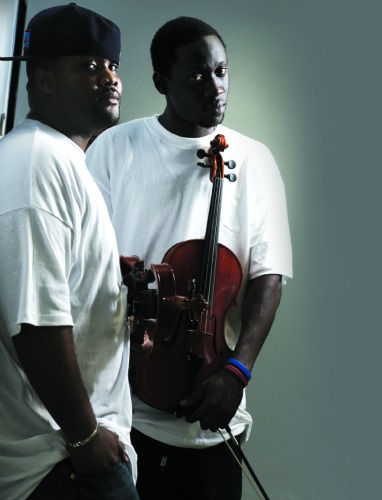 While South Florida was transfixed by  FIU alumnus Richard Blanco  at the presidential inauguration, another pair of Panthers was also preparing for the day's festivities. Kevin "Kev Marcus" Sylvester '03 and Wilner B. "Simply Sick" Baptiste, better known as the duo behind  Black Violin, played to a crowd of 35,000 at the  2013 Inaugural Ball
With Sylvester on violin and Baptiste on viola, Black Violin has come a long way since their 2005 Apollo Theater Legend title. The School of Music alumni combine their passions of classical music and hip hop to create a unique sound that crosses genre boundaries.
"We're actually rapping with our instruments," Sylvester told  FIU Magazine in 2007 . "I'll come up with a beat and Wil finds a concept for it, or vice versa."
Click here to read our full profile on Black Violin.
Here is a clip of their performance:
[Video unavailable]
Watch their latest music video below: