A pleasant side effect: The Education Effect in Huffington Post
January 14, 2013 at 12:00am
---
The Education Effect, a partnership between Miami-Dade County Public Schools and FIU funded by the JPMorgan Chase Foundation was recently written up in The Huffington Post. The program implemented a variety of academic projects and dual enrollment opportunities at Miami Northwestern Senior High School in Liberty City, with the goal of transforming the underperforming school.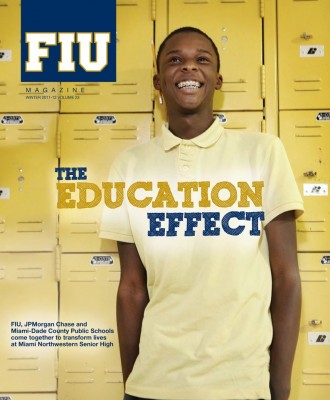 FIU Magazine featured the Education Effect as its cover story in the Winter 2011-12 issue.
Nearly two years in, the effects have certainly been felt. Since the program began, the number of freshman students from Northwestern attending FIU has tripled, and the school's grade (based on FCAT scores) has risen to a B from a D.
According to the blogger, Marcus Bright, plans are underway for another partnership between FIU and Miami-Dade County Public Schools, this time with Education for Better America (EBA), to increase awareness of higher education and reduce drop-out rates.
Here's to more future Panthers!
Read the HuffPo article here: http://www.huffingtonpost.com/marcus-bright/partnership-between-miami_b_2452788.html
— Angeline Evans