How do you get people in car-obsessed South Florida to ride the bus? That is the question FIU leaders asked when they and the county agreed to establish a transportation hub at Modesto A. Maidique Campus.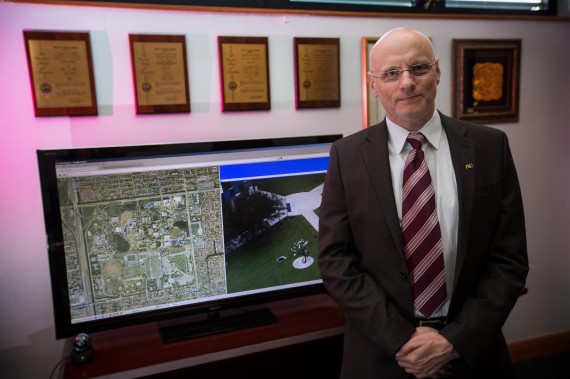 In this digital age, the answer was clear: design an app to help people get around efficiently. Naphtali Rishe, a professor in the School of Computing and Information Sciences and the director of FIU's High Performance Database Research Center, is leading the development. His groundbreaking work on TerraFly – a geographical-database management system recognized as one of the most advanced in the world – has helped attract high-level collaborators on a first-of-its-kind smartphone application. The app will help users navigate public transit, traffic and parking based on real-time information.
The U.S. Department of Transportation and others are funding the research, which should produce usable data within two years. FIU Magazine sat down with Rishe to learn more:
What is the purpose of the application you are building?
It will help on the roads by giving people navigation information based on real-time driving conditions. But it will also give them alternatives when there is congestion, such as "you can go park here and take transit." It can also tell them where to park at FIU, whether that is their final destination or they want to park and use the bus from campus. It will tell you "go to this garage or lot, or park in neighboring Sweetwater."
This sounds like a very comprehensive app that for the first time addresses multiple issues.
In the United States we have a car-driving population that's very hard to convince to take a bus. This is unsustainable in the long term in big cities because there is not enough bandwidth on the highways. We don't have enough thoroughfares for the growing number of commuters. In Europe people get from their home to the office without having to drive and park. Here in Miami people will still have to take their cars to the transit stations.
---
Related: UniversityCity is a plan for the future that starts today
---
So the app might be the way to convince people to give public transportation a try?
We're going to entice them into taking public transit by helping them park. We're going to time their parking to real-time departure of the bus. So, for example, we're going to advise FIU students coming from, say, Miami Beach to park somewhere along the way and then tell them in real time when the bus is approaching.
What are the different components that will make creating this application possible?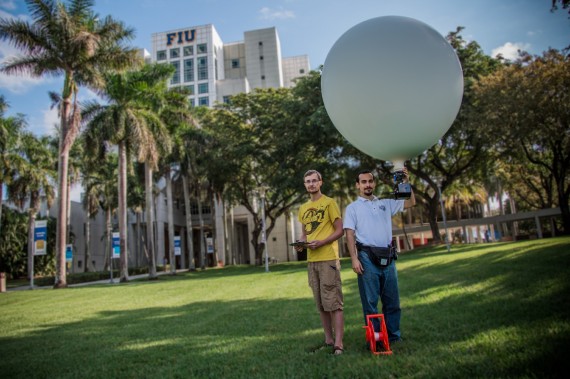 This unique tool has several legs. One is TerraFly. Another leg is technology from the University of Illinois at Chicago and a software company that makes possible crowdsourcing of transportation-related data. Crowdsourcing is real-time monitoring of people's phones with their permission. Their phone tells us where they are. With that information, we do statistical analysis to determine the probably of getting, say, a parking spot. Leg number three involves IBM, which is bringing aboard public transportation technology that they developed in Europe and deployed in Stuttgart, Berlin and other places and which they are willing to modify to make work here. And the fourth leg is our ability to acquire ultra-high-resolution aerial imagery and measurements. With a $600,000 grant from our partner Alta, we have 20 FIU students currently photographing the entire campus by flying air balloons remotely controlled by iPads and sending back thousands of images at ultra-high-resolution. These aerial images are over 10 times sharper than anything that was available in the world until recently. They will help us monitor traffic and allow real-time assessment and prediction of traffic and pedestrian flow.
This must have potential for other big cities.
Once we deploy it, and if it works, it will be a role model for the entire country. That's why the Department of Transportation is so excited about this. What's important to DOT is a replicable pilot. They want to see if this works and benefits UniversityCity, a tiny spot on the map of the United States. If that can work here and improve the experience for the local population and increase use of transit, then there is the potential of saving billions and billions of dollars across the country.   ♦