Getting a job: What FIU is doing now to help graduates find jobs later
February 11, 2013 at 12:00am
---
In a lean economy, FIU focuses on creating opportunities that lead to employment when students graduate.
Job seekers today generally have it tough, but college graduates see the doors open much more often than their less-educated peers. While real challenges remain even for those with degrees, the picture continues to improve. Since the start of the recession, the number of jobs for those holding a bachelor's or higher has increased by 2.2 million.
Nationally, just one in two new college graduates will find full-time work within a few months of walking across the commencement stage, and many of those will take jobs that do not require bachelor's degrees. At FIU, statistics for recent graduates mirror the national numbers.
To put future grads in an even better position to land the best jobs, the university is fostering new opportunities to help them stand out. Going beyond the traditional career fairs and resume writing workshops—important staples that students increasingly rely on in a tight economy—FIU is placing greater emphasis on providing the kind of hands-on, real-world experiences that resonate with prospective employers across all sectors.
Through internships, fellowships and partnerships with public and private organizations, FIU is creating pathways to employment. The new Office of Engagement was established, in part, to help students to go into the community and hone marketable knowledge and skills. Building on the type of collaborations that academic units and the Office of Career Services have often tackled, Engagement is actively tapping local and national companies, governments and nonprofits that welcome student talent while offering training, mentoring and, in the ideal scenario, a paycheck.
"The value for students is in the hands-on application of academic knowledge before applying for a position" says Douglas Wartzok, provost and executive vice president. "Internships also provide students with unique connections to professionals in the field and potential employers."
Internships
Irma Becerra-Fernandez, interim vice president for engagement, emphasizes that students participate in a variety of different kinds of internships. These include activities that offer a taste of what a student might like to consider in a future career, as well as activities, such as in the colleges of nursing and education, that are required for graduation. Some the university helps find, and others students research on their own. "In self-reported data," Becerra-Fernandez says, "nearly 40 percent say they had an internship before graduation."
A university-wide initiative aims to increase that number by consolidating and centralizing information about available internships. The goal: establish, as early as May, an online portal that will give employers seeking talent and students seeking opportunities access to a single resource that can result in a perfect match.
A student's foray into meaningful work can pay off big. Approximately 60 percent of 2012 college graduates who took part in paid internships received at least one job offerfiu , according to a study by the National Association of Colleges and Employers.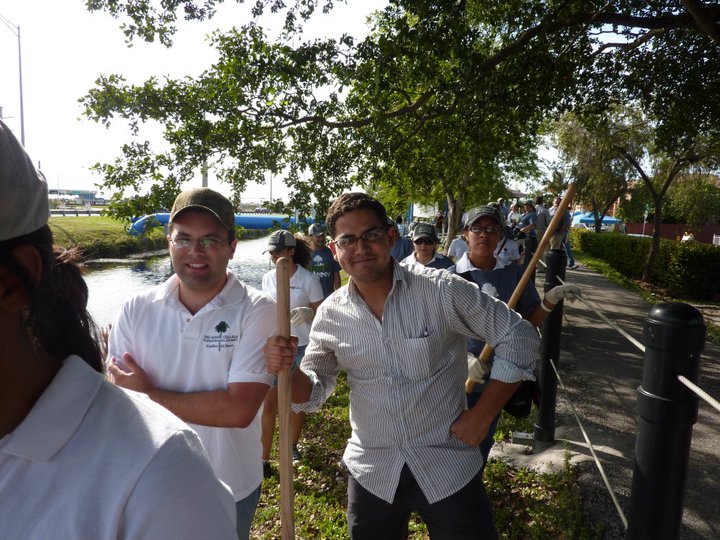 Jesus David Borrero '12 understands that progression well. He was one of ten students who went to work for the City of Sweetwater in the fall of 2011 as part of an ongoing agreement that FIU brainstormed and struck with the mayor's office.
"If it wasn't for the internship, I would not be working at the city now," says Borrero, an Honors College graduate who majored in political science. Time spent taking residents' phone calls, assisting the mayor's chief of staff and interacting with several city departments eventually led to a full-time post as a grants administrator. "The hands-on experience I obtained as an intern is what made me the most qualified for this position when it opened," he says.
Miami-Dade County government also looks to FIU as a source of potential hires. Each semester internship administrator Lee-Ann Dizon comes to campus to interview students with majors as varied as English, public administration and civil engineering to fill as many as 25 internship slots.
"An underlying goal is really, hopefully, to hire these students in the future as opportunities arise," says Dizon, who encourages students to stay in touch after their semester with the county ends. "We give sfflpriority to our interns. Our top management was once interns."
In the fall the university held its first-ever internship fair, and in November it introduced its newest opportunity: the Connect for Good internship program. That collaboration with Catalyst Miami will pair up to 50 students each semester with 30 local nonprofit organizations.
Corporate Partnerships
FIU actively develops innovative, customized university-corporate partnerships to advance shared goals. FIU's central Career Services office and the various academic units have established relationships to help facilitate organizations' engagement with students.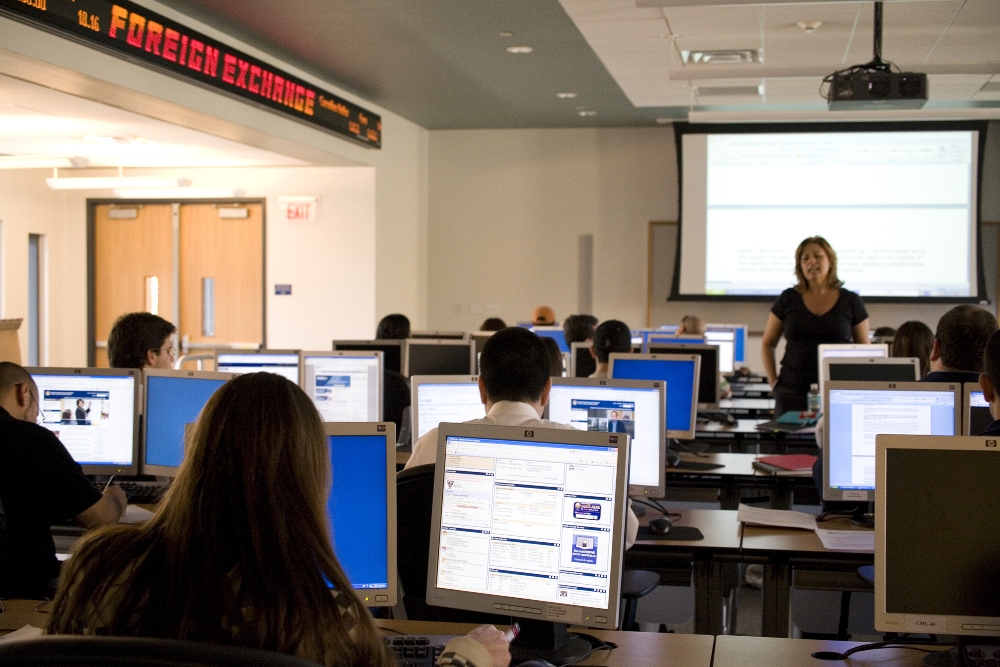 Insurance giant State Farm, for example, has for several years supported activities that align with its corporate mission while promoting invaluable hands-on learning opportunities.
In 2010 the company provided a grant to the College of Business for the State Farm Literacy Lab, which gives FIU students a chance to work directly with local high school students to teach them the skills to make informed personal financial decisions. In 2012 the company made a donation in support of FIU's Discovery Lab in the School of Computing and Information Sciences, where computer science majors conduct research and develop programming to solve real-world challenges.
Don Dye, a college relations recruiter for State Farm, says the company's monetary contributions come without strings. "State Farm's culture is, when we make a gift, we don't expect anything from it. It's not a quid pro quo; it's good will," he explains. But he agrees that the awareness that comes with having a name on campus serves the company well at recruiting time.
This summer 12 FIU students will be among a national group of 200 that participate in State Farm's internship program at the headquarters in Bloomington, Ill. Half of the FIU contingent will work in the IT department, an area the company is eager to fill with high-quality candidates.
"We have an ongoing need for the best talent," Dye states, "and FIU's is a top-five computer science program."
Over in the School of Journalism and Mass Communication, a university-corporate collaboration has essentially turned FIU students into experienced reporters with the goal of helping them obtain proficiency—and clips—that will lead to paying jobs. The Miami Herald, The Palm Beach Post and The South Florida Sun-Sentinel have together partnered with the school to create the South Florida News Service, a source for student-produced news. In a typical semester, more than 40 articles and 20 videos by students are printed or posted online by the newspapers, and the plan is for students to expand their coverage from strictly local happenings to national and even international news in the near future.
Participation in this and other opportunities at the school—such as the Hispanic Media Futures program, a partnership with Spanish-language broadcaster Telemundo that offers training and mentoring to journalism, advertising and public relations majors—has become critical to finding work after graduation, explains Teresa Ponte, chair of the departments of journalism and broadcast.
"Through the South Florida News Service, employers are paying attention to our students," Ponte says. She stresses that only those with some fieldwork in their background have any hope of securing paid positions, as on-the-job training no longer exists in the journalism industry.
"[New graduates] have to come in knowing more than the basics," Ponte says. When it comes time to meet with interviewers, "Unless you have good hands-on experience, you won't even get a call."
Already several students have acquired jobs as a direct result of their work for the news service, and still others have parlayed that experience into internships and freelance assignments.
The mutual benefits of corporate partnerships are further visible in the creation of the Florida Power & Light customer-service center on the Modesto A. Maidique Campus, a satellite call center that is staffed solely by students. The unique operation allows FIU students to begin a career path with one of the state's largest employers while still in school.
Entry into the program is competitive and rigorous—applicants give formal presentations as part of the interview process, and only 15-20 percent will make it—but once accepted, students can look forward to high-level mentoring and a chance to shadow professionals in the local corporate office.
Such situations provide an ideal learning environment for students, but employers likewise reap huge rewards. While many feel a civic responsibility to support the training and career aspirations of the next generation, all keenly understand that giving hungry young people a solid trial period in which to prove themselves is simply good business.
In FPL's case, setting up the call center has proved invaluable for the company. "The main reason we did this was to create a student pipeline from FIU to FPL," explains Andres Martinez, manager of operations. More than 20 students have already been offered positions as managers and business analysts upon graduating.
Federal Connections
FIU's Washington D.C.-based Office of Federal Relations in the past year has stepped up efforts to help meet students' growing interest in serving in federal agencies.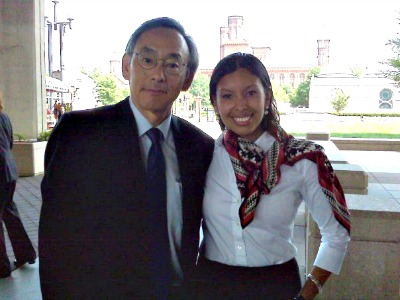 "We're doing what we're doing at the right time," says Carlos Becerra, director of the office, who cites President Obama's August signing of an executive order calling for the hiring of more minorities. "We have a diverse student population, so we're positioned well."
FIU leaders have met with officials at the Department of State to explore stronger research and fellowship opportunities and will do the same at the departments of Homeland Security and Defense, among others. The goal is to attract federal grants similar to two of the university's largest: one from the Department of Energy (DOE), the other from NASA. These support not only high-level faculty research but also student fellowships that combine on-campus education with work at government sites.
Seventy-eight students to date have participated as DOE fellows, including Rosa Elmetti '08, who majored in biomedical engineering. She spent a semester at DOE headquarters in Washington, D.C., an experience that helped her land a full-time job with the agency, where her work today involves identifying appropriate technologies for environmental cleanup abroad.
"I felt I was given the right tools to go into that environment," says Elmetti, who adds that her insider knowledge of the DOE's mission was a plus when vying for the highly competitive job. "If you're not confident in what you know and what you can provide to the organization, then the opportunity is going to go to somebody else."
A Culture of Work
And while internships and fellowships provide the type of concentrated activity that helps a student stand out at interview time, "regular work" has its place too.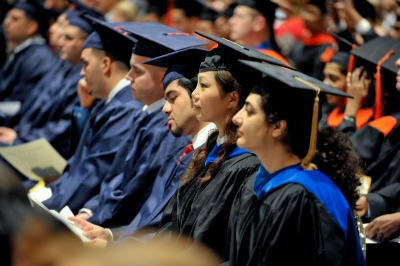 The Chaplin School of Hospitality & Tourism Management has an office charged with keeping its more than 2,000 majors employed throughout their academic years at a wide array of companies within the industry. One-on-one career development training, industry networking events and a dedicated job-search engine provide year-round support for a student body that must work 1,000 hours as part of graduation requirements and an additional 300 hours for internship credit. The school places great emphasis on real-world exposure, with the goal of putting students on track to land management-level positions after completing the program.
"We encourage them to get a job as soon as they can," says Diann Newman, assistant dean for student services. "The sooner they prove how great they are to their company or industry, the sooner they will be able to move to a higher position."
Most FIU students, regardless of their majors, work throughout their academic years, some of them full time. Even when the work does not correlate directly with their career aspirations, the time invested can pay dividends in terms of instilling discipline, acquiring job references and building a professional network.
That work experience, when coupled with any "educationally purposeful activities" can lead to new graduates' eventually finding employment in their area of interest, says Engagement's Becerra-Fernandez. She includes in the latter category everything from study abroad programs, service-learning courses and undergraduate research opportunities to, for arts majors, participation in on-campus performances and exhibitions.
"As part of a broad category of experiential learning, all of that counts."   ♦
Employers interested in hiring interns or recruiting FIU students or graduates to fill open positions should contact FIU Career Services at 305-348-2423.