New basketball coach Richard Pitino is rebuilding FIU's men's basketball program with hard work, one day at a time.
By Ryan Jones | Photos by Doug Garland '10
Richard Pitino calls it the "one-day plan." It is not a complicated thing.
It may be a sports cliché, but for a first-time head coach, treating each game, each practice, and each drill as an opportunity to improve is the only sane option. That's especially true at a young, ambitious program, where tradition is being built right before fans' eyes. Whatever Pitino's long-term goals, he insists that success this season, and for the foreseeable future, will be measured in 24-hour increments.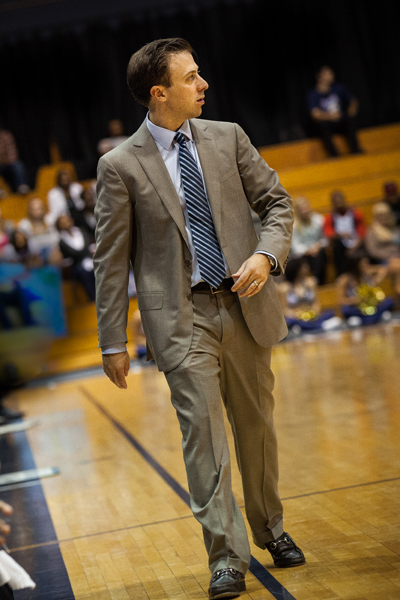 "People ask about my five-year plan, but I've got a one-day plan," says Pitino, who in April became the seventh head coach in FIU hoops history. "We're trying to build a culture of hard work, and we're going to do it the right way. We're just trying to take it one day at a time."
It's a philosophy that seems to fly in the face of impatient, impetuous youth, and thus might seem unlikely from one of the youngest coaches in Division I basketball—unlikely, at least, until you remember Pitino's lineage and experience. The 2005 Providence College graduate (he served as a student manager with the Friars), he's the son of Rick Pitino, the University of Louisville head coach with more than 600 career victories and an NCAA championship to his name. And in his relatively brief coaching career, the younger Pitino has worked as an assistant for both his father and for Billy Donovan, the University of Florida coach who has won a pair of national titles with the Gators. If genetics and time spent under top-notch mentors are any indication, Pitino knows what he's doing.
And while it's far too early to judge by results, Pitino's players are happy to vouch for their new coach.
"On the court, he's always on us trying to get that little bit extra out of you. He always pushes you to the limit," says Gaby Belardo, a senior guard who transferred from Canisius. "But he really is that person that transforms every time he gets off the court. He's a great guy, he has a smile all day."
"For us, it's not so much his name, but the experience he has," adds senior forward Tola Akomolafe. "He's energetic, he's extremely well organized. But he's a really fun coach, too. He's putting the spirit of fun back into the game for us."
---
Video: CollegeInsider.com's All-Access with FIU
---
It's the template for any successful coach in modern college athletics: One who can strike the ideal balance between pushing his players to excel and letting them find the joy in teamwork, competition and victory. For Pitino, finding that balance is about work ethic, preparation and execution; it's also about style. "I want to play a fast, high-octane style—I want to press, I want to run up and down the court," he says. It'll be fun for fans and players alike—and if he can get the right student-athletes to fit that style, it's likely to win a lot of basketball games.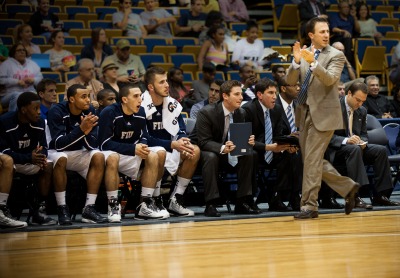 His credentials make clear why president Mark Rosenberg and athletic director Pete Garcia chose Pitino; knowing how he wants his teams to play, and the sort of players he needs to do it, helps explain why Pitino chose FIU. "I didn't know much about FIU when Pete called, but I always knew with my first job, I wanted a place that could be attractive for recruiting," Pitino says. "With Miami, you're talking about one of the best cities in the world. When I came on campus, I was blown away by how developed it was, how big it was, how many students, just how many opportunities there are for these kids."
With Conference USA play set to begin next season, and recently renovated facilities on par with any in the nation, the Panthers have plenty to offer potential recruits. Now, they have one of the brightest young coaching minds in the game. Pitino, who spent last season as Louisville's associate head coach, is eager to do his part. "Going through last year, where I had a lot of responsibility, I just had a confidence about me," he says. "It was the first time that I felt I was really ready."
Now settled in Miami with his wife, Jill, and their young daughter, Pitino has his chance to prove it. Yes, it's his first time in charge, but he's learned beside two of the best coaches in the game. Yes, he's young, but he emphasizes the benefit of being not far removed from the stresses and expectations of the young men he now leads. And no, FIU basketball isn't yet on the level of Louisville or Florida. But as Pitino said upon his introduction, "The sky is the limit with this university."
The plan is to get there by reaching a little higher every day.  ♦