WSVN sports reporter Donovan Campbell '00 is still a Panther at heart
February 8, 2013 at 12:00am
---
Donovan Campbell '00
• Sports Reporter, WSVN Miami
• Lifetime Member, FIU Alumni Association
• Bachelor's in mass communication (broadcast journalism)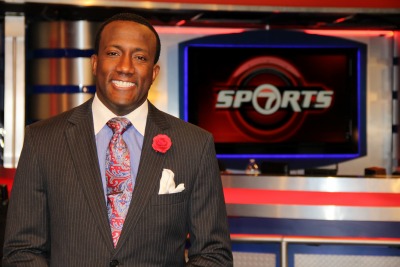 Q: What are your fondest memories of FIU?
A fond FIU sports memory is FIU's upset of Michigan in basketball in 1998! I'm glad I was there to witness it!
Q: When did the news bug bite you?
A: I've always loved sports, and when I realized I wasn't the strongest, or fastest, I thought, "Why not do the next best thing?" That's when I decided I wanted to cover the fastest and the strongest athletes and get paid for it.
Q: You got your first TV job at ESPN as a production assistant. What was it like to step into that world for the first time?
A: Everyone knows it can be tough to break into this business. I took that job with a plan and a gamble to get in front of the camera, and it worked out. I worked my tail off to get to the next level, and it totally paid off.
Q: Which stories do find the most satisfying?
A: The human interest stories are by far my favorite. I really enjoy reporter involvement stories where I'm in the trenches.
Q: Has covering sports taught you anything about human nature?
A: Yeah, people like it when you are yourself and not a big stiff. I do my best to relate to whomever I'm interviewing and it seems to work for me.
Q: You served our country in the U.S. Army for three years. How, if at all, has that influenced the way you work?
A: Serving in the U.S. Army has helped me be a more rounded and responsible individual. I can honestly say that my discipline was instilled by my parents but refined by the U.S. Army. Every good reporter must have more than talent. Patience and discipline are important professional traits in this business.
Q: Is there a sport that – in your dreams – you would have liked to take up professionally?
A: Growing up I always wanted to be a professional baseball player. I really wanted to be Darryl Strawberry.  ♦
Read about more Very Important Panthers.