By Dan Grech MFA '12
The ambition of Associate Professor Eric Goldemberg's Spring 2014 graduate-level architecture class was breathtaking. The 22 students would be divided into four groups, each responsible for producing a multimedia art installation based on abstract ideas of space, rhythm and flow. The pieces would be displayed at exhibitions in Los Angeles, New York, Miami and Miami Beach. The teams were working with donated materials and a shoestring budget – and they had just three months to pull it off.
"These deadlines are like a guillotine," Goldemberg said in February, clearly delighting in the challenge. Goldemberg had taught at Pratt and Columbia University, but he said, "This is the most ambitious class I've ever taught."
Six months later, the challenges of working with students were laid bare: deadlines had been blown, exhibitions postponed and ambitions scaled way back. Nonetheless, for a few hours in August, a provocative and challenging installation emerged at Miami Beach Urban Studios, created by five die-hard students, several collaborators and one weary professor.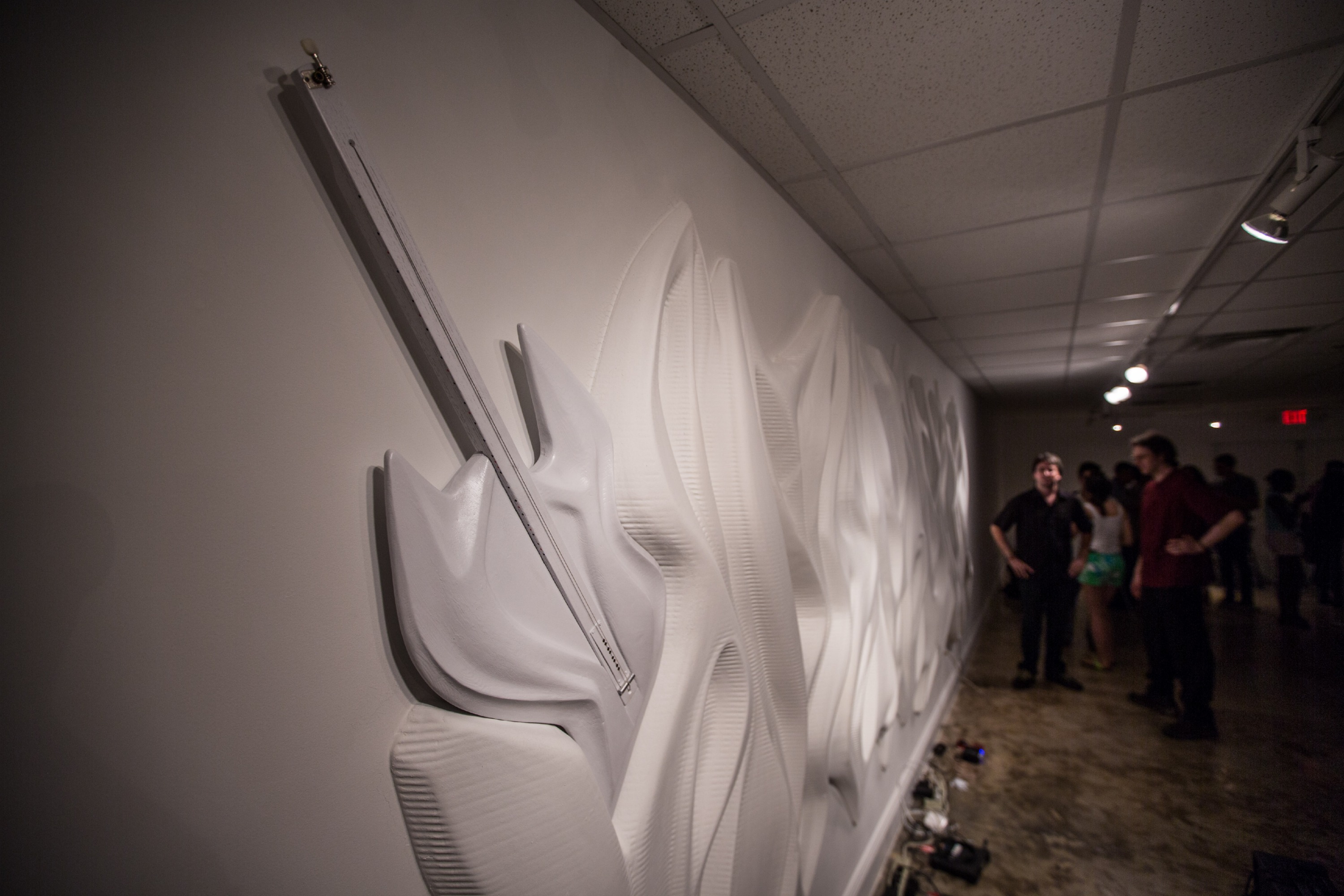 "I would not have been able to accomplish half of this without their energy," Goldemberg said in August of graduate students Stephanie Colon, Matt Barnard, Jack Garcia, John Gioello and Manuel Perez Trujillo.
The admiration was mutual. "Eric has made me see architecture in ways like no other professor," said Colon, who has been Goldemberg's student since 2008. "I've learned everything from him."
To describe in words the abstract multimedia art-music-architecture installation conjured by this student-teacher collaboration can't possibly do it justice, which is why FIU Magazine made a video. But here goes anyway: The piece was a stark white mural that covered half of the gallery wall. It featured overlapping curved lines that resembled sand dunes as seen from above. It was made out of high-density foam – the stuff surfboards are made of – and created using FIU's Department of Architecture CNC milling machine, a very large 3D printer. Built into the piece, like an iPhone docked in a speaker, was a removable guitar – suggesting that this installation was designed to be played and not just observed. Which is exactly what happened for two fleeting hours at the end of August. But more on that in a moment.
*****
The initial design for the mural was inspired by the python.
In February, Eric assigned a group of four students to represent "not just the shape of the python, but its behavior, character, and personality." The students explored every imaginable aspect of this non-native predator that has invaded Florida's Everglades: its pattern of movement, its mythology across cultures, its skin patterns and pigmentation. Other groups were assigned their own abstract investigations.
"With Professor Goldemberg, it's not a typical teacher-student situation," said former student Noel Palacios, who now works at an interior architecture firm in Miami. "These are raw experiments, and he's in the trenches with us. It's exploratory. It's a dialogue. It's a process of discovery."
Those original four students investigating the python peeled off the project at the end of the Spring 2014 semester. Others picked up their work. Those initial explorations morphed into the final piece, called "Abyecto" – which the program said means, "heinous, hideous, or even abject, the name of a piece that ironically has none of those attributes." In fact the name playfully references contemporary discussions in architecture about object-oriented ontology, a trend picked up from the philosophy of Graham Harman.
Stephanie Colon worked on the digital renderings of "Abyecto." She called it "a pile of snakes slithering together and coming out of the wall." As an architect, she wanted to explore how this beautiful and disturbing mural "changes the space through its mere presence and has a psychological effect on people."
Nearly 100 people experienced its psychological effect during the exhibit's provocative two-hour debut-finale performance on August 28 at FIU's Miami Beach Urban Studios on Lincoln Road.
Scott F. Hall, a professor at the University of Central Florida, opened the evening by extracting from its dock a single-string baritone bass guitar, an instrument he invented called the "monobaribasitar." He played a guitar riff oddly reminiscent of both baroque music and Eddie Van Halen's 1981 solo "Eruption." The body of the guitar was designed by Goldemberg specifically to be played by Hall, and the curved profiles of the guitar were extrapolated and distorted to generate the geometry of the large mural with docking stations at both ends.
A performance by FIU Assistant Professor Jacob Sudol followed. Sudol and his teaching assistant ran handheld transducers that looked like matchbox cars along the surface of the mural. The transducers generated beeps and buzzes ranging from the sound of static to the hum of an electric razor to the chirp of crickets on a summer evening.
Goldemberg attended the finale with Veronica Zalcberg, his wife and creative partner at Monad Studio, and their two young children.
"We worked intensively on this," Goldemberg told the crowd – quite the understatement. After the musical performances, he asked for an encore. "My wish for tonight is for you to play together," he said. "Let's see what happens."
"Okay, guys," said Hall, picking up his instrument. "Sound art!" For the first and perhaps only time in the history of music, a monobaribasitar and transducers played an improvised duet.
The following day, "Abyecto" was taken down. The studio needed to make room for a new exhibit. Because the mural had been glued to the wall, it did not survive the dismantling. "Abyecto" had been as beautiful, disturbing and fleeting as a snake slithering in the sand.   ♦
Photo Gallery