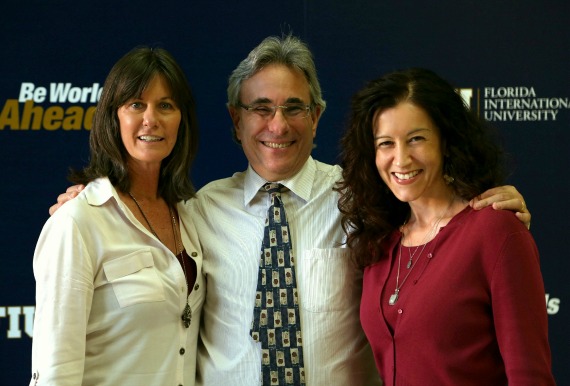 A magazine is so much more than pages of words and photos. A good magazine has a personality, a point of view, a history. From the start, ours has embodied the spirit of this university: vibrant, bold, entrepreneurial.
Our magazine also has its own story to tell. This year, FIU Magazine turns 20. In that time, we've had only two editors, Todd Ellenberg MS '91 and me. Todd hired me as a writer a decade ago when I was in graduate school at FIU. I became editor when he left to become assistant vice president of communications and marketing at the University of Miami. The high standards and great storytelling that Todd set in place remain.
This week, Todd came back to visit with me and with External Relations Vice President Terry Witherell. She was the original designer of FIU Magazine, alongside Todd. We had a great time reminiscing. They flipped through pages recalling photos they had taken, sharing the back stories of the stories, laughing about how certain spreads came together.
When FIU was just beginning to form its identity, Todd and Terry were the creative geniuses in the back office who understood the importance and power of telling the FIU story. Not everyone got that when the magazine started. It took time and consistent excellence to establish the magazine as the voice of this large urban institution.
Indeed, FIU Magazine has its own story to tell. I'm happy that Todd has agreed to write an essay about founding the magazine and its early days. Look for it in the Spring 2014 issue, which we are now wrapping up.
Today, FIU Magazine is one of the largest university magazines in the country. Our publication is consistently being recognized by our peers in higher education. On the same day that Todd came to visit, I received word that FIU Magazine won three regional awards for feature writing, photography and best overall publication design from CASE, the professional organization of university communications.
I'm incredibly proud of the magazine team, especially Art Director Aileen Sola, Staff Writer Sissi Aguila and Multimedia Producer Doug Garland. And as we celebrate, I'm reminded that behind those honors is an amazing creative team that stretches back two decades.