FIU's relationship with the world's largest continent continues to grow. As the center of global economic power shifts and as interest in understanding other cultures expands on both sides, FIU has stepped up to create new opportunities for learning. From study abroad programs to places such as Cambodia, Vietnam, Japan and India to FIU's engineering programs in South Florida in support of Chinese graduate students and a well-established hospitality and tourism program in Tianjin, China, FIU has found numerous and innovative ways to meet the needs of U.S. and Asian students.
The dragon has served as a symbol of Chinese culture for thousands of years. Its sometimes-menacing appearance does not detract from its positive connotations: power, strength and good luck.
Yet for all the mythic creature's bravado – Chinese parents, in a traditionally patriarchal society, have long pushed their sons to work toward dragon status – it has for most of history contented itself at home, not looking to venture beyond the borders of its native land.
That is, until now. In just a few short decades, China has steadily and methodically grown into a global economic power. Its meteoric ascent on the world stage belies its past as a once fiercely inward-looking nation. Today it actively seeks to engage with the outside, both at home and abroad. And to help keep its momentum going, the dragon has come knocking on the door of the Panther.
FIU at the forefront
In May at its annual commencement ceremonies, the FIU program that offers China's first and only in-country foreign dual-enrollment degree celebrated its 10th anniversary. To date, more than 1,000 Chinese citizens have earned FIU degrees in hospitality and tourism management on their home turf, and another 1,100 are currently enrolled.
"There's no other arrangement in China like what we have," says Mike Hampton, dean of FIU's Miami-based Chaplin School of Hospitality and Tourism Management, which oversees the China program. "The student goes all four years in China and earns an FIU degree."
The program grew out of China's need for high-level executives who understand how to do business in the global marketplace, Hampton explains. While Chinese citizens staff the country's international hotel, resort and restaurant chains, foreigners generally have held the upper-management positions at those companies – something Chinese leaders want to progressively change, especially as the hospitality and tourism infrastructure continues to grow. (By most accounts, at least one new hotel opens in China every day.)
---
Related: From China to Miami: a cultural roller coaster
---
"That's how they saw this partnership, as a strategic mechanism to help prepare graduates to be qualified to go in the hospitality and tourism businesses and eventually assume the senior executive roles," Hampton says. "They would like to see Chinese nationals serving in key leadership roles within Chinese businesses."
Today, graduates of FIU's China program – known formally as the Marriott Tianjin China Program in recognition of a major donor to FIU's program in South Florida – hold top jobs with multinational corporations such as Hilton Worldwide and Royal Caribbean. Many work in China, while others – including some of the more than 250 who followed up their China-based FIU degrees with a master's from the Chaplin School in Miami – are involved with the development of huge Chinese resorts in places such as the Bahamas and Brazil.
An auspicious beginning
The unprecedented collaboration with FIU came about as Chinese leaders recognized a need to fast track hospitality and tourism education. A meeting between officials at Tianjin University of Commerce (TUC) and FIU's Jinlin Zhao, a hospitality professor who was born in China, led to talks, and the Chaplin School's strong reputation – other universities vied for the opportunity that FIU eventually won – sealed the deal.
Soon after, in 2003, FIU set about working with local authorities. TUC would build, at its own expense, a dedicated campus based on specifications provided by FIU. Classrooms and labs, for example, would mirror their counterparts in Miami, and the curriculum – all courses are presented in English – would follow precisely the one offered stateside.
"Everything is taught the same way," Hampton says. "It's not just the language. It's all the learning outcomes, all the support services. We have our career services support, our counseling support, everything."
And the same graduation requirements that apply to undergraduates in Miami – among them a passing grade in English composition – have to be met by Chinese students in compliance with the standards of the U.S. organization (the Commission on Colleges of the Southern Association of Colleges and Schools, or SACS) that accredits FIU.
---
Related: Interest in Asian Studies at FIU explodes
---
Today the program remains unique in China. Representatives from foreign universities have regularly come to TUC to observe and learn from FIU in preparation for their own collaborations with Chinese universities, although no other has established an in-country dual-degree program. Administrators from the University of Central Florida, New York University and Dublin University are among the many that have visited FIU's TUC campus.
Says Peng Lu, FIU's associate provost for international programs, who travels regularly between Miami and China, "In China, FIU is very famous and one of the reasons is because people can actually see FIU in Tianjin."
More to come
The experience in Tianjin has inspired a long list of potential FIU-China projects – nearly four dozen, more than with any other country. These include 11 active, albeit currently small, programs in the College of Engineering that offer bachelor's and master's degrees in South Florida to Chinese students. Many of the other proposed projects live only on paper in the form of agreements and likely will take several more years to materialize. And several are cooking.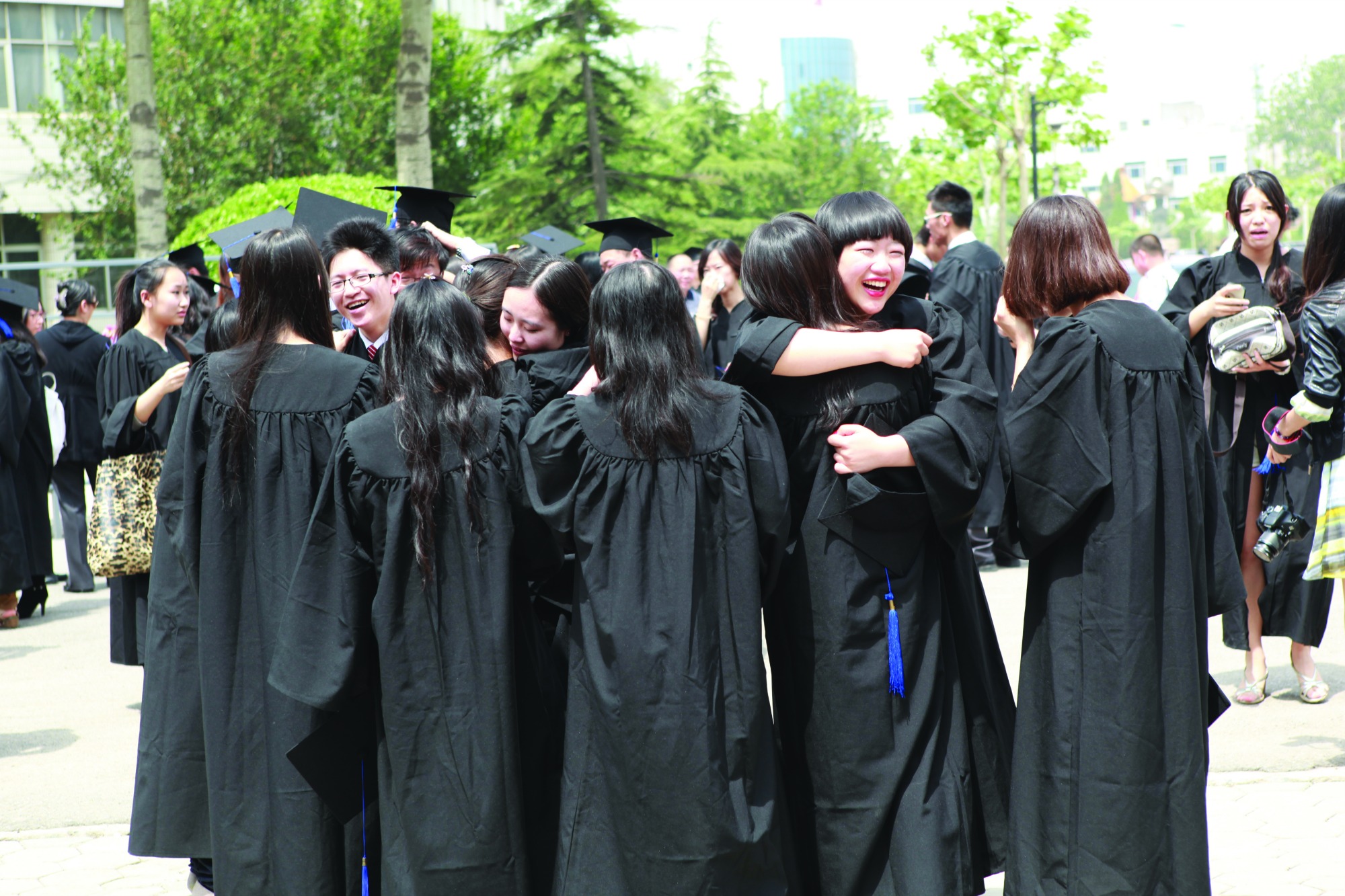 Currently on the front burner: four more hospitality management programs in, as Hampton calls them, "strategic cities," among them Beijing and Shanghai. These programs, Hampton says, promise to be bigger than the original in Tianjin simply by virtue of their location in travel-and-tourism hotspots and in their ability to attract and educate far greater numbers.
"We have the opportunity to be the driving force in hospitality and tourism education in China," Hampton says. "We have experience now that has given us unique insight into how to work closely with government and industry to help achieve the goals that they've set for their growth and development."
Chinese trade
Just as learning to navigate the hospitality business within the context of western practices remains critical to China, so also does learning to do business in general. Once again, FIU has been tapped. Already in the works, FIU's Spanish-language program at Qingdao University in the eastern province of Shandong follows in the footsteps of the original hospitality program. Students will earn degrees from FIU after completing four years of education in their own backyard.
"There is an interest in trading with Latin America," explains Pascale Bécel, chair of FIU's Department of Modern Languages, "so training speakers of the language is an important goal to achieve this."
In fact, the move is just that: a first step toward FIU's introducing an international business program at Qingdao University in a few years. Lu confirms that China's interest in the Spanish language has everything to do with China's interest in building up commerce with Latin America.
"Spanish is the hottest language in China," Lu says. Just as many Americans are rushing to learn Mandarin, so the Chinese are scrambling to acquire the language of the next region in which they want to do business. With English already conquered, Spanish represents the new horizon.
Currently about 60 students per year are majoring in Spanish at Qingdao. FIU's involvement should raise the quality of studies and is expected to make a big impact on the verbal proficiency of graduates – Chinese programs have traditionally placed greater attention on writing skills – who will take jobs as translators and interpreters, Bécel says. In Miami, she and colleagues will train some of the current Qingdao faculty in methods and approaches commonly employed in the U.S., emphasizing, for example, the importance of student interaction in the classroom over lecture-style teaching. As well, she will hire additional Spanish instructors, likely from within the large South Florida talent pool, to travel to China and teach the upper-division courses that constitute the FIU portion of the degree.
"It's been a very challenging project, also very exciting," says Bécel, who anticipates that cohorts will swell to 100 annually within a few years.
Good for South Florida
FIU's expanding presence in China can be attributed to both its academic strength and its location in a city regarded as the gateway to Latin America.
Chinese officials, Lu explains, would like to conduct their business, particularly with Central American officials, in Miami, with its established commercial infrastructure that includes firms specializing in international law and a world-class port. Where trust in support of direct business relations between Latin America and China generally does not yet exist and past dealings have not always gone well, Lu continues, South Florida makes an attractive meeting ground to carry out trade negotiations and sign distribution agreements. Having FIU as an academic partner provides a base from which China can move forward, Lu says.
---
Related: The past and the present meet
---
Officials in the port city of Qingdao, for example, would like to maintain an office at FIU out of which to operate when in town for meetings with business and government leaders. And FIU and Miami-Dade County officials together have considered doing the same at Qingdao's campus. Lu believes FIU could possibly facilitate greater interaction among all parties by organizing conferences that would touch upon both academic research and trade issues.
Frank Mora, director of FIU's Latin American and Caribbean Center, agrees that the university has a role to play. "There is a significant demand on the part of Chinese businesspeople and others who have been visiting and trading in Latin America for 10 years now to learn the language and culture," he says. "I think we at FIU can create a hub here for training, understanding, knowledge." And, Mora adds, that education must extend in both directions: "Latin Americans want to understand and do business in China."
Clearly, any efforts made by FIU have the potential to contribute profoundly to South Florida and the state. As FIU's backyard becomes the nation's center for Sino-Latin American commerce, the local economy will benefit from new port fees and the expansion of services and related industries that support such trade.
Helping the Chinese advance their hospitality and tourism goals already is having a positive trickle across effect, Hampton says.
"Because so many of the companies that are branding the resorts and operations being developed by Chinese investment groups are based right here in South Florida" – among them locally headquartered, alumnus-owned Kerzner International, which is working with a Chinese conglomerate to build the $1.5 billion Atlantis Resort in the coastal city of Sanya – "revenues come back to those brand companies," Hampton explains. "The residual impact of that permeates many, many levels to benefit everybody. It's good for the state of Florida. It's good for America."
Good for FIU
"When the winds of change blow," goes an old Chinese proverb, "some build walls, while others build windmills." President Rosenberg is among those promoting the windmills.
"By 2040, it is estimated that the Chinese economy will dwarf the U.S. economy," he states. "We must prepare our students and community for this eventuality.
"Our academic collaborations and partnerships with Chinese universities and students will enable us to deepen cooperation and mutual understanding as well as economic well-being."
The two-way street of economic well-being is real, Lu says. With 1.4 billion people, China is the world's largest education market, and one with needs the country internally does not have the capacity to meet. "China's education supply is not enough and cannot be improved soon," he says. That's where universities like FIU come in.
And so Lu encourages FIU to continue to lead, which includes fostering exchange and mutual understanding in a variety of ways. To that end, FIU is introducing students in South Florida to Chinese culture and language through several study abroad programs for undergraduates and one for international MBA students that is run by the College of Business. And recently Lu has been tasked with establishing programming through FIU's University College, which offers noncredit courses and professional training to the community, and he is working with the Miami Dade College-based Confucius Institute, which offers similar outreach.
The activity vis-à-vis China simply reflects what FIU is all about, Rosenberg says.
"FIU's approach to China is aligned with our broader strategy to provide high-quality learning and research opportunities to our students and faculty," he says, "and to use win-win partnerships to find solutions to community problems."
In the end, both the dragon and the Panther come out ahead.   ♦