The history of nursing at FIU is reflected in the success of its graduates, each a testament to the college's ability to respond to changing needs
Staff Sgt. Victor Arvizu, newly retired after 20 years in the service, cannot wait for 2014. Giddy with the anticipation of achieving a long-standing dream to become a nurse, in January he will join the ranks of former military medics starting classes at FIU. Designed just for them, the brand-new program gives credit to battlefield-tested veterans for their real-world expertise.
"I told my wife years ago that I wish there was something that would take into account all of our knowledge and experience and help us get into nursing school," recalls Arvizu, 38, who felt his age worked against him. Now he praises FIU nursing leaders for taking the initiative and landing a $1.3 million federal grant to make it happen. "It's like they were reading my mind," he says. "They basically took everything that I had hoped and wished for and brought it to life."
When Arvizu finally earns his degree, in just one year, he will stand among a growing legion of nurses – 4,000 and counting – whose training at FIU has taken them to heights they never imagined. The illustrious group includes people like Grisel Fernandez-Bravo '85, who back in 1983 gathered with about 80 others as a member of the inaugural class of FIU students seeking a bachelor of science in nursing. Today the two-time FIU alumna, who also holds an MBA and a doctorate in nursing practice from elsewhere, oversees and coordinates the work of some 1,200 nurses as the chief nursing officer for Memorial Hospital West in Broward County.
---
Watch: Thirty years of nursing at FIU
---
Meanwhile, nursing education at FIU has just celebrated 30 years of serving South Florida as an innovator with many firsts to its credit. It has expanded from a small program to take the lead role in a multidisciplinary college that offers advanced degrees, attracts federal research funding, houses state-of-the-art simulation-training, conducts community outreach and boasts a highly respected faculty. And that's just the beginning. A recent gift of $10 million will make possible continued growth within the newly renamed Nicole Wertheim College of Nursing and Health Sciences.
"I'm extremely impressed," Fernandez-Bravo says of both her own and FIU's stellar trajectories. A caregiver at heart, she has soared professionally, propelled in large part by her initial training. "When I went into nursing, I thought I'd be taking care of patients forever," she says, "but I truly believe that FIU gave me the foundation to know I had potential to continue my professional growth."
A history of innovation
Leaders of FIU nursing have always recognized that serving the community – as many as two-thirds of alumni work in South Florida – means creating unique educational opportunities.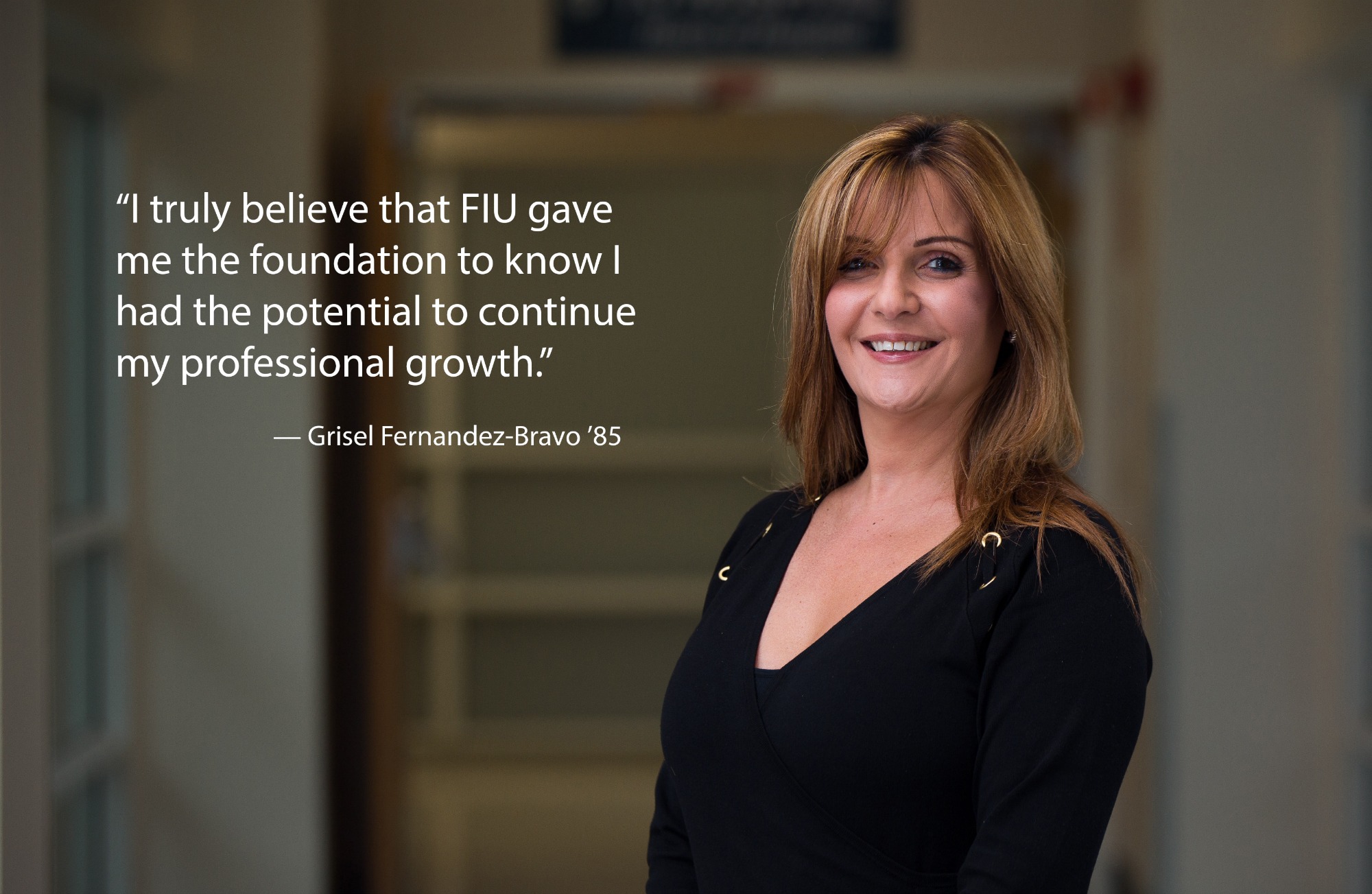 A prime example, from the early 2000s: the first-in-the-nation program to train as registered nurses foreign physicians who lacked requirements to obtain U.S. medical licenses. The goal was to return highly qualified professionals to the workforce during an acute nursing shortage.
"It was a turning point in my life," says Peggy DeCardenas '06, '08, of her acceptance into the program in 2004. Coming from Cuba, she lacked language skills to continue a career in medicine. And so she and her husband, a doctor trained in Africa who likewise could not practice here, found themselves in desk jobs auditing insurance and Medicaid claims.
"I felt I had so many things I could offer – compassion and good care – but I couldn't," DeCardenas says of her former job situation. "The program let us go back to the community and give that. I am so grateful." Today she works in a nephrology practice in Miami. Both she and her husband eventually returned to FIU to add graduate nursing degrees to their credentials.
Several years ago, the college took the foreign-physician program a step further by capping it with the master's-level nurse-practitioner degree. Graduates can make diagnoses and prescribe medications, just as physicians do, and are in high demand.
Marie Ketty Jussome '13, trained as a pediatrician in her homeland of Haiti, earlier this year made local headlines when she completed the program after losing her physician-husband in the earthquake of 2010. "I found it was the perfect program for me," says Jussome, who is now pursing a Ph.D. from the college and hopes to one day combine clinical work with teaching.
Today the college offers no fewer than 16 nursing programs, tracks and certificates to prepare professionals for the full range of employment options. These include a nurse-anesthetist degree that in 2001 was the first established within Florida's public university system, and a unique nurse-educator certificate designed to produce nursing faculty for community colleges and other schools.
Education for the 21st century
FIU has stepped up its nurse training in the current era of nonstop scientific advancement and evidence-based practice.
"We're grasping the importance of science – psychological, physiological, sociological science – in understanding our patients' diseases and how to care for them," says Ora Strickland, dean of the college since 2011. "Our knowledge is exploding so fast that everybody has to learn more."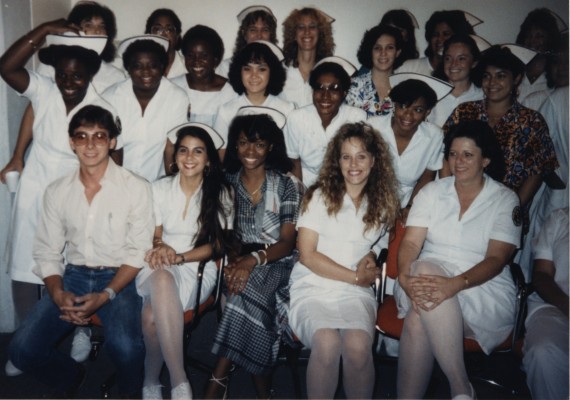 To keep up with the proliferation of new treatments, medications and medical technologies, FIU undergraduate nursing students take increasingly rigorous coursework while participating in traditional clinical rotations – observing and assisting working professionals – at any of more than two dozen local hospitals. As of 2010, they also train in one of the most sophisticated simulated hospitals in the country.
The on-campus facility mimics a hospital ward complete with OR, ER and primary care settings. It features the latest equipment along with mannequins that can manifest the symptoms of various disease states. Establishing the high-tech center is just another way in which FIU adapted with the times to offer its students the best possible preparation.
"We get to care for patients that are acutely ill, and we have a discussion right after: what went right, what went wrong, what to improve," undergraduate Natalie Leal says of the simulation lab. And, she adds, simulation builds confidence by providing hands-on experience. "You forget that you're being recorded and your classmates are watching," she says of the intense scenarios in which other students play concerned family members.
The human element also remains critical in graduating highly prepared professionals. Steadley Foster '11 is a nursing administrator for a new program at Brown Mackie College in Miami, where he employs six of his fellow-graduates as faculty and looks to hire more. To this day he continues to call upon his former professors to guide him as he takes a greater leadership role in his own organization.
"They are just dynamite people," Foster says of mentors such as the college's former dean, Divina Grossman, today the chancellor of the University of Massachusetts Dartmouth. "It's a place of support and motivation, of caring and compassion."
Riding the next wave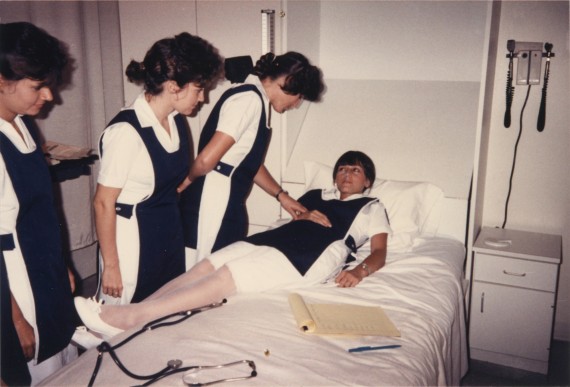 In the coming years, one of the greatest impacts on healthcare likely will arise from the integration of disciplines. Once again, FIU nursing is ahead of the curve by investigating ways to encourage the team approach. The concept makes perfect sense within the setting of the Nicole Wertheim College of Nursing and Health Sciences, which brings together the physical and rehabilitative sciences – among them physical, occupational and speech therapy – with nursing.
"We have the honor and pleasure of having five different disciplines in this college, and that's where we are going," Strickland says of collaborative activity. "That's the wave of the future. We have learned that each discipline has unique strengths. Standing alone, we don't do the job as well, but when you bring that integrative, interdisciplinary approach, that's where you reach your optimum."
The caliber of students likewise continues to boost the college's reputation. Many return after earning bachelor's degrees to pursue advanced degrees that position them to take on greater responsibility and leadership roles.
That's the plan for Arvizu, who wants to work in a hospital intensive care unit for a year before returning for a master's. Whatever the course of his future, however, he knows one thing for sure: he has found his calling. "Selfless service is something that I learned in the military, wanting to help people in situations where they need somebody to guide them and make the right decisions," he says. "I think that's the biggest thing that motivates me to become a nurse."   ♦