From dishwasher to million-dollar donor: Gerald Grant Jr.
September 8, 2014 at 12:00am
---
By Eric Barton
It's hard to imagine Gerald Grant Jr. '78, MBA '89, with a Jamaican accent. But he had one, back when he was 9, when his family first moved to Miami. And the kids at school, they were relentless at making fun of it.
So that summer he gave himself a task: he would lose the accent. He did it mainly by watching TV. He'd mimic the plain American accent he heard, enunciating every syllable to get it just right. When school started in the fall, Gerald Grant Jr. sounded just like another American kid.
But he wasn't, really. Gerald Grant Jr. was another American kid who also happened to have the drive of 10 men. Maybe that sounds like an exaggeration, but not if you've met Grant, the 58-year-old statesman and gentleman FIU named its first ever Alumnus of the Year at the March 2014 Torch Awards. Not if you've seen the bold persistence that characterizes everything he does, whether it's his morning workout or the million dollars he promised to his alma mater.
Grant says he developed that intense work ethic back in Kingston, surrounded by a family that talked a lot about working harder than anybody else. His dad was a cobbler and had a good shoe repair business going. "We were not necessarily wealthy, but when you don't realize you don't have funds, you don't really miss it," Grant said.
Then his mom came back from a visit to Miami with plans to relocate there. So they moved in with Grant's aunt and uncle, and his dad got a job as a security guard. It was a struggle for a while, but his parents saw that sacrifice as worthwhile if Grant went to college and did well.
"We came to the United States, and it gave me an opportunity for a good education. That one thing changed my life," Grant says.
Grant began his working life as a dishwasher on the weekends at Dunes Motel on Miami Beach. Soon, Grant was the short-order cook. His pay: $2 an hour.
It was through Junior Achievement in high school that Grant met someone from the department store Burdines. Grant took a part-time job there on the loading dock, and the company saw they had someone with ambition. They put him in the management training program and quickly moved him up.
It was about that time that Grant's family had a talk about avoiding debt. His parents didn't want him to take out student loans and walk away from college under water. When he started at Miami Dade College, he would figure out a way to pay as he went.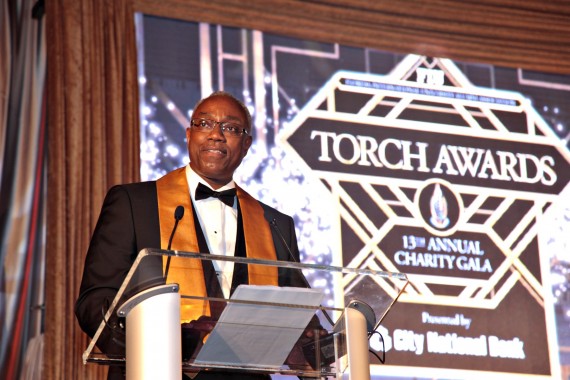 Grant had a coworker at Burdines who kept talking about her friend, Jennifer Adger, and how much Grant would like her. Grant agreed to call her and they met at Jennifer's mother's house for their first date. Two years later they were married and eventually had two children, Jasmin, 27 and Gerald Grant III, 23.
It was during those years at Burdines that Grant picked up a little side business, in addition to everything else. He started by spinning records at friend's parties, weddings and events, and sometimes on chartered yachts. Grant built up a party-starting record collection and even developed a DJ name: The G-man.
Grant earned his associate's degree at Miami Dade College, but he never considered stopping there. He moved on to FIU to study business and be part of the Honors College. That's where his upward trajectory, his constant steps in the right direction, almost ended.
His first semester at FIU, Grant just couldn't seem to juggle it all. His grades were horrible, and he had no idea how he was going to fix it. This was his crossroads, the moment where maybe he failed out or maybe figured out how to get past it.
Business professor Lynda Raheem, who's now retired, sat him down and explained he had options. "She told me, 'Look we have resources that can help you.'" Grant signed up for tutoring, and it changed everything. The fact that Grant was paying for college himself – working three jobs to do it – meant that every class had true value. "There was no opportunity for me to take a class over. I had to do it the first time."
Meanwhile, Burdines had moved Grant into the finance division and realized he had a penchant for numbers. It wasn't just accounting. By paying his way through college, Grant had learned firsthand how to budget, save, and manage money. He shared what he learned in his first book, published in 2010, Bold Moves to Creating Financial Wealth.
After earning an MBA at FIU, Grant eventually went to Great Western Bank and Citibank before landing the job he was working toward all along.
He started at AXA Advisors in 1995 as a financial planner, and met his mentor, Ron Hicks, a retirement benefits specialist in Buffalo. "We hit it off like brothers," Hicks recalls. "He took what I gave him as a mentor and just ran with it. Now he is the mentor, and the roles are reversed."
Hicks learned about his friend's dedication to everything. Grant wakes up at 3 or 4 every morning, has a strict workout routine, and then has his day scheduled to the minute, all the way to dinner at home at 9. "He starts his day when we are all snoozing," Hicks says. "Gerald is very driven, and he enjoys what he does."
Grant also began volunteering for FIU on the Alumni Association Board of Directors and the Foundation Board of Directors, and also served as president of the Alumni Association and a member of the Honors College Advisory Board. When Duane Wiles started 11 years ago in the alumni office, Grant called to welcome him. Grant told Wiles he had a plan: he wanted to be the first African American alumnus to donate a million dollars to FIU.
"You know, ultimately, he's just a good man. Gerald has always wanted to give back to his alma mater," says Wiles, now FIU's associate vice president of Alumni Relations.
And give back he has. He is a member of the university's governing board, the Board of Trustees. This year, he founded and led FIU's first Panther Alumni Week, successfully bringing more than 100 FIU grads back to campus to speak to students during one week in February.
---
Related: Alumni share career advice, life experiences during Panther Alumni Week
---
The million dollars he spoke of was a bold dream 11 years ago, but Grant soon climbed up within AXA. He became a vice president, in charge of teaching other financial advisors, and then director of financial planning.
And late last year, just as he had promised more than a decade ago, Grant became the first African American alum to give FIU a million dollars. With the gift, the school created the Gerald C. Grant Jr. and Jennifer Adger Grant Scholarship Fund, which will provide scholarships in FIU's College of Business.
Grant sees the scholarship helping students just like him – students who are maybe not A students but the ones who need some financial help, and the ones willing to work hard to make that money worthwhile.
He isn't slowing down just yet, but Grant has a plan for after retirement. He's going to break out that LP collection in the closet of his home office. He's going to revive the G-man.
Occasionally, maybe when he's playing dominoes in the back yard or spinning reggae in his office, he lets a bit of that Jamaican accent come out.   ♦