Political commentator encourages women, young people to take their place at the table
April 23, 2014 at 12:00am
---
Donna Brazile
 is a well-known author, academic and political strategist, and vice chair of Voter Registration and Participation for the Democratic National Committee. 
She was the first African American to direct a major presidential campaign, managing Al Gore's run up to the now-infamous 2000 election. Brazile
is also a weekly contributor to CNN's
The Situation Room 
and
American Morning
, NPR's
Political Corner 
and ABC News
.
Brazile spoke at FIU's recent Women Who Lead conferences, organized by the Women's Center on each campus, and took a few minutes with FIU Magazine to reflect on her past and America's future.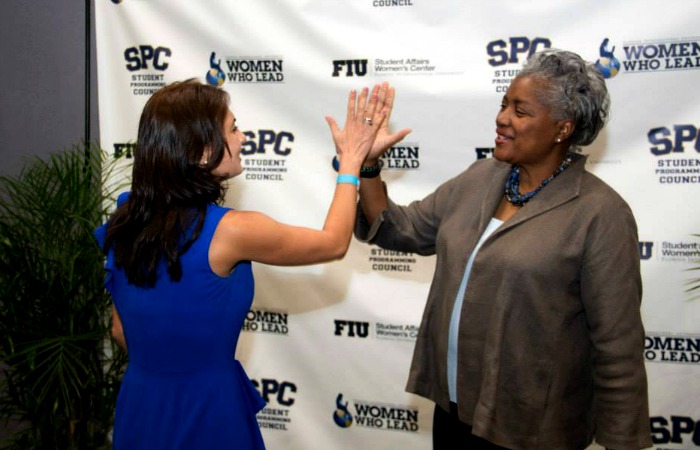 How did growing up in the Deep South influence your personal and career goals?
I witnessed so many groundbreaking events – heroic acts from ordinary people – to simply learning to overcome fear – fear of the unknown, fear of violence and fear of the enormous challenges we faced in a working poor household. My parents taught us to love the Lord, respect our elders, to listen before speaking and most importantly – to study hard and get a good education. They empowered us daily to never grow weary and to keep hope alive. Perhaps that's the reason why I chose to pursue a career in public service – to give back and pay forward.
Who was your mentor and what was a key lesson you learned from him or her?
Throughout my life, I've had powerful role models, from my parents and grandparents to individuals in my community to working for some of the most inspiring people in American politics. Here's what I've learned: to remain faithful to the cause of freedom, justice and equality for all.
What is the most historic event you've personally experienced?
There are so many important events that I have experienced – from the passage of legislation to make Dr. Martin Luther King Jr.'s birthday a national holiday to witnessing Barack Obama become the first African American to win the presidency in 2008.

The Higher Education Act, the major law that governs federal student aid, is up for renewal. What do you think needs to happen to make better higher education policy?
The reauthorization comes during a time of unprecedented scrutiny for the nation's colleges and universities. We need to get on the floor of the House and the Senate for a vote, and we need to ensure that Pell Grants are strengthened so that everyone who wants to attend college can afford to do so.
Senator Tom Harkin has said in the past, Congress has made strides in expanding college access and must now focus on improving affordability and ensuring students succeed. Another challenge it faces is making sure federal assistance reaches an increasingly diverse and nontraditional student body.
What is your challenge to students?
It's your turn to lead the change you believe in and to help make a difference. This is your moment, and it's time students find their seats at the table – even if they have to bring in their own folding chairs.
What do you think of feminism today?
Feminism today is at a crossroad. The women's movement is starting to experience the beginnings of resurgence, especially in reaction to countless attempts to relitigate issues we once thought were settled – like access to contraceptives. What is really important now is to keep that momentum, to bring women's issues and women to the forefront of American politics and not let them fade into the background ever again.
What is your advice to women who want to take on leadership positions and help enact change in our society? What hurdles can they expect to face?
For women who want to be in positions of leadership, I say to them: take your seat at the table. It is so crucially important for women, especially young women, to be at the decision-making table. But, even more so, not to wait to be asked to join. Women have to stop waiting and start demanding what they deserve.
Women still face significant hurdles at every turn of life. One great challenge that is being discussed right now is paid parental leave. As the most powerful nation, how is it that we have some of the weakest parental leave policies? It is embarrassing and not only does it hurt American women and families, but it hurts the economy as a whole.
Finally, which issues will be important to women in the 2016 election?
Paycheck Fairness Act—equal pay for equal work, access to health care protections from the Affordable Care Act and access to reproductive health options regardless of the boss's or insurer's religious beliefs. ♦