Ruth Hamilton has been the face of the Graham University Center for decades. She started as coordinator of activities in 1979, and today, as the GC executive director, runs the busiest, most programmatically diverse building at the Modesto A. Maidique Campus. On the eve of her May retirement, FIU Magazine caught up with the lady whose outsized personality and great kindness have touched thousands at FIU.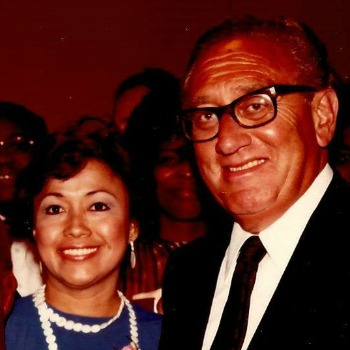 How did you land at FIU? I was the director of the American School in Lima, Peru. FIU had a contract to send us College of Education professors to train teachers. Nick Vigilante, who was the college's dean at the time, along with then-Professor Paul Gallagher and others would come down to do that work in the summertime, and I would host. Leaving to return home, they would give me their business cards and tell me to stop by if I was ever in Miami. When things changed politically in Peru, and after my husband and I had had a child, we did go to Miami and started looking for jobs. I went to work in the engineering department at UM, and then I got word from FIU that they needed a coordinator of activities, so I sent my resume.
Listen to Ruth describe her not-so-great first impression of FIU:

Tell us about an activity you planned back in the day. In the early 1980s, the London cast of Beatlemania was touring the United States. An agent called and said the group wanted to play in Miami. So I said, "Why not?" When I told him I didn't have a venue, we decided upon an outdoor concert. So I went to see the university CFO, Ron Arrowsmith, and we started looking at the contract. That's when someone freaked out. One of the points of the contract was that we had to pay the band at the end of the event and it has to be cash and it's $60,000! Ron said, "Are you crazy? We're a state university." I pleaded on behalf of the students, who had gotten very excited about the idea, and so the poor guy approved it.
Well, some of the faculty and administrators heard about the plan, and they were upset because we were going to have it outside the library by the lake there. So we had a meeting, and one administrator brings up a Florida statute that says we're not to disturb the wildlife so near to the Everglades. I said to the gentleman, "Let me introduce you to members of the new  wildlife: our students. They want to have a little fun here." Well, tons of students came out for the concert, and we had a barbecue beforehand.

Listen to Ruth describe how unwanted guests threw a wrench into concert activities:

Tell us how the Graham Center has changed over the years. When I came to FIU, I was really shocked by the building. It was really like a warehouse, very utilitarian. And it was an open building, with the common areas exposed to the elements. What would happen was that wildlife—ducks, lizards, opossum—would come in, and they would do their business. We had to constantly be cleaning. In the summer heat, the stench was awful. The rain and the wind would bring all the garbage in. It was very unpleasant.
Listen to Ruth explain the thinking behind the GC's redesign and expansion in the 1990s.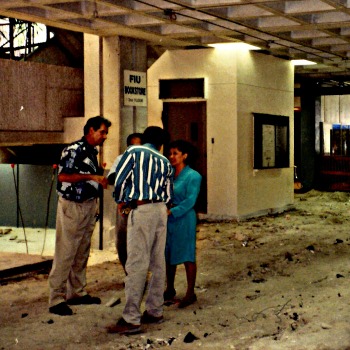 You speak about FIU with such pride. Of what are you most proud? For one, that we have a public four-year university in Miami. So many people fought us on that. I would have arguments with my colleagues at UM who questioned why FIU needed to go from a two-year upper-division school to a four-year institution. We travelled from FIU in buses up to Tallahassee to make the case and were finally successful in 1981.
President Maidique is the one that said we will have a major research university. The first time I heard him make that pitch, I thought he was Don Quijote. "How is he going to do that?" I asked myself. We had no alumni, no money, and he's thinking about research. We laugh about it now, but he did fight so hard to get the school of architecture, the law school, the college of medicine.
And then there's the Graham Center. I take pride that we were able to bring the community together by bringing into one building the bookstore, the cafeteria, the Faculty Club, classrooms, a ballroom, offices for Student Affairs. It's not like that other at other schools. I think we have one of the greatest student centers.

I know it was you who got the baby grand piano into the Graham Center, which for 17 years now has brought joy to countless students. But I understand it wasn't easy to convince your boss. In trying to articulate to the administration that we needed a building that is inviting, in trying to address vandalism, with which we had had some problems, I always advocated that the environment would change the behavior of the students. We needed something not only inviting but interactive. We needed a computer lab, for example. We needed a game room.
We already had the noisy place, which is The Pit. But I thought we also needed to have a place for a different kind of student, a quieter place. And that's why I thought we needed to build the gallery. And, of course, a piano in that space would offer something interactive. When I proposed it, Vice President Paul Gallagher was against it. I found out later that he had heard from faculty in the School of Music who didn't understand what we were trying to do. In their defense, they had already witnessed theft at the school, and their thinking was, "A baby grand piano in the student center? Students are going to destroy it." Well some time later, we were having a reception in the gallery. Someone said we needed to have some music, and I said, "No problem." I brought out the piano I had been hiding for a year. No one knew. Later, when Paul asked me how much it cost to rent the piano, I said, "Paul, it's your piano. We bought it."
Hear Ruth talk about what the piano has meant to students.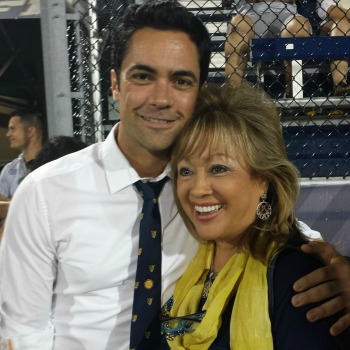 How did you enjoy mentoring students? That's one of the rewarding things. You can see their transformation. In the early years, students were sort of embarrassed to come to FIU. They came because they couldn't afford somewhere else, even though many of them were qualified academically. But we told them it doesn't matter where you go to school. It's what you do with the education. "Come to FIU, get the best grades you can and then the big schools will come looking for you," we said. That became a reality for many. They went on to Yale, Penn, Stanford, so many places. They became judges, CEOs, entrepreneurs, leaders. We have graduates now that are in politics who used to clean floors here in the Graham Center. There are so many success stories.
How do you look back upon your career here? The biggest satisfaction is that I came and I embraced the dream of the early trailblazers. On a professional level, I was fortunate. I got to learn from a lot of talented people who mentored me, and that includes 19 vice presidents.  And where else would I have gotten to spend millions of dollars to design and outfit a building? I know my husband was grateful that I didn't feel the need to buy things at home because I already had spent the millions here, for furniture, wallpaper, fabrics to get our GC ballroom outfitted. And I made lifelong friendships, people who became like family. They helped me realize many dreams, not just for myself but for the students.  ♦
Hear Ruth sum up her FIU career as she prepares to move on.