How FIU stepped forward to bring the world's only underwater ocean laboratory back into operation and advance marine science research around the world.
Six miles off the coast of Key Largo, 60 feet below the ocean surface, rests a yellow metal structure atop a stilt-like base. At first glance it appears abandoned, disappearing into a seascape of corals and sponges, and surrounded by schools of fish. But a quick peek inside reveals a complex human habitat designed for research and exploration — the only one of its kind in the entire world.
The Aquarius Reef Base allows marine scientists to leave the terrestrial world behind and live among their research subjects for days, even weeks at a time. It was deployed in 1993 by the National Oceanic Atmospheric Administration. But in 2012, looming federal budget cuts threatened to surface the world's last remaining undersea research lab.
One of the main challenges facing Aquarius was obscurity. For nearly two decades, it existed on a modest operating budget, offering a temporary home for researchers on a variety of missions. Quietly and resourcefully, Aquarius labored away, providing information for more than 600 research papers on conservation, ocean acidification, habitat protection and global climate change over the course of 117 missions.
The rescue plan
Meanwhile, most Americans were unaware of its existence. When Aquarius appeared on a list of government programs targeted for elimination, few noticed, except those scientists who understood its unique potential.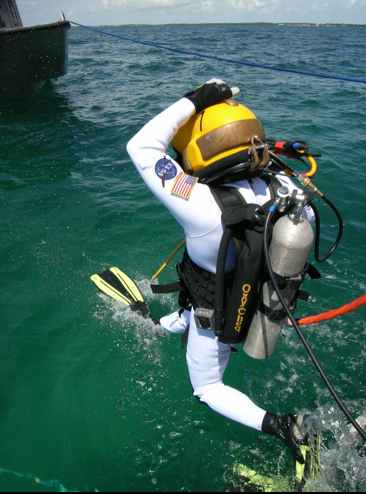 "It was a tough time for us," said Aquarius Director Tom Potts. "You go to bed thinking about Aquarius. You wake up thinking about Aquarius. We lived with the uncertainty."
As a graduate student, Potts was first introduced to Aquarius above water in 1990 while it was being prepped for deployment. Upon graduation, he was named Aquarius' science director. By 2009, he became director of Aquarius. It would be tough to find someone who knows the research facility better.
"This is the only job I've ever had," he said.
Though it operated out of the public eye, Aquarius did have a fan base. Largely comprised of researchers, diving enthusiasts and environmentalists, a grassroots effort was initiated in 2012 to save the world's only undersea lab. Among those supporters was Miami technology entrepreneur Manny Medina, who founded Terremark Worldwide and is now chairman and CEO of Medina Capital Partners. Medina's involvement would turn out to be key to rescuing the one-of-a-kind facility.
U.S. Rep. Ileana Ros-Lehtinen and U.S. Rep. Mario Diaz-Balart even made a trip to Aquarius in a public appeal to save the undersea lab. But the clock was ticking.
In the spring, a meeting was quietly organized by a group of Aquarius supporters. A small contingency from FIU was asked to attend. Mike Heithaus, marine biologist and executive director of FIU's School of Environment, Arts and Society, was among those.
The plan was simple – find a host institution to maintain operations and develop a business model that would not be dependent on government funding. As the meeting progressed, it became clear to Heithaus that FIU was being asked to save Aquarius.
The Aquarius aquanauts
Undersea exploration is a relatively young science. In the 18th and 19th centuries, scientists began documenting the variety of species that roamed the oceans, but they relied on nets dragged across the bottom of the ocean to bring dead and dying organisms to the decks of their ships.
Then, in the mid-20th century, self-contained underwater breathing apparatuses, or scuba, became mainstream among researchers. While scuba diving revolutionized the world of marine science, it still presented significant limitations on data collection, observation and experimentation. The more time divers spend underwater, and the deeper they swim, the more nitrogen their body absorbs (a process known as saturation). That means a diver may only have 90 minutes or less before he or she must surface to avoid the dangers associated with the build up of gas in the bloodstream.
"Imagine trying to do your job, a full day's work, in only 90 minutes," said Deron Burkepile, coral reef researcher and assistant professor of biological sciences at FIU. "Aquarius gives scientists the gift of time."
---
Watch: Mike Heithaus and Deron Burkepile's TEDxFIU talk
---
In Aquarius, researchers can saturate for days and weeks at a time. When the time comes to return to the surface, a 16-hour decompression process lowers the facility's pressure, gradually allowing accumulated gases to exit the body. When the process is completed, the researchers can swim to the surface as if they were never underwater.
Having spent 20 days over the course of two missions in Aquarius, Burkepile has earned the distinction of being called an aquanaut. He has experienced, first-hand, the invaluable opportunity of living among his research subjects. Convincing FIU's marine scientists that the university should take over Aquarius was like convincing a fish it should swim. But others weren't as easily swayed.
The university solution
Months of discussions, formulating business plans and evaluating risks were undertaken by university officials. By January 2013, the decision was clear. Aquarius is an unparalleled resource for finding solutions to some of the world's most pressing environmental issues. FIU announced it would assume operations.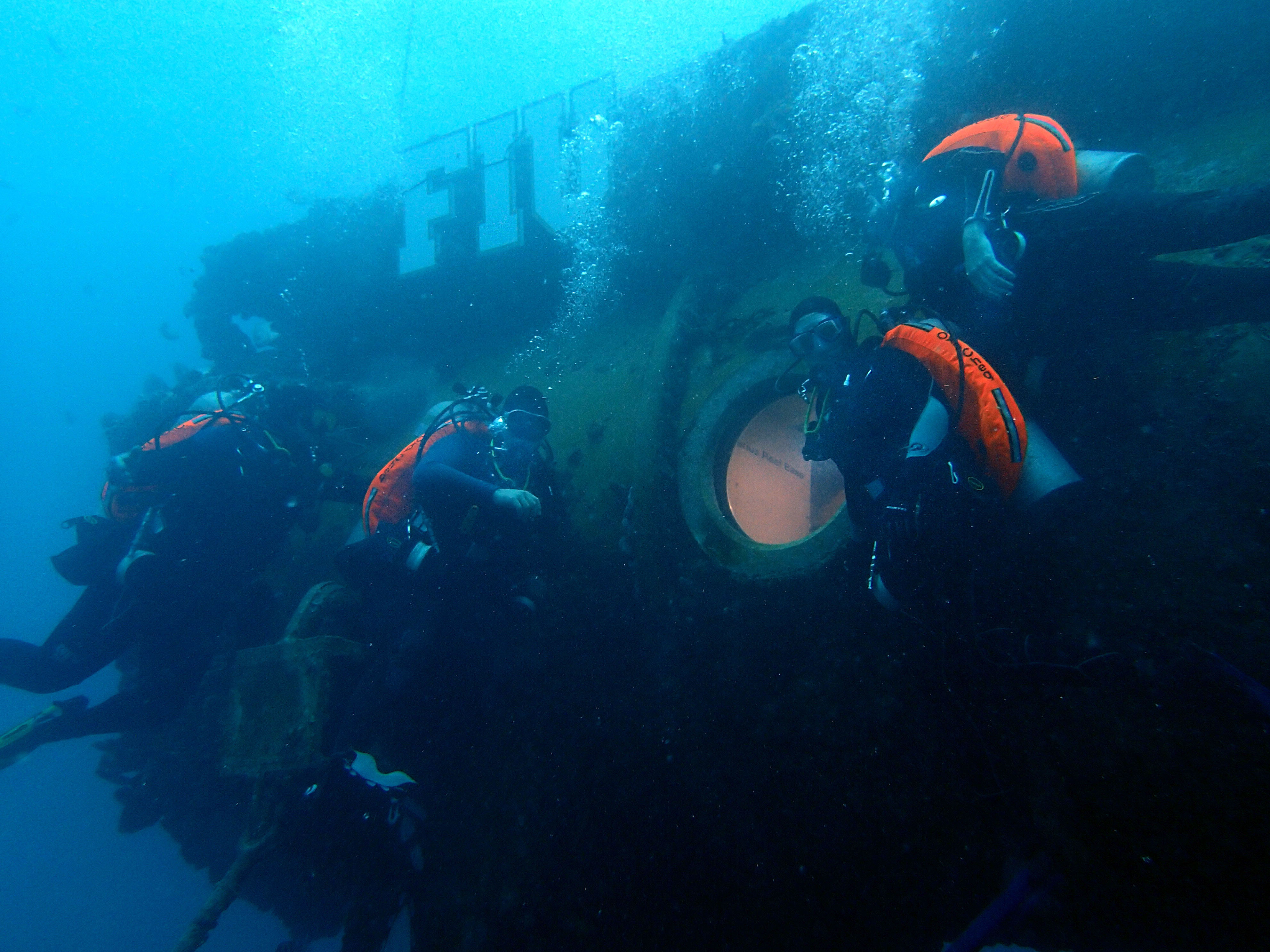 "Aquarius offers tremendous research and educational opportunities, and we're ensuring that this investment of American taxpayers continues to provide critical research results to the country," Heithaus said. "For our students, Aquarius offers fantastic new possibilities. It's a natural fit for the work we're doing in the Florida Keys and throughout the world."
Aquarius is more than a 400-square-foot habitat. It is tethered to a life support buoy on the surface that houses power generators, air compressors and data connections. A short boat trip away is a land-based facility where operations are monitored. Most importantly, Aquarius is staffed by a small, highly skilled team led by Potts and Roger Garcia, Aquarius' director of operations. The crew has made a seamless transition to FIU.
Garcia, who was born in Cuba and grew up in Miami, spent 20 years in the Navy as a field medic, combat diver and Navy diver before joining Aquarius. His resume includes marine reconnaissance deployments, two Mediterranean deployments, a 1980s combat mission during the attacks on Libya and deployments in the Middle East. At Aquarius, Garcia's No. 1 priority is the safety of all those who dive to the habitat, but he's also been known to serve as boat captain, maintenance crew and even housekeeper. With no job too big or small, Garcia's management style is simple – "Get it done."
After spending months preparing for the inevitable shutdown, the crew worked tirelessly throughout the spring and summer of 2013 to return Aquarius to operations by the fall. Still, there was concern about where the operational support would come from in the future.
Then, just as dollars were running scarce last fall, Manny Medina, the Miami businessman who believed in the project's potential, stepped forward. The Medina family's gift of $1.25 million establishes the Medina Aquarius program and gives Aquarius stability.
The worldwide response
In September 2013, NASA commissioned the first saturation mission of the FIU era. While primarily a facility for marine research, Aquarius also serves as a training site for astronauts.
"Living and working in Aquarius is perhaps the closest thing on earth to actually being in space," said William L. Todd, a program manager at NASA.
During the fall mission, four international astronauts, including two from the United States, one from the European Space Agency and one from the Japanese Aerospace Exploration Agency, spent a week in Aquarius.
Days after the astronauts surfaced, Aquarius made waves with an inside peek on a live broadcast of NBC's TODAY Show, captivating more than 4.2 million viewers. CBS This Morning followed up with a segment that aired later in the fall.
In November, FIU sent four biology students – one undergraduate and three graduate students – to the habitat for the university's first research mission since it assumed operations. For Burkepile, it was a rewarding experience to witness two of his students taking up residence in Aquarius on the 10-year anniversary of his first saturation mission. Ph.D. student Andrew Shantz, whose work focuses on protecting the world's reefs, was among them.
"When I first heard Aquarius was going to be shut down, I was totally disappointed. I thought I had missed my chance," said Shantz, a Washington D.C. native. "It was kind of surreal to realize it would become part of FIU."
---
Related: FIU students descend on Aquarius
---
Shantz was joined by Laura Bhatti, also from Burkepile's lab, along with Christian Lopes from Professor James Fourqurean's lab and Mark Barton from Professor Kevin Boswell's lab. While they were primarily there to conduct research, each of the students took time throughout the week to conduct virtual field trips with schoolchildren from all across the country via Skype. They were even able to virtually attend and teach classes at FIU while saturated.
"Aquarius presents FIU with unlimited opportunities," Heithaus said. "Imagine being able to take a class that is broadcast live straight from a coral reef."
The future of Aquarius
While its primary focus is research, FIU is implementing a business plan to help ensure its long-term viability. The plan relies on a diverse funding portfolio of educational and government missions, private industry and philanthropic support.
Just as operational support was running scarce, the Medina Family Foundation stepped in with a $1.25 million gift to establish the Medina Aquarius Program. Manuel D. Medina, founding and managing partner of Medina Capital, says the gift is his family's way of giving back to the ocean, which has provided them a lifetime of inspiration and enjoyment. For FIU, the gift helps give Aquarius stability.
"FIU is committed to Aquarius because it is a unique resource allowing our students, faculty and collaborators to better understand and preserve our environment," said FIU College of Arts & Sciences Dean Kenneth G. Furton, who along with Heithaus, led the charge to bring Aquarius to FIU.
"While much work remains to ensure Aquarius continues to operate well into the future," he said, "we have renewed confidence due to the substantial local, national and international organizations and individuals who have shown their commitment to its growth and longevity."   ♦
Banner photo: DJ Roller, Liquid Pictures