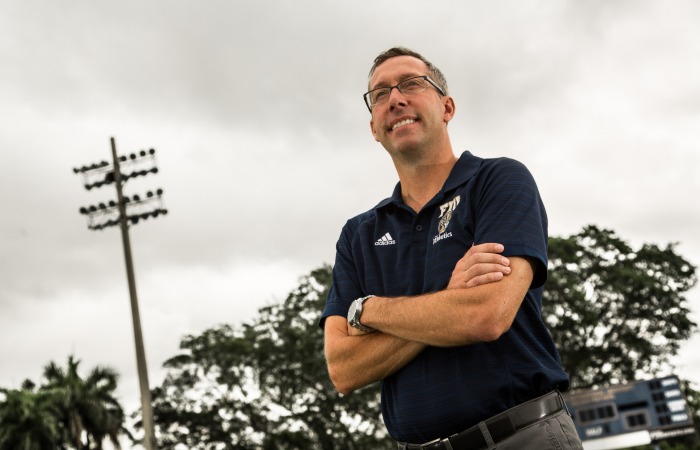 By Joel Delgado '12, MS '17
Scott Calabrese was introduced as the sixth head coach in FIU men's soccer history in January, but the program has been on his radar for years – since 1996, to be exact.
That was when Calabrese, then playing professionally for the Rhode Island Stingrays, made a trip to Richmond, Virginia – the site of the NCAA Tournament Final Four. One of the final four teams that year was an FIU team that came up one win shy of a national championship.
In 2008, Calabrese was tapped as East Tennessee State's first head coach when the university launched its men's soccer program, and over the next six years the Buccaneers enjoyed a high level of success.
ETSU won two conference championships and two trips to the NCAA Tournament under Calabrese. Now he will try to do the same at FIU.
"Since that Final Four in 1996, I've seen FIU as a program that can compete at an incredibly high level," Calabrese said. "I'd like to see FIU men's soccer as a top program in the country, competing in the NCAA Tournament regularly."
FIU News: How is Miami different from other places you coached?
Scott Calabrese: I feel like Miami is a soccer town. It already has a soccer culture of its own, and that is a real advantage for us. The youth teams here are very good, and there are a lot of fans that have a great deal of knowledge in regard to the sport. It's a city that is very accepting of the sport.
What are you enjoying the most about life in Miami?
I like that Miami has a high level of diversity. Soccer is such a diverse sport in and of itself. It's an international game, this is an international city and FIU is an international university. I love coming across different individuals with different ideas.
How have you seen the game of soccer grow in the United States?
When I was growing up there was no professional league and there was very little attention and coverage given to soccer. In my 30-plus years of involvement with the sport, things have changed drastically. Soccer is now a major sport in this country. It's incredible. I went to a national team game when I was around 12 or 13 years old, got the tickets the same day and there were about 10,000 people watching. Now they are packing stadiums with 80,000 people in them. The U.S. Men's National Team is a huge focus of attention for this country to rally around.
The quality of the players we produce has also improved and we have gained  respect worldwide from other soccer-playing countries that are more established. The United States is starting to produce players at a level where there is a lot of interest in us. Now you start seeing players like David Beckham coming over to play and interested in starting a team here in Miami. I think that's a massive plus for this area and the country.
What should fans expect from FIU men's soccer on the field this fall?
We have quite a few South Florida players so the style we play will be conducive to their talents. We're going to be a technical team that's going to look to pass the ball. We're going to be an attacking team, trying to take chances and score goals. We're going to try to control the game by maintaining possession, and I think one of the things that will be really critical to our success is how hard we work. I think one thing I would like to see is a blue-collar mentality behind the technical and attack-based aspects of our game.
We have a group of older players who are established and mature that will provide us with good team leadership. We also have a younger group – this large group of sophomores – that is now maturing. As a group, we'll be more cohesive than we were last year.
What's the most difficult part of making the switch from one program to another?
Within coaching, it takes time to develop a relationship with players. It takes a while for them to get to know you, to establish trust, to get across your expectations and for them to ultimately take on the behaviors and standards of the program. That process is not something that happens instantaneously and it can't be accomplished in a week or a month. It takes time and it happens organically.
What's makes soccer the "beautiful game" for you?
I love when teams play with such cohesiveness – in terms of their understanding between each other, their movements and their decisions – that they make it look easy. It's fluid and you create chances.
Ultimately, there has to be passion in it. One of the things that attracts people to any sport, and soccer is no different, is that when people play with passion and emotion, it's inspiring. And for me that's something that has to be a part of what we do here, too.  We have to play with desire; that's what inspires people.
What is something not many people know about you?
I spent five years practicing aikido, a Buddhist oriented martial art, when I was an assistant coach at Clemson, and before that I would drive up to Greenville, S.C., three times a week and train with a pretty accomplished aikido sensei.
What have you learned about coaching over the years?
Coaching is much more about human beings than Xs and Os. Student-athletes have goals, things they want to achieve, and they are emotionally tied to their success. Having relationships with the players, helping them achieve their goals and gain the right perspective on how to be successful… I've gravitated much more toward that side of coaching.