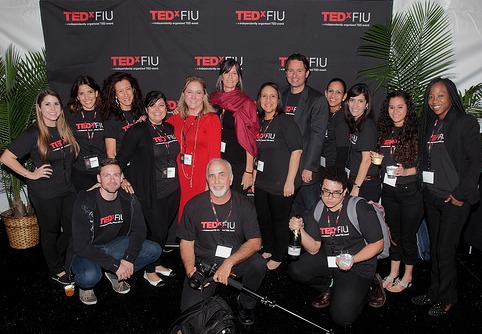 Three years ago, FIU Marketing Director Eduardo Merille and I were brainstorming ways to elevate FIU on the national stage. We know FIU is a special, transformative place full of amazing people. How then, with limited resources, could we show the rest of the world what we see?
We settled on the ideal showcase: a TEDxFIUevent featuring alumni, faculty and students contributing to the global community of ideas. At the event and online, we could invite the world to experience the intellectual, scientific and artistic richness that define FIU.
Approved and officially licensed by the national TEDx organization, we set about identifying and coaching our speakers – no notes and no podium allowed on stage! – and soon had a buzz going. To help us along, we sought out a few more FIU folks who truly "get it" – such as our emcee Alberto Padron, who immediately recognized the potential of our idea. He's been the face of TEDxFIU for three years, perfectly framing and shaping the event so it is an unforgettable experience for the audience. And Communication Arts staff member Char Eberly likewise came on board, eagerly participating in countless rehearsals and sharing her public speaking expertise and genuine support. We are grateful to Alberto and Char and the many others who fell in love with this idea worth spreading.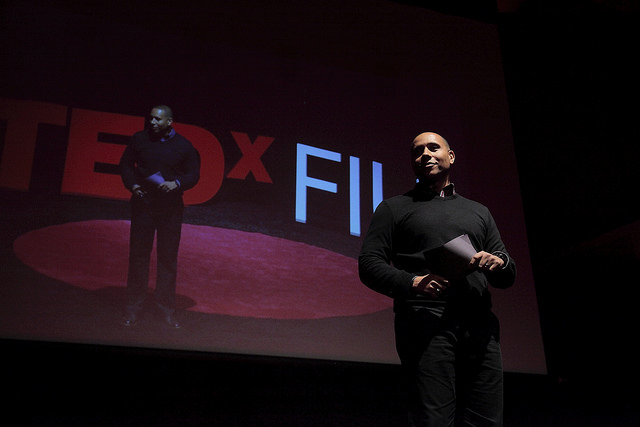 Convinced TEDxFIU was the perfect platform, we still wondered: Would anyone else? Well, three years later the numbers are proof positive of the impact: hundreds of speaker applicants, tickets sold out in a matter of hours, packed audiences, more than 300,000 views of our TEDxFIU videos. And then there are the speakers themselves – alumni, students and professors who have bared their souls, made us re-examine our thinking, inspired us to try again and dazzled us with their innovation.
The theme for TEDxFIU 2014, held on Nov. 13, was "Fearless Journey," a motif that is the essence of the event itself. Our speakers shared their stories of adversity: watching beloved people die, losing it all, crashing at 200 miles per hour (literally) on the way to the finish line. And they shared their stories of triumph: transforming the lives of children, building homes in Haiti, giving back autonomy to aging adults. I invite you to be inspired by the Fearless Journey by watching their talks on the TEDx channel at go.fiu.edu/tedxfiu2014.
— Deborah O'Neil MA '09