Study Abroad students see how Asian artistic traditions influence contemporary art
By Karen-Janine Cohen
FIU students with an interest in Asian art know the work of Xu Bing through books or U.S. exhibits. For nine studying art and art history, however, meeting the famous Chinese artist in person during a study abroad was extraordinary.
"Seeing work in class is like watching a film," said senior fine arts major Nathalie Alfonso of the inherent distance in classroom studies. "Being here," she said of her trip to China, "you are not in a film anymore. You are backstage."
The program introduced students to contemporary art through the lens of history. It focused on current work while familiarizing students with the ancient traditions and age-old cultural sensibilities that still exert influence today. Excursions included trips to cultural and historic sites while also offering unprecedented access to the studios and homes of working artists.
---
Related: FIU builds cooperative ties to the East
---
Led by FIU Professor Lidu Yi, who personally knows many of China's artists, the group was warmly welcomed by such luminaries as performance artist He Yunchang, multimedia artist Wang Qingsong, woodcut artist Yang Hongwei and painter Lan Zhenghui. (Wang and Xu will both be holding exhibitions at the Frost Art Museum during the 2014-15 season.)
Students also gained a first-hand awareness of the key role tradition plays in contemporary Chinese art. Xu's work, for example, invites people to consider how China can grapple with its own history, both ancient and modern, while moving forward.
"How do we face this history? If we throw away everything, we have nothing," said Xu, who, in 1999, was named a MacArthur Fellow during a time when he lived primarily in the United States. The last centuries, he noted, were all about industrialization and westernization. Little attention was paid to preserving China's own tradition. "We need to explore the essential values that come out of this tradition."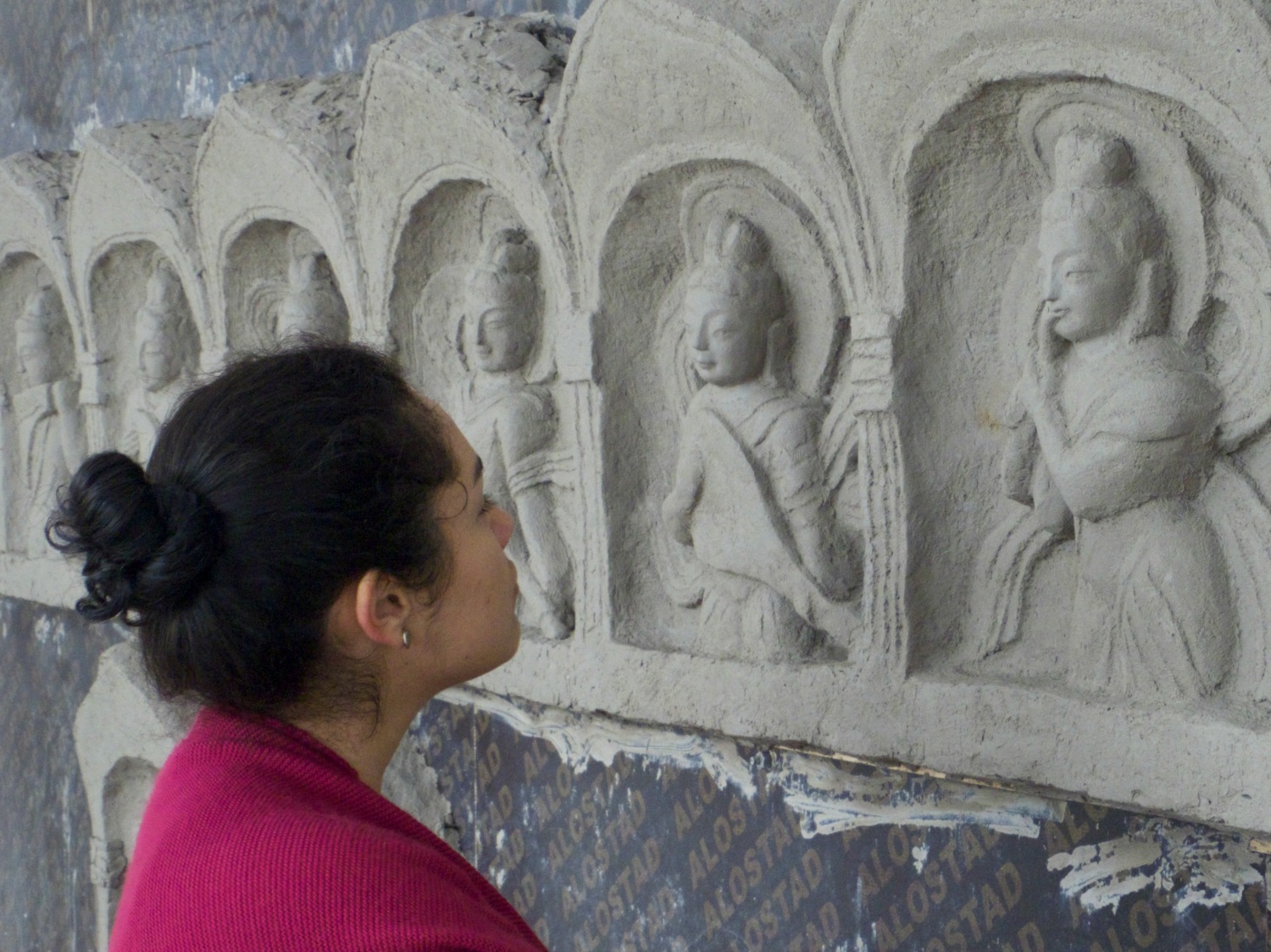 Talking to the students, Xu drew a direct line from traditional landscapes to the inspiration for his work. Reverence for nature permeates the work of the early masters, he explained, and landscape painting – along with calligraphy, which is integral to China's visual art – are seen as the rich apex of Chinese art. They embody the traditional virtues of Chinese culture.
To understand those influences, students visited museums to see the celebrated landscape paintings from the Song and Ming dynasties as well as early Chinese bronzes. Along with art, students also visited historical sites, among them the archaeological digs in Xian that hold the Terracotta Warriors, the buried army of China's first emperor dating to about 200 B.C.
A high point of the trip was two days spent at the Yungang Grottoes, a religious shrine and World Heritage site near Datong. Buddhas as tall as 50 feet and exuberant stone carvings of thousands of smaller Buddhas dating from the fifth century attest to the arrival and influence of Buddhism in China. There, the students toured a section undergoing restoration and still off limits to the general public. Zhang Zhuo, director of the Yungang Grottoes Research Institute, sponsored the group's two-night stay and held a seminar on the challenge of conserving the sacred site while also welcoming visitors.
---
Related: A cultural roller coaster | Asian Studies program grows
---
The easy flow between China's past and present is striking, said Roderick Smith '14. "They still have ties to their history, all the way from pre-history and pre-colonial times up until now," he said. "Chinese art has its own rules and vernacular, based on its own tradition, which makes it unique and at the same time, somehow familiar."
Expanding students' vision and their understanding of Chinese culture was a goal of the trip, Yi said. "I want this to be a transformative experience in many ways," she told the students upon their arrival. "I saw the world, and the experience of learning different cultures transformed me. I want you to have the same experience, to transform, in spirit, in reality, in your future. You can feel it. You can touch it. It resonates inside you."
Senior art history major JeanCarlos Fernandez quickly understood Yi's message. "Looking out the window when you are on a bus or a taxi adds another layer to what you know about art," he said. "It's the art, the food, the culture, all of it together."   ♦
Karen-Janine Cohen is a fine art student with a focus in drawing and ceramics, and expects to graduate this year with a BFA.