Top surgeon has been caring for FIU student-athletes for two decades
September 25, 2014 at 12:00am
---
By Joel Delgado '12, MS '17
Fifteen FIU cheerleaders were waiting to get their physicals over the summer when the resident physician was unable to show.
So Dr. Keith Hechtman, one of the most highly regarded orthopedic surgeons in the country, did the physicals himself. For more than 20 years as FIU Athletics has added new sports, changed conferences and advanced in division, Hechtman has been treating and caring for FIU's athletes as the head of sports medicine.
"This is not a guy who's trying to learn the ropes. He doesn't need to drive across campus to do physicals for us, but he will because of his dedication to us," FIU Head Athletic Trainer Gabe Casanova said.
Hechtman's dedication to the health and wellbeing of FIU's student athletes dates back to the early 1990s, shortly after returning from his service as an orthopedic surgeon for the U.S. military during Operation Desert Storm.
---
Related: Training to win: Athletic trainers play critical role in the health and well-being of student-athletes
---
Not only does he treat FIU's athletes, but also serves as an assistant team physician for the Florida Panthers hockey team and was a physician for the 1996 Olympic Games in Atlanta.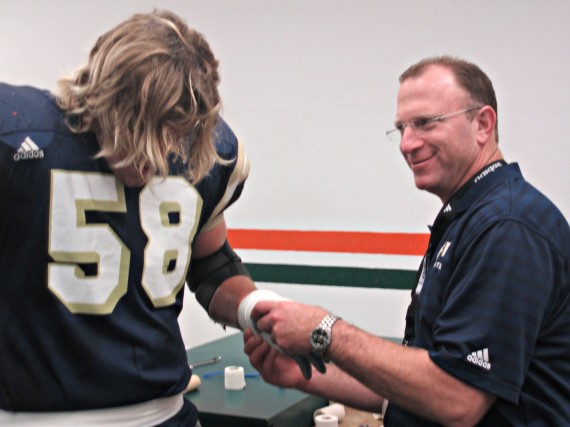 He has earned a reputation as one of the best physicians in America and has consistently been named one of nation's "top doctors" by Castle Connolly Medical Ltd. since 2003.
"He is the best all-around physician I have ever worked with," Casanova says. "No one can perform the types of surgeries he does as well he does."
Hechtman's goal is not simply getting players back on the field as soon and as responsibly as possible – something he is very good at. His top priority is to make sure that the student-athletes in his care will be healthy long after they end their collegiate careers.
"We want to do what's best for the athletes not just in the immediate, but also for four or five years down the road when they are starting their families," Hechtman said.
When a student-athlete first comes to Hechtman and his team for an evaluation after an injury, his first goal is to provide them with peace of mind.
"They come in sometimes scared and worried about how seriously they are injured. We want to give athletes reassurance and the confidence that we can treat their injuries and that we are going to take care of them," Hechtman says. "We let them know that we are not abandoning them and that we're going to be there for them to the end."
---
Related: Training the trainers: FIU program a cut above
---
In order to ensure a successful recovery, Hechtman stresses the importance of bringing other physicians, the student-athlete and his or her coaches and parents into the process as well.
"It's not just me, but a team that's involved," Hechtman says. "It's bringing this group together and developing a support system to guide the student-athlete."
For Hechtman, who is also a professor in the Department of Orthopedics at FIU's Herbert Wertheim College of Medicine, seeing the athletes he operates on return to the field and perform well is the ultimate reward.
"Seeing them getting back out there and scoring a touchdown or hitting a home run and then coming back to say 'thank you' is a tremendous reward," Hechtman says. "To see their transformation and going back to doing what they want to do, it's great to see."   ♦