Training to win: Athletic trainers play critical role in the health and well-being of student-athletes
September 25, 2014 at 12:00am
---
By Joel Delgado '12, MS '17
When doctors suggested that Emily Podschweit call it quits from sand volleyball, she was having none of it.
The sophomore sand volleyball player just underwent her second reconstructive knee surgery in less than a year, but walking away from the sport she loved was not a thought she was willing to entertain.
"That wasn't even an option. The decision was easy," said Podschweit, who is fighting to make a comeback for the 2015 season.
The external pressure facing Podschweit is strong. Coaches want her back on the court as quickly as possible. So do her teammates.
But in order to get back on the sand, she needs to push those pressures aside and put her trust in the hands of Head Athletic Trainer Gabe Casanova '02, MS '07, and the FIU athletic training staff.
"I need to block out what my coaches, my teammates, and my family want and focus on what I need," Podschweit said. "I can see the growth of my rehab because of my trust in the athletic trainers."
Led by Casanova, a two-time FIU alum who holds a graduate degree in physical education and a bachelor's in exercise and sports science, the staff's main goal is to get Podschweit and other athletes like her back on the playing field safely and quickly.
"You can't take away the drive and work ethic of a person," Casanova said. "The average person might not be able to get through it, but someone who comes in twice a day is going to have a different outcome. That person is going to take themselves to a level where they are not the average person."
Extensive Coverage
FIU has made a significant investment into expanding care for its student-athletes.
At the heart of their operation is the 4,500 square-foot athletic training center, where athletes from each of FIU's 18 sports programs have been receiving treatment since its completion in 2006.
Nestled toward the back of FIU Arena, it features a hydrotherapy room with underground hot and cold plunge pools and a therapy pool with an underwater treadmill, a functional training area where student athletes can perform various training exercises and a rehabilitation area with 12 treatment tables.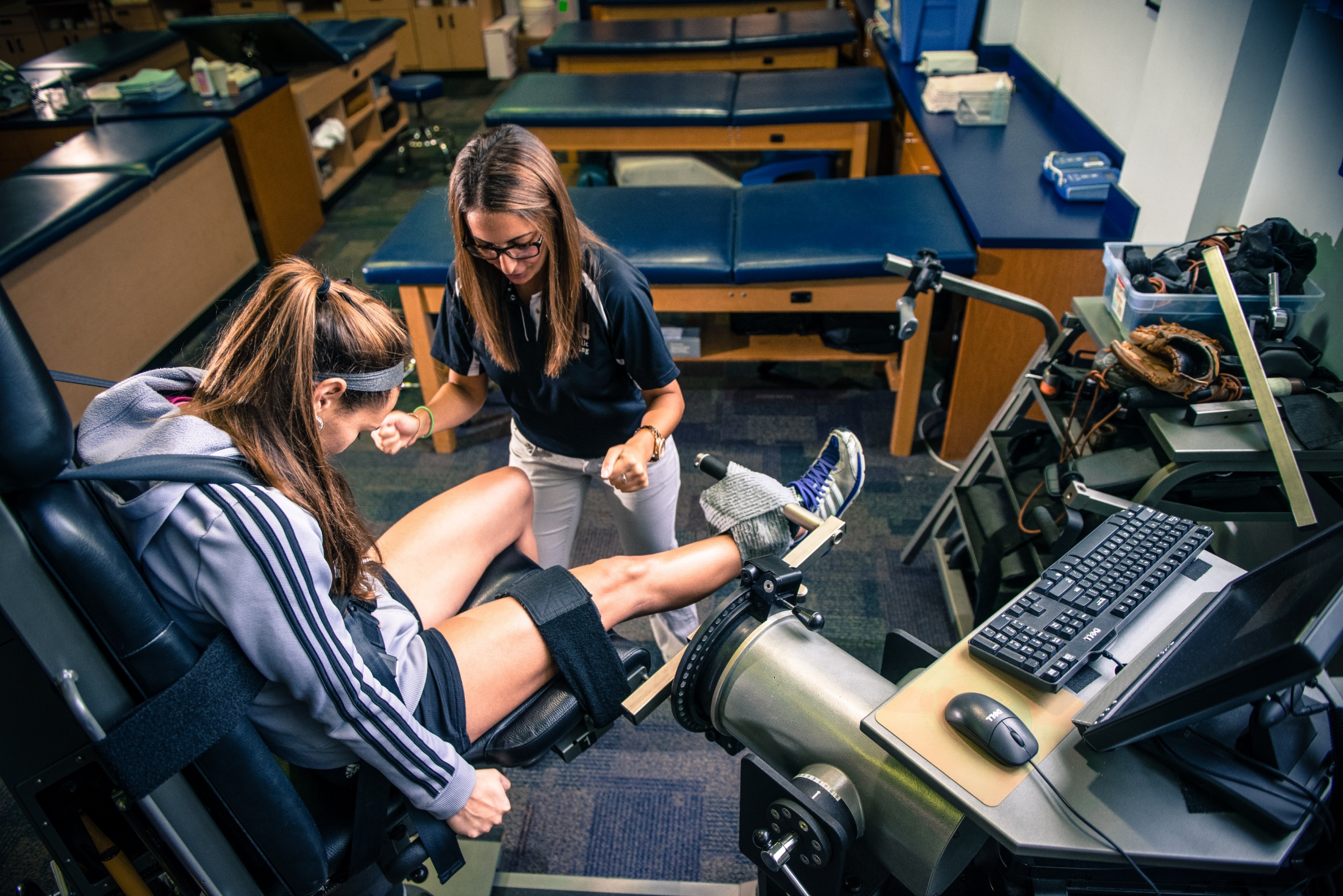 On the field, they are prepared to deal with just about any injury. Off the field they handle nearly every aspect of care for the athletes – from pre-participation physicals and preventive care to first response and post-surgery rehabilitation.
The high demands and stresses on the bodies of student-athletes in their respective sports, from quarterbacks getting sacked by 290-pound defensive linemen to the unnatural act of throwing a baseball at 90-miles-per-hour, make them especially susceptible to injuries.
That's why a majority of student-athletes – about 75 percent of them, according to Casanova – end up receiving treatment at the facility during their collegiate careers.
"We are as basic as a scraped knee and sniffles and as complicated as full dehydration with an IV and post-operative rehabilitation. We are pretty much the one-stop shop for healthcare for the athletes," Casanova says. "It's really fun because everything is constantly changing… it keeps you on your toes. There are a lot of different opportunities and challenges that arise."
Casanova also uses creativity to keep athletes engaged with the healing process. For instance, he uses video games to help recovering athletes.
He came up with the idea of retrofitting a Wii controller inside of a baseball bat to help replicate an actual baseball swing during a batting practice simulation. It's useful for players who injured a part of their body that affects their swing, like a broken finger.
The Wii Fit can also be used to treat athletes recovering from concussions by combining mental exercises (such as working out math questions that flash up on a screen) with physical activity (raising a barbell to one of three different heights, each of which corresponds to a multiple-choice answer). This simultaneously helps student-athletes work on muscle development while improving their cognitive function during recovery.
"It's extremely important to think outside the box. You want to create techniques that are realistic and sports-specific for the athletes," Casanova says.
---
Related: Training the trainers: FIU program a cut above
---
The athletic training staff includes six athletic trainers, including Casanova, and six graduate assistants who are working toward attaining a master's degree at FIU, usually in sport management or physical education: sports and fitness studies.
Mick Thompson, a graduate assistant on staff who works with softball and women's soccer players, experiences many of the demands that come with the profession everyday.
From never knowing when a catastrophic injury will occur to managing the expectations of coaches with a manageable recovery time, the job can take a toll.
"It's a high stress job, there's a lot of pressure to get them back on the field and to get the athletes healthy," Thompson says. "The work ethic of these athletes always impresses me and pushes me. This is everything to them and I want to work just as hard as they do. It goes both ways."
Beyond the Physical
But athletic trainers are not just there to tend to sprained ankles or broken fingers. Their care often extends well beyond the physical.
Little can be more devastating for an athlete than suffering an injury that forces them to sit on the sidelines and endure an often painful rehab process – and there is often an emotional toll that the athletic trainers witness firsthand.
"We're not only here just for the physical therapy or the triage care but we're here to help kids balance out their emotions on how they're feeling and why they're not playing or not healing as fast as they thought," Casanova says. "It's heartbreaking at times. You're their rock and you're what they got. It can get pretty intense."
That makes it even more important for the athletic trainers to be encouraging during the discouraging moments of a student's recovery.
"We have to be positive with them, greet them with a smile and keep rooting them on. Just as a 'normal' student, we make sure they are going to class, doing their homework, managing their time well, taking care of their bodies, making sure they're eating properly and staying hydrated properly," says assistant athletic trainer Bailey Mintz, who received her master's degree in recreation and sport management from FIU in 2013.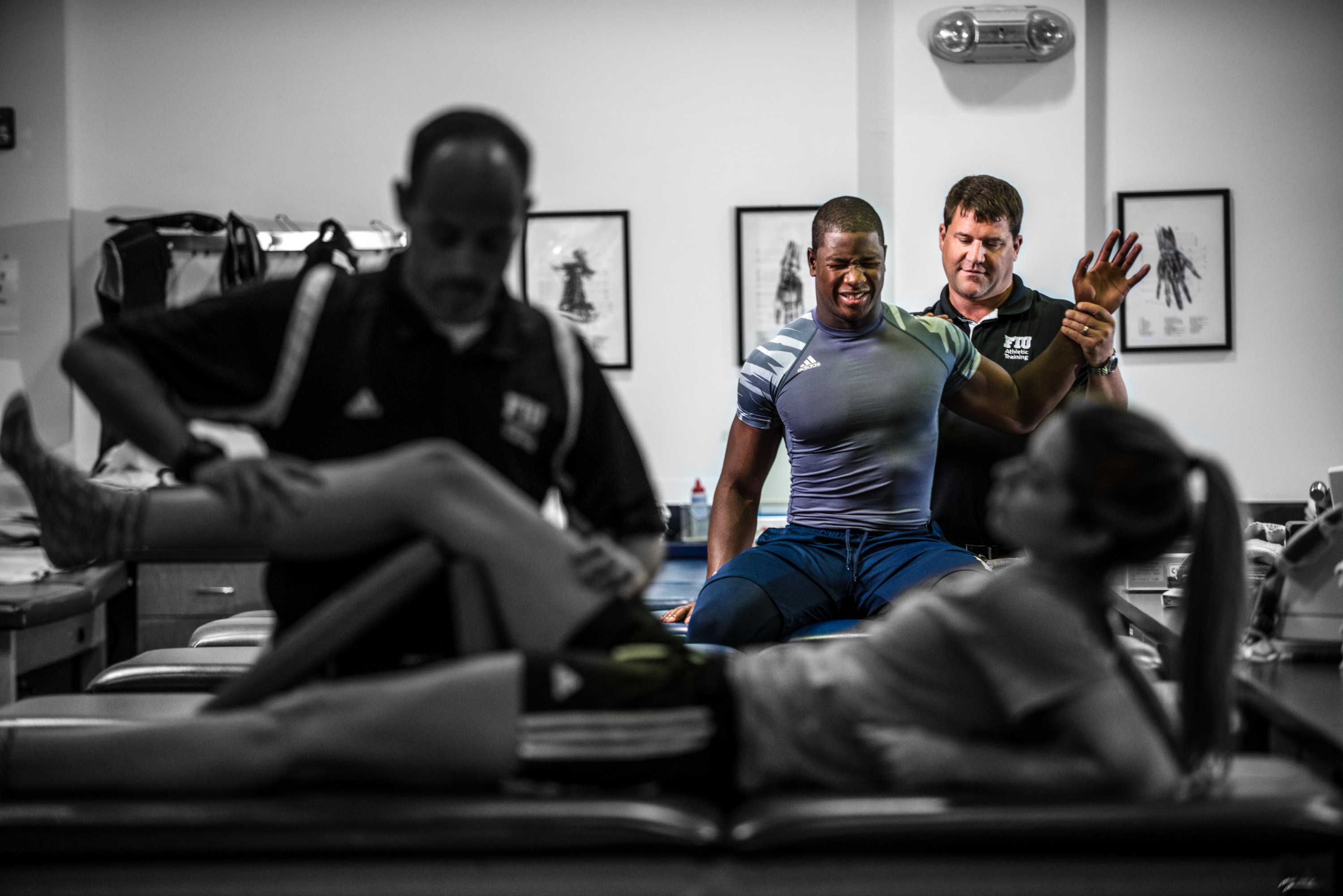 When FIU baseball player Aramis Garcia, drafted this summer by the San Francisco Giants, suffered an oblique-muscle injury late in the 2014 season, Head Coach Turtle Thomas was hoping to have him back on the field as soon as possible. But he also understood that the best thing he could do was let the athletic trainers do their work.
"They do a great job taking care of them and they are great at getting players back to us as fast as they can," Thomas said. "It's important for us to listen to them and work with them."
Working with Casanova and assistant athletic trainer Tim Vigue, Garcia received the help he needed to pull through some of the frustrating moments of the rehabilitation process.
"The hardest part of that was not being able to be there for my teammates at such a pivotal point during the season," said Garcia, who went on to become the Conference USA Player of the Year. "What they do physically for us is just a part of what they do. I'd tell Tim, 'It sucks not to be out there,' and he helped me stay positive throughout the process. To me, how you help an athlete mentally is the most important part."
After sitting almost a month, Garcia was able to return to the lineup just in time for the conference tournament and was drafted by the San Francisco Giants in the second round of the 2014 MLB First-Player Draft shortly after the season ended.
Casanova, along with the rest of the athletic training staff, has earned the trust of the athletes. They trust him with their health, with their recoveries and with their overall wellbeing.
"Gabe always lives up to his word. If he says something and he guarantees it, it's going to get done no matter what," says Jessica Mendoza, a senior on the sand volleyball team. "We know he has our back and that he's going to look out for us. He's trying to benefit us for our future and help us be healthy for life."
---
Related: Top surgeon has been caring for FIU student-athletes for two decades
---
For Camila Rosado, a senior on the sand volleyball team, the personal investment made by Casanova into their lives is just as important as the skills and expertise they possess.
Rosado suffered a torn labrum in her shoulder that doctors originally thought would have her out for six months. Working with Casanova and his team, coming in twice a day, nearly every single day during the rehab process got her back on the court in just three.
"He cares about every single athlete here and that's something in the end that's just as important as him being good at what he does," Rosado says.
In the decade he has spent treating FIU athletes, the players have become more than just patients or part of the job.
"People always ask me 'Do you have kids?' I say I have two at home and 434 at school," Casanova jokes. "They do things that take you to the boiling point and then they do things where you absolutely fall in love with them. There are athletes here that I would love for my own kids to be like because they're pretty awesome."
Road to Recovery – and Success
And while the athletic trainers are often there for some of the most difficult times in an athlete's collegiate journey, they are also there for the high points as well.
For Casanova, watching his athletes succeed on the playing field and overcome doubts due to a serious injury make all the extra hours and long days worthwhile.
"Whenever I have someone with a catastrophic situation and we get them back from a major surgery or a major injury where the thought was they might not ever come back… Every time I see them get back on the field, my eyes water," Casanova says. "That outweighs everything else."
In 2010, Casanova was on hand to witness FIU baseball's magical run through Sun Belt Tournament in Murfreesboro, Tenn., as the team won its first conference championship in over a decade.
After the Panthers won the championship game, seniors Junior Arrojo and Corey Polizzano presented him with the trophy privately to show their appreciation for the role he played in helping the team get to experience that moment.
"For us to be successful as a program, you have to have your best players on the field," Thomas said of the baseball team. "We wouldn't be able to do that if it wasn't for this staff."   ♦