UniversityCity: A plan for the future that starts today
January 7, 2014 at 12:00am
---
FIU has embarked on an ambitious $124 million plan that is already transforming FIU and neighboring Sweetwater.
It is called UniversityCity and combines two major components: creation of a transportation hub at the Modesto A. Maidique Campus (MMC) featuring enhanced bus service to connect east and west Miami-Dade County, and the development of a small, economically stable downtown in the city of Sweetwater. FIU believes this new infrastructure will help alleviate worsening traffic by stimulating development of student-oriented housing in Sweetwater, encouraging use of public transit and decreasing the distances between where people live, work, play and go to school.
"We are trying to plan, prepare and build for the future," says Steve Sauls, FIU's vice president for Governmental Relations. "We're leveraging university expertise to respond to locally based problems and thinking very intentionally about how people interface with the physical and social environment on and around campus."
---
Related: Fighting gridlock with your smartphone
---
The project also will address FIU's continued growth and its ability to serve ever-greater numbers of students. Today MMC has parking available for as many as 11,500 cars, a number that leaves many drivers circling around for open spaces during peak times on a typical weekday.
"We have a great university, and imagine if people couldn't get here because the roads are all congested," Sauls says. At issue are also questions of sustainability, among them quality of life, health and the environment. "These are problems with solutions that take a long time to plan and implement," he explains. "We need to be forward thinking. There is no time like the present to begin working on them and to create momentum."
Getting started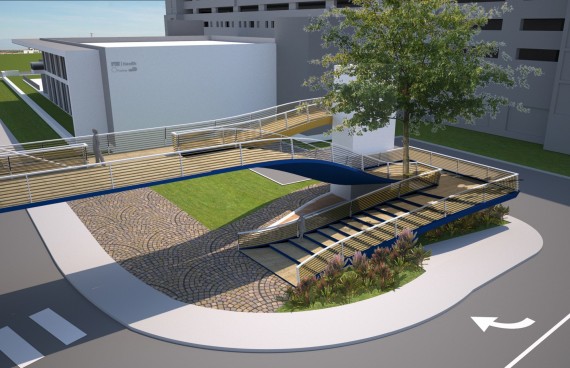 Over the last several years Sauls has built a coalition of local, state and national agencies to coordinate a variety of projects related to the UniversityCity plan. He also brought on board numerous collaborators and secured initial funding.
An $11.4 million U.S. Department of Transportation grant announced in the fall will make possible the construction of a pedestrian bridge across Southwest 8th Street to connect MMC with Sweetwater's main street at 109th Avenue. The bridge will offer safe passage over a highly traveled seven-lane road and is expected to be completed in 2017. But that quiet area – currently a collection of mom-and-pop businesses – will see its first boost in activity long before that. This summer a new, private 15-story, student-oriented apartment building will welcome its first residents. Other residential projects are already in the works as are shops and eateries that would attract students, faculty and staff. For a commuter school bounded on four sides by busy thoroughfares, an easily accessible, dynamic urban village should create a lot of interest.
Architecture Professor Adam Drisin worked on initial plans for UniversityCity, which early on involved architecture students presenting ideas. FIU's efforts in Sweetwater, he said, reflect a growing trend in American universities.
"They're looking at breaking down the barriers, physically and metaphysically, between the context that they're located in and the campus itself." FIU's satellite locations, among them the Miami Beach Urban Studios and the Brickell Center, are two such examples. Branching out into our immediate backyard also makes sense, he adds, so long as the push is about more than simply new construction.
"There's another kind of investment," Drisin says, "which is a kind of collective societal investment, about making great places, building great cities." So, in addition to the bridge, he talks about "walkability" features, some of which Sweetwater will ask developers to help finance. These include landscaping, improved sidewalks, attractive building fronts and even public art that contribute to a neighborhood feel and facilitate both movement and human interaction. "A chance opportunity to bump into someone is really critical in constructing culture, whether it's at a university or in a city," he says.
The bridge should also, for the first time, encourage the residents of Sweetwater – a city of 14,200 largely Cuban and Nicaraguan immigrants – to venture to the other side. Awaiting them at FIU: healthcare providers at the FIU Health center, cultural events at the Wertheim Performing Arts Center, exhibitions at the Frost Art Museum, sporting events at the stadium and arena, free lectures and more.
"I think that Sweetwater is awakened to an opportunity with FIU that very few people ever thought was going to be possible," Sweetwater Mayor Jose Diaz says. "Sweetwater is a small city with middle to lower class residents, and I think at this point we have to join forces [with FIU]. The future is inspiring, for job creation, for cultural enhancement, you name it."
Promoting alternatives
Getting the FIU community and local residents to walk across a bridge sounds easy when compared to convincing car-obsessed South Floridians to take the bus. But that effort is also part of the UniversityCity equation. FIU's project will significantly enhance planned "bus rapid transit" service between west Miami-Dade County and Miami International Airport. BRT offers fewer stops than regular bus service, to speed up travel time, and uses vehicles outfitted with electronics to switch red stoplights to green, potentially making the commute faster than a car ride.
---
Related: Federal grant to boost UniversityCity: a transportation hub at FIU
---
At MMC the trip will begin, or end, at Parking Garage 6, a 2,000-space "smart" structure (so-called for the sensors that will alert drivers to vacant parking spots) that will serve as a transportation hub on the north side of campus. Upon the garage's completion in 2015, Miami-Dade Transit Authority will build on a bus-entry ramp and passenger platform. The near-term plan is for the bus to go northward from campus, along 107th Ave., to the FIU Engineering Center and then turn eastward onto Flagler Street to downtown Miami. The long-term plan is for the bus to continue northward on 107th Ave. to the 836 expressway going east with a final destination of the airport's Miami Intermodal Center, where riders could catch Metrorail, Tri-rail and buses on other routes.
But the bus is just the start, leaders say. Moving people by alternative means also includes ramping up local trolley and shuttle services that will have students and area residents leaving their cars behind. And bike and car sharing services on campus and within Sweetwater could, for some people, negate the need to own cars in the first place.
Selling the bus
Showing people that they can get around efficiently without a car remains key. And so FIU is working with several partners to create the ultimate sales tool: a first-in-the-world "predictive" transportation app to navigate not just traffic but also parking and public transit, all based on real-time conditions. Its development figures prominently into the UniversityCity plan and is funded partly by the same U.S. DOT grant that supports the bridge. In an age of digital connectivity – when teenagers say they care less about obtaining driver's licenses than the latest cell phone – such technology might prove the tipping point with commuters.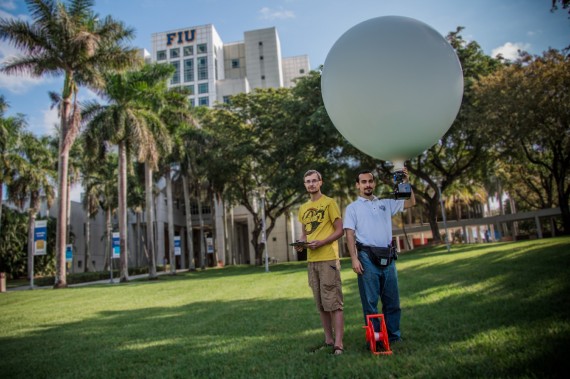 "Yes, it will give people navigation information based on just driving," says Professor Naphtalie Rishe of the app, "but our goal, our ulterior motive is not so much to give people parking and traffic directions, but to give them alternatives." Ultimately, he says, he wants to discourage driving altogether. But how?
By providing information so commuters can make better transportation choices, Rishe explains. Building on his groundbreaking data measurement system, Terrafly, he and his team are collaborating with the University of Illinois at Chicago, IBM and other international companies to bring together various existing technologies to create an app that uses crowdsourcing – drivers sharing their locations via cell phones – to establish real-time conditions. With that information, the app could suggest the best driving route while also pointing out where drivers might park to catch transit anywhere in the county.
The kicker: those waiting for a bus would also have access to its exact location in real time along with a fairly accurate approximation of its arrival at a particular stop – essentially removing the unpredictability that currently deters ridership.
Plenty of folks await the completion of Rishe's work. "Once we deploy it, it will be a role model for the entire country," says Rishe, who expects to have usable data within two years. "If that can work here and improve the experience for the local population and increase use of transit, then there is the potential of saving billions and billions of dollars across the country."   ♦