FIU Magazine is all about recognizing and celebrating greatness, often before the rest of the world has a clue. Take our fall 1996 issue. We ran a story about a music major who had won a prestigious contest for composing "a choral tribute to Tibetan song and the Buddhist religion." The article also mentioned his second-place finish in a classical-guitar competition and his experience working on a Gloria Estefan recording.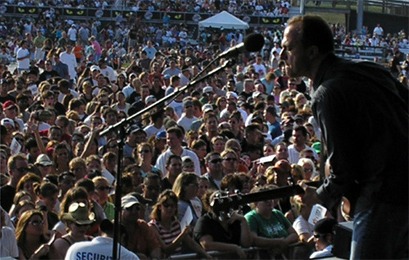 Flash forward 18 years, and Carlos Rafael Rivera's name is attached to the latest Liam Neeson thriller, A Walk Among the Tombstones, chockfull of suspenseful music. The FIU alumnus wrote the score at the invitation of director Scott Frank, to whom he had once given guitar lessons.
"It's serendipity," Rivera says as he reflects upon that chance acquaintance. At the time of their first meeting, Rivera was a graduate student at the University of Southern California. He was just one of dozens of folks offering instruction through a local music store, and Frank picked his name out of a binder. "Much of this – how it happens – doesn't make sense," Rivera concedes. "Only if you look back, you start to find the most unlikely connections that lead to this specific reality playing out. Truly mysterious."
Fate, dumb luck, karma, call it what you will, Rivera's talent remains at the root of his success. After completing his education, he served as composer-in-residence for the Miami Symphony Orchestra, and his work as a guitarist includes soundtracks for Sandra Bullock's Crash and TV's Scrubs. A man without an ego, Rivera is nonetheless enjoying his proverbial 15 minutes of fame.
"There is a certain affirmation all us musicians need, whether we acknowledge it outwardly or not," he says in reference to recent attention, including a positive mention of his score by the movie industry's trade publication Variety. "It is a very vulnerable enterprise to make music your career. You are constantly judged for what you do, to say nothing of your own self-judgment. So it is extremely encouraging to have any recognition for the work you do, from just about anyone – friends, colleagues, family, teachers."
And speaking of teachers, Rivera recollects his days at FIU very clearly. "I remember Orlando Garcia[an FIU music composition professor] was very hard on me when I was starting out – in a great way. He challenged my choices.
"But I remember the first piece I felt I was actually saying something with and he happened to approve of. And that is all you need—one 'yes' to get you going. It's the oasis in the desert that pushes you to continue on." 
Says Garcia, still teaching FIU students all these years later, "I have always expected much from my students and so it was with Carlos. I only praise a student's work when I feel that it is warranted – which turns out to be not often – and I believe that this may be what he was referring to.
"I remember Carlos to be a very hard working and motivated student," Garcia goes on, adding that he and his colleagues were very proud when he secured the coveted composing award as a student.
In recent weeks Rivera has talked with several reporters, among them one from the BBC in South Wales, but he can still reminisce about his FIUMagazine interview nearly two decades ago.
"I totally remember that," Rivera says, fondly recalling writer Maydel Santana-Bravo, today the director of FIU Media Relations. "She was awesome. It was my first interview. There's an example of encouragement."
As for FIU Magazine, we're still here to spot the student with that something extra, the one – of the many thousands of graduates who exit campus every year on their way to doing something worthwhile – whom we can hold up as an example of the promise that FIU makes possible.
— Alexandra Pecharich