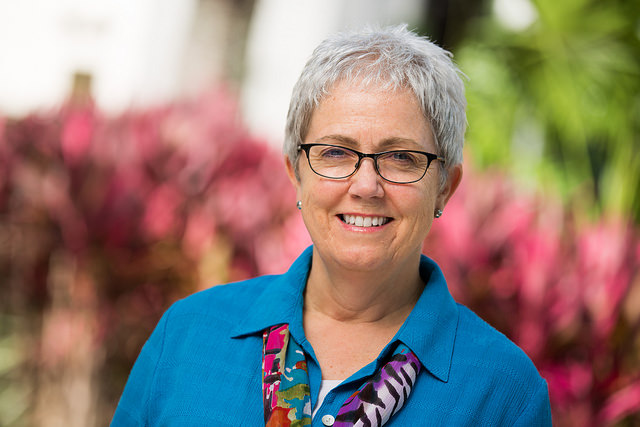 For 30 years, Beverly Dalrymple has helped students develop personal leadership skills
In her small office on the second floor of the Graham Center, Beverly Dalrymple Ed.D. '00 recalled where she began at FIU 30 years ago, in Career Services. Through the years, Dalrymple has helped students beyond providing them job-placement assistance. Instead, she guided them on journeys of personal development, journeys that would lead them to work that connects to their passions.
As Dalrymple retires this spring, she is credited with building what is the now the thriving and successful Student Affairs Center for Leadership and Service.
"It emphasizes that leadership doesn't belong to a position. It's a skill," Dalrymple said. "Everyone can and needs to develop their leadership skills."
With just a graduate assistant in tow, Dalrymple opened the center in 2000 and focused heavily on collaborations with other units and academic departments. She was a shoo-in for the job, Vice President for Student Affairs Larry Lunsford remembers.
"Beverly would do presentations on career services in my First Year Experience class," recalled Lunsford of her participation in the freshman course. "I recognized how good she was, how well she related to the students. When we had the opening for the center, we wanted her for the role."
The center's leadership programs focus on three outcomes: increasing students' self knowledge of how they personally perform and interact with others; building leadership competency, which includes understanding the functions of leadership and how to begin practicing the requisite skills; and fostering civic or social responsibility so as to engage as a member of the global community.
Alfonso "Alfie" Leon '09 JD '14 carries those lessons close to the heart.
"Once I met her, I could tell she was someone that was open to listening about what students were dealing with," he said. "I got involved in Alternative Breaks and had an opportunity to travel to Panama City, Panama, where I got to work with kids that were in need. When I came back, I told Dr. Dalrymple that the experience changed me for the best. I noticed that leadership is about caring about everyone – from the top to the bottom."
In 2002, the center was still in its infancy when Dalrymple was diagnosed with cancer. One year later, she came back more determined than ever. In fact, she started researching how to add an academic component that would fit with the program.
"I had a different sense of what I wanted," she said of coming back to campus. "I decided this is what I want to do and I'm going to find a way to do it."
Dalrymple sought out the help of Susan Himberg, a professor of dietetics and nutrition (and today the director of Academic Planning and Accountability). The two partnered up on what eventually became an academic certificate program in Professional Leadership Studies. More than 100 students have earned the certificate, which is offered today through the Department of Public Administration in the Steven J. Green School of International and Public Affairs.
Dalrymple has always focused on empowering students to chart their own paths, and leadership training was no different. She wanted students to both understand and practice the application of leadership. "As a student, you learn about your leadership style in these programs and then move to teach someone else," she said. "Students are always engaged with teaching others what they learned." How they do that includes organizing wildly successful, large-scale campus fundraising events such as Relay For Life, which supports the American Cancer Society, and Dance Marathon, which supports a children's hospital. They help campus clubs and other organizations by serving as leadership consultants through LEAD Team.
Leon traveled with Dalrymple and other students during Thanksgiving break of 2005 to Biloxi, Mississippi. They spent time rebuilding homes after Hurricane Katrina and helping displaced families. Leon says that's when he felt like Dalrymple became his family, too.
"Dr. D showcased that leadership is building relationships," he said. "I loved every moment working with her. What she's been doing here for 30 years has now become the forefront of everything in our community. A lot of those leaders that came out of FIU are now helping people in the community."
Luly Sanchez '15 worked with Dr. D for the past four years on Relay For Life. She likewise benefited from the older woman's influence. "She was great," she said, "honestly, one of the most influential people in my life."
Dalrymple has found great fulfillment in seeing young people embrace the challenges of service and leadership. "Students who've graduated or participated in our programs have the desire and empathy to address problems in the world," she said. "They see it as their job. Seeing what they do, when students tell their story about what they've learned or how participation in a program has challenged them to grow, when I hear them tell the other students about their learning – that's the proudest moment."
In the 2014-2015 academic year alone, nearly 9,000 students interacted with the center and logged more than 65,000 community service hours.
"I'd put her with the founders of this university," said Lunsford. "She's been one of the giants making things happen on this campus. She adopted the philosophy of 'We can always do more for our students' and surrounded herself with people who also believed that."
Of her retirement and leaving FIU, Dalrymple admitted that it's hard doing things for the last time. She shared that she keeps a drawer full of notes from former students. "It's like being a little point in their trajectory to where they are going," she said, with typical modesty, of her impact on them.
Dalrymple plans to continue building relationships when she relocates to Savannah, Georgia. Although rather than with students, she says, she hopes it will be with a great golf instructor.