Conference champion swimming and diving team succeeds with international roster
February 19, 2015 at 12:00am
---
By Joel Delgado '12 MS '17 
Nadia Farrugia graduated from high school in England in 2011 and faced a dilemma.
She grew up swimming, but because of a lack collegiate athletics in most of the world – including England – the majority of international student-athletes have to choose either to attend a university or go into full-time training for their respective sport.
But for some, there is a third option – one that thousands have decided to take: come to America and become a student-athlete.
The United States is the only country in the world where scholarships are offered to student-athletes, making it an attractive alternative for international student-athletes looking to pursue a degree and compete in athletics at the same time. 
Farrugia decided to cross the pond and do just that.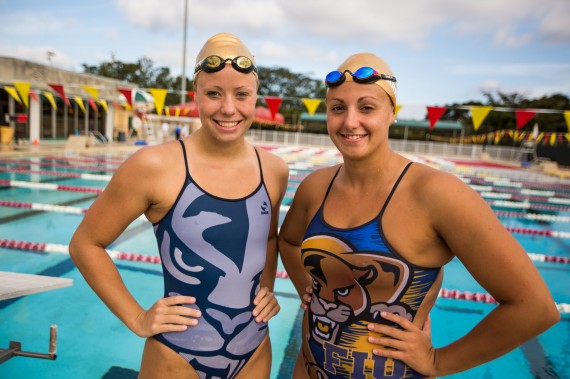 A WORTHWHILE RISK
When FIU swimming and diving Head Coach Randy Horner arrived at FIU in 2010, he had a plan.
While many of the country's major programs swipe up the nation's top homegrown talent, Horner decided to widen his recruiting circles and look beyond borders for talent.
There were just four international student-athletes on the roster when Horner first arrived. Five years later, that number has risen to 18, and they now make up the majority of the 31-member roster.
A total of 11 countries across four different continents are represented among the group, including Canada, Bolivia, France, Sweden, the United Kingdom, Iceland, Botswana, Italy, Slovakia, South Africa and Poland.
"We prosper by that approach," Horner says. "Major programs may pass on certain athletes, but we take more of a gamble. Sometimes it works, sometimes it doesn't. But it's a gamble we have to take."
And that gamble has paid off.
After going undefeated in dual meets during the 2014-2015 season, the Panthers were crowned the 2015 Conference USA champions on Feb. 21 after the winning eight titles and breaking 11 school records over the course of the conference's four-day championship meet in Knoxville, Tenn.
Horner was rewarded with Conference USA Coach of the Year honors for leading the program to its first ever conference title since its inception in 2003. 
And a quick glance through the swimming and diving program's record books demonstrates how significant a role the team's international student-athletes have played in the team's recent success.
As of March 2015, nearly every single individual record in the program's history belongs to a student-athlete from outside the U.S. and many of those records were established in the five years of Horner's coaching tenure.
Johanna Gustafsdottir, a senior from Iceland and the 2014-2015 Conference USA Swimmer of the Year, is one of the names that you'll find scattered all over the record books, holding the most individual records (four) and a part of two relay team records.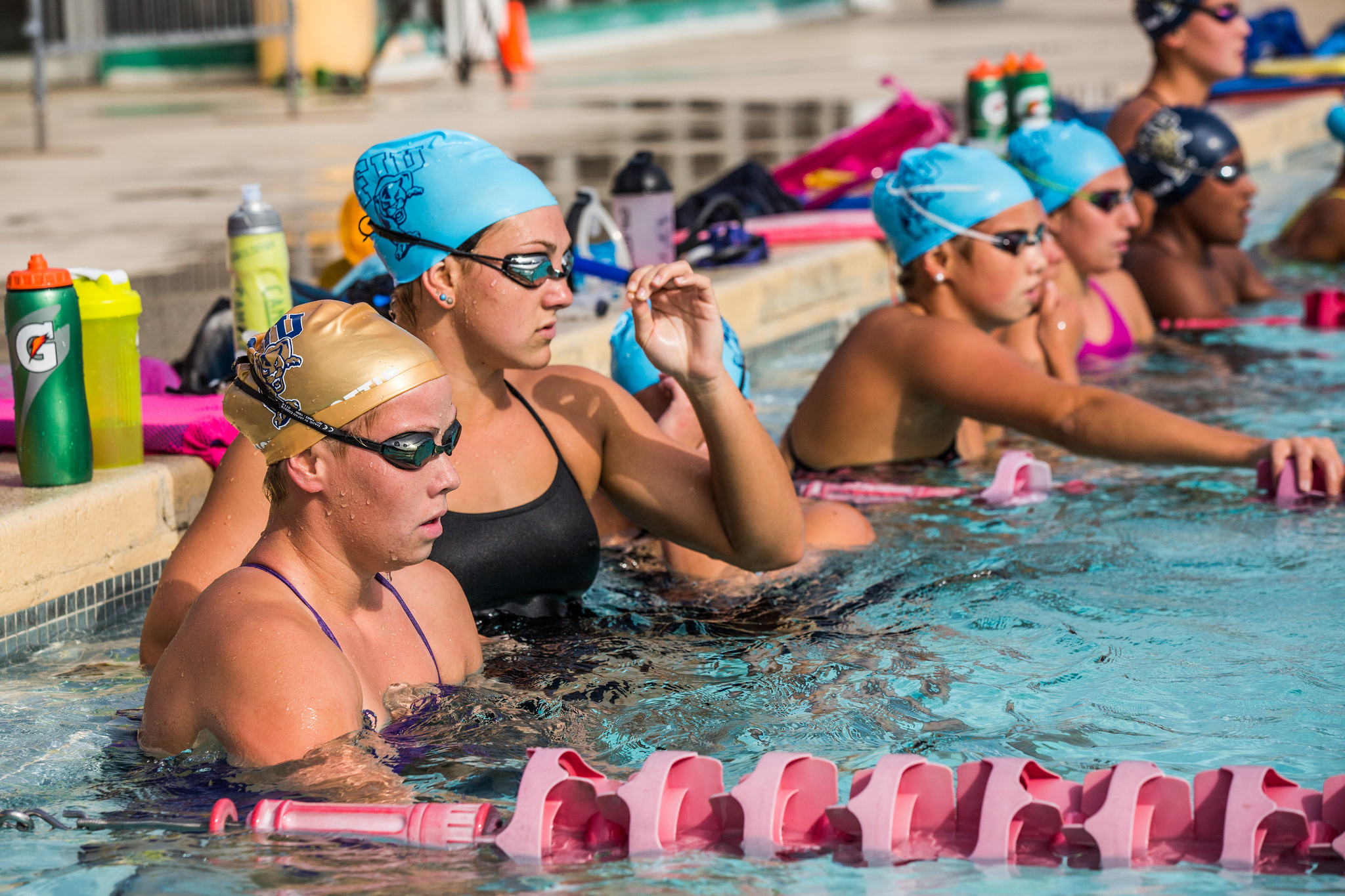 And Horner has managed to recruit all these international student-athletes without ever stepping foot outside of the United States. His work is all done through websites, Skype calls, emails and phone conversations. It's all his budget allows for, and yet he gets the job done.
Having grown up in a small rural farm town in Missouri, Horner says that coaching international student-athletes has open his eyes to a wide range of different cultures and provided him with valuable experiences. 
"I couldn't tell you where half these countries were back then. There wasn't even a Chinese restaurant where I grew up," he says. "Now I've coached kids from all over the world, and you learn so much from them. I hope to one day travel to some of these countries myself."
BUMPS ALONG THE WAY
The concept of teamwork and collaboration is embedded into American sports culture and collegiate athletics, and Horner stresses the importance of the team concept to his new players from the very beginning.
"From day one, all we walk about is the team. If you put yourself above the team, there isn't a place for you on the team," Horner says.
But in a sport like swimming and diving, which is naturally individualized, it is harder for some of the international student-athletes to accept – let alone embrace – the team philosophy.
"In Spain, I swam for me and not for anyone else," said Sonia Perez. "All the team activities we would do were hard at first and overwhelming."
Add to the mix that cultural differences, language barriers and personal preferences amongst a diverse group of international student-athletes can sometimes cause friction and conflict. Even the thermostats in dorm rooms could cause problems among roommates.
"They're roommates on campus and one person might be freezing at 70 degrees and another is cooking if it's 68," Horner says recalling issues amongst his swimmers. "There is conflict, but in a family there is conflict. It's about learning to work though those things and resolving those conflicts."
And in the end, many of them – including Perez – did overcome those challenges to become wildly successful at FIU by leaning on each other and encouraging one another to press forward.
"There are hard moments when you feel like you're alone, but you see all these people feeling the same and you know you're not," Perez says. "It feels like you have a second family."
Perez recalls how in her senior year, competing in the Missouri Invite, having teammates cheer her on helped her achieve a program and Conference USA record in the 400-yard individual medley that secured her a spot in the NCAA Championships the following March. 
"It was a great moment because of the team," says Perez, who became the first swimmer in program history to compete in an NCAA championship final. "I really saw that they were there for me, they cared for me and gave me the energy to make that cut. And I wanted to do the same for them."
FUTURE AMBITIONS
When Gustafsdottir watched her sister, Eygló, swim for Iceland in the 2012 Summer Olympic Games in London, it sparked something inside her. A member of the Icelandic National Team herself, Gustafsdottir has set her sights on competing in the 2016 Summer Olympics in Rio.
"When I watched my sister compete, I knew that's what I wanted to do and I can't quit without reaching that point," Gustafsdottir says.
If she qualifies, she might see some of her current FIU teammates there in Brazil.
According to Horner, junior swimmer Karin Tomeckova (Slovakia) and freshman Naomi Ruele (Botswana) also have a chance to compete for their respective countries in 2016.
In the Slovak Championships in 2011, Tomeckova won the 200-meter backstroke while finishing runner-up in the 50-meter and 100-meter backstroke. Ruele has emerged as a swimming sensation in Botswana, winning a silver medal in the 2nd annual African Youth Games in May 2014.
Former Panther Trudi Maree is the only FIU swimmer who has competed in an Olympics, representing South Africa in 2012.
Meanwhile, Farrugia and Perez, have plans beyond the pool.
Farrugia, who is majoring in dietetics, plans on pursuing her master's degree and eventually becoming a sports nutritionist for a college athletic program in the U.S.
Perez graduated in December 2014 with a degree in hospitality and wants to work in the U.S. for a few years to gain some experience before returning to Spain. Her dream job is to become a wedding planner.
Regardless of their future ambitions, they each have little regrets about leaving their home countries to come to FIU, and they believe they have set the foundation for something special in the years to come.
"We feel the team has come so far and I want to see it keep growing and see FIU make a name for itself," Farrugia says. "I want to come back in 10 years and see how great this team is."