By Deborah O'Neil
For more than a decade I've been having a lot of fun at FIU Magazine. We've done some kooky, brave and incredibly meaningful stories across multiple media platforms. As FIU celebrates its 50th anniversary and I step down as editor, here's a look back at some of my favorite pieces from FIU Magazine.
The Wine issue: When the Alumni Association decided to organize a trip to California wine country, we got to wondering how many graduates of our hospitality program are working in the heart of the American wine industry. There were so many that Marketing Director Eddie Merille I went out there for a week to capture their stories, and we made a special issue around it. Yes, we get paid to do these things.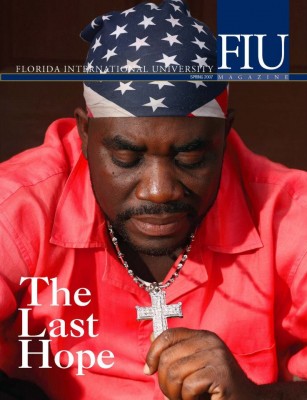 A dream realized: Our law school students helped get a Haitian immigrant released from Krome Detention Center in Southwest Miami-Dade County, and we put him on the cover of our issue, "The Last Hope."  
Ode to a beloved student: Professor Bill Beesting wrote a first-person essay about what he learned from a beloved student who died.
Serving with grace: An FIU graduate/social worker is helping Florida homeless families put their lives back together. FIU Magazine staff writer Sissi Aguila and photographer Doug Garland followed Beth Davalos on the streets of Seminole County and produced this stunning documentary style package.
Musical journey: Music was the theme of our debut issue of FIU Magazine online and Latin musician, composer and FIU alumnus Tony Succar was our headliner. He went on to become the featured performer in our first TEDxFIU and his video has captured more than 330,000 views. He is still doing amazing things in the world of music.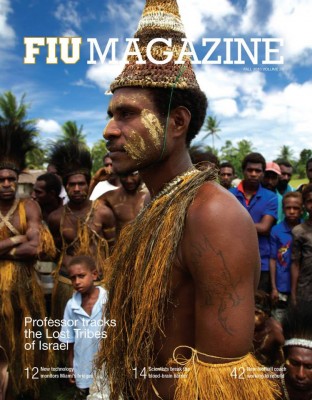 The story abroad: In 2013, the magazine undertook its first international reporting project, to Papua New Guinea, to tell the story of researcher Tudor Parfitt and four students. The special package in the magazine is one of our best-read stories, and the PBS documentary about the project aired for 6 months on the Miami station WLRN.
Don't stop believing: This is my all-time favorite story that I ever wrote, The Four Horsemen. It's the story of four diehard FIU alumni and their passion for this special place. Theirs is a story of devotion and it was synthesized in one epic moment of FIU history. I learned so much from these amazing guys about what it means to be a community of hope.
One big old question: When FIU launched its first national brand campaign, Worlds Ahead, we knew we had to do something special with the magazine. We kept mocking up cover ideas. FIU External Relations Senior Vice President Sandra Gonzalez-Levy kept sending them back, "You can do better." Then, one evening, late, FIU Magazine Art Director Aileen Sola and designer Oscar Negret, created this, what I consider our most provocative, honest and bold cover.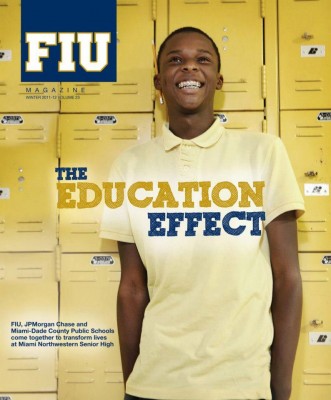 The Education Effect: When FIU decided to partner with Miami Northwestern Senior High School to raise performance, there was a lot to consider. We told the story of this now amazingly successful partnership but the hope it represents was captured perfectly in this award-winning cover photo of then-high school sophomore Marcus Postell.