FIU Magazine Editor stepping down after more than a decade
---
By Dan Grech MFA '12
Deborah O'Neil's first cover as editor of FIU Magazine featured His Holiness The Dalai Lama. Her last will feature U.S. President Barack Obama.
O'Neil, the second editor in FIU Magazine's 20-year history, is stepping down on July 1 after 11 years leading the publication. O'Neil, who has moved to the Boston area with her family, will remain a staff writer for the university.
O'Neil shepherded the magazine during a time of transition and growth for FIU and its External Relations department. She made the magazine the flagship publication of the university, introducing exacting professional standards, a keen design aesthetic, and a career journalist's eye for detail and story.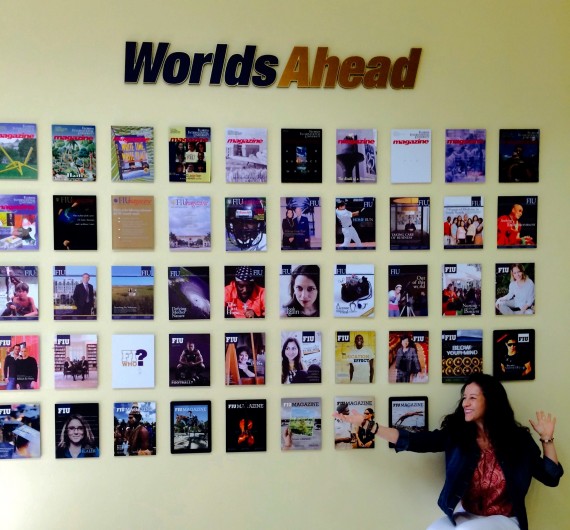 "This magazine is not an institutional puff piece," O'Neil said. "We tell difficult stories, complex stories, and give voice to the hidden places and people who are the true spirit of FIU."
FIU Magazine under her direction expanded its scope and ambition to include first-person essays, point-counter-point op-eds, documentary style photography and videography, special issues including one featuring alumni in California's wine country, and the university's first international reporting expedition, to Papua New Guinea. (Click here to see Deborah's pick's for the magazine's best work in the past decade.)
She experimented with multiple forms of storytelling, from charticles to audio pieces to interactive online graphics to stylized photo spreads. She launched the online magazine in 2012 and is helping to launch a tablet edition this fall. A documentary she produced with videographer Tim Long on the Papua New Guinea trip even aired for six months on a local PBS station.
"Deborah transformed the enterprise of the magazine," said Professor Emeritus Stephen Fain, a member of the magazine's Editorial Advisory Board for the past decade. "She evolved the nature of the stories and the character of the magazine, looking beyond the moment and recognizing the potentials that were all around us."
The magazine is one of the largest in higher education, with a print readership of 225,000 and 35,000 online subscribers. In a 2014 survey, 89 percent of readers rated the publication Excellent or Good. During her tenure, the magazine won industry awards for its design, writing, illustrations and cover photos. In 2013, it won the coveted General Excellence Grand Prize for Magazines from the Council for the Advancement and Support of Higher Education and in 2011, O'Neil won the General Excellence in Feature Writing.
Student Affairs Vice President Larry Lunsford said, "She made the magazine what it is. An impressive and successful alumni magazine is important to a university in that it, like athletics, is the tie that binds alumni and others to the institution. It's not just a PR mouthpiece. She improved the quality of the magazine—from content, to excellent photography, to type of paper. She can leave with pride for the legacy she leaves behind."
Creative Collaboration
One of O'Neil's first moves was to create an Editorial Advisory Board with representatives from each college and school to receive feedback, input and perspective from around the university. The board is still in place and meets quarterly to discuss each upcoming issue.
"I've always admired Deborah for standing up for what she believed and holding strong to her convictions," said advisory board member Duane Wiles, Associate Vice President of Alumni Relations and Executive Director of the Alumni Association. "As a result of her strong convictions, we now see more alumni stories dispersed throughout the magazine and featured online."
Staff and advisors of the magazine said O'Neil combined exacting standards with a collaborative spirit, bringing the best out of those she worked with, even interns.
"The magazine could so easily become a competitive place where people vie for bylines," Fain said. "Instead, it's a place where people are celebrated at all steps in the process."
FIU Magazine Managing Editor Alexandra Pecharich said O'Neil's loss will be felt keenly. "She is a storyteller par excellence, and I have learned more from her as a writer and an editor of others' work than from anyone else," Pecharich said. "Her impressive technical skills are coupled with a boundless enthusiasm for FIU, a combination that made her the ideal leader of a publication that thoughtfully captures the university's growing impact on the local community and beyond."
For the past 11 years, Aileen Solá-Trautmann worked side-by-side with O'Neil as art director in charge of the visual presentation.
"Deborah and I had our ups and downs, me fighting for bigger photos and white space, her fighting for the content. I always wanted her to cut words," Solà-Trautmann said. "With time, we learned to compromise."
This creative friction led to a publication as celebrated for its striking visuals as its stirring storytelling. One of the magazine's signature accomplishments in the past decade, Wiles said, was the use and placement of larger pictures throughout the magazine to help tell the FIU story.
"Making a magazine a deeply creative, collaborative process and I have been incredibly blessed to work with inspiring photographers, videographers, illustrators, designers and especially the magazine's endlessly talented art director, Aileen Sola," O'Neil said. "We have all been committed to creating a magazine that can hold its own on any coffee table next to Time Magazine or Sports Illustrated."
Telling the story
O'Neil's first love is the written word. She started her journalism career at age 15 writing high school news for her community newspaper in Salem, New Hampshire. After graduating from the University of South Florida, O'Neil worked for six years as as a police, courts, government and investigative reporter at The St. Petersburg Times (now called The Tampa Bay Times.).
"I tell Deborah she is an artist with words," Solà-Trautmann said. "She can paint a story with her writing."
O'Neil has a lifelong interest in religion and spirituality, a topic that threads through her academic and journalistic work. She is a devoted practitioner of yoga and went through the demanding training to be certified as an advanced instructor while running the magazine.
Her 2002 coverage of the Church of Scientology for The St. Petersburg Times was nominated for a Pulitzer Prize in investigative and explanatory journalism, won the prestigious Gerald Loeb Award and was selected for inclusion in Vintage Book's 2003 edition of The Best Business Stories of the Year.
She left the newspaper in 2002 to pursue her interest in religious studies and earned a masters degree in religion at FIU's Latin American and Caribbean Center. The administration got word that a prize-winning journalist was enrolled as a student, and in 2004 she was recruited to serve as a university writer. She soon became editor of the magazine and speechwriter to former FIU President Modesto A. Maidique.
Her most ambitious project for the magazine was an international reporting project following FIU researcher Tudor Parfitt as he explored the claims of a tribe in Papua New Guinea that it was one of the lost tribes of Israel. She traveled there with Parfitt, Tim Long and a group of four students and chronicled the entire experience in a special print and online package that remains one of the magazine's best-read stories.
"For more than a decade, I got to help shape the voice of FIU: all of its aspirations and accomplishments, stumbling and soaring," O'Neil said. "I am a graduate, a one-time journalism instructor, a staff member, and I married an FIU professor. My FIU roots go deep, and I got to pour all of that perspective and love into the magazine."
Advisory board member Fain said O'Neil was constantly looking for ways to improve the magazine. An alumnus of three colleges, Fain got into the habit of sending her issues of his other alumni magazines. "She loves learning from other magazines to make FIU's better. Her goal was the make it one of the best alumni magazines in the country, which she accomplished."
Fain said he has only one criticism of the magazine: "That they don't print enough copies and put it in enough places. It's a product to be very proud of. It shows the full dimensions of the university."