FIU offers hope, help to former foster care, homeless students
December 21, 2015 at 12:00am
---
Vanessa Morales remembers packing up hundreds of care packages with food, toiletries and clothing for students in need at FIU. What her fellow volunteers at Baptist Collegiate Ministries did not know was that Vanessa desperately needed a care package herself.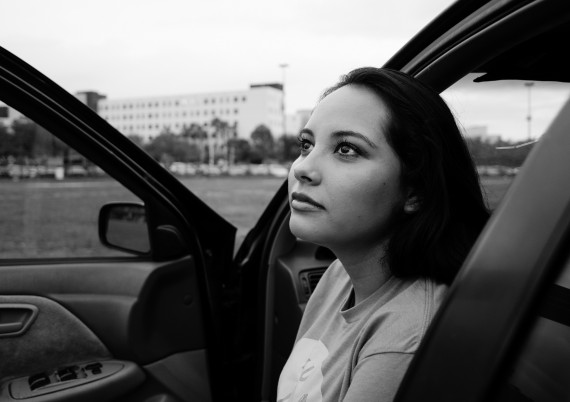 For two months, Morales, a junior at FIU studying elementary education, had been living in her car in the parking lot of the student health center. She showered at the FIU gym and ate food from the Fresh Food Company, where she worked, given to her by a kind supervisor. She never told the supervisor she had no place to live. She thinks the woman just sensed that she could use some help.
Morales never wanted to think of herself as homeless. She called herself a "nomad."
"People expect a homeless person to look all dirty,'' she said. "But any student you pass by, they could be homeless and you'd never know it.''
Morales, now 21, found herself with nowhere to live after her parents divorced and her father, unemployed, drinking heavily and in a deep depression, told her she had to move out to make room for his new girlfriend. Her stepmother was diagnosed with cancer and unable to help. Her extended family lived in Costa Rica.
She never asked anyone for help because she figured there were plenty of people facing worse circumstances.
She didn't want to think of herself as a beggar, or worse, hopeless.
A national trend
In any given semester at FIU, there are dozens of students with similar stories – living on the streets, in cars or shelters, or abandoned by those who were supposed to protect and care for them.
Some have suffered abuse or neglect and bounced from one foster home to another; others have suffered the loss of a parent, landing them in state custody or, if they are 18 or older, on their own.
One student slept outside the Frost Art Museum for several days until an FIU advisor helped him find housing.
The struggles of homeless and former foster care youth in higher education is a national issue that advocates say is finally getting the attention it deserves.
More than 30 states, including Florida, now provide scholarships, grants or tuition exemptions to foster care youth who have "aged out" of the system and want to go to college. A federal program provides up to $5,000 annually to those who enroll in college.
Students who are homeless are also eligible for free tuition and fee waivers at state colleges and universities, though the process to prove homelessness can be daunting.
Still, experts say the needs of students who have endured so much so early in life run far beyond the financial.
Lacking a solid support system, they struggle to navigate the bureaucracies of higher education and financial aid. Many need help academically to succeed at the college level. Others suffer from mental or emotional problems brought on by childhood trauma.
FIU is one of a growing number of universities and colleges in the country working to create a more holistic solution, built around addressing all of a student's needs, whether academic, physical, emotional or mental.
The university's Fostering Panther Pride program offers former foster care and homeless students a safety net throughout their college years.
The program is winning praise from advocates in Florida and around the country.
"When you have a young person who has been mistreated, neglected or abused, you've got to provide them with a supportive community so they can succeed,'' said Brett McNaught, CEO of Educate Tomorrow, a Miami-based nonprofit that provided an initial $35,000 to fund FIU's program. "Getting an academic institution like FIU to focus on this population is a game-changer.''
National experts – who are working to identify what works and what doesn't at colleges and universities around the country – agree and say FIU is on the right track.
"The research has shown that these kids are not going to college and if they do, once there, they have trouble succeeding,'' said John Emerson, a postsecondary education advisor with Casey Family Programs. "So while scholarships are important, it's not enough."
Launched in November 2013 by FIU's Office of Engagement, Fostering Panther Pride combines the one-on-one guidance of a dedicated success coach with mentoring, academic and financial assistance and a network of outreach focused on everything from study skills and internships to balancing a checkbook and preparing a resume.
Struggling to succeed
The challenges – and the numbers – are daunting. In Fall 2014, FIU estimated there were more than 80 former foster care and homeless youth enrolled at the university. The latter were "couch-surfing" with friends, doubling up with other families, or living in shelters or their cars. Nearly a third of the students were on academic probation with GPAs of less than a 2.0.
University records that indicate whether a student has been granted a tuition exemption make it possible to identify those coming from foster care or who might be homeless. The real challenge is reaching the students to provide the help they need.
Professors, even close friends, often have no idea of their struggles. Students hesitate to be labeled or linked to anything that might identify them as homeless or from foster care.
"These are kids who have traveled a long way through valleys most people will never see,'' said Kirk Brown, the director of extended foster care for the Florida Department of Children and Families. "It's up to us to get them to the end.''
---
Read students' personal stories: Homeless students find open doors at FIU
---
Without intervention, the odds of success are not in their favor. Nationally, fewer than 10 percent of former foster care youth enroll in college and fewer than 3 percent make it to graduation.
Florida – and Miami-Dade County – are at the epicenter of the problem. The state has the third highest foster care population in the country – nearly 20,000 children in 2012. Of these, more than 4,800 live in Miami-Dade.
The county also has the largest number of homeless children in the state – more than 6,400 in 2012-13, including those in shelters, hotels, cars, parks or "doubled-up" with other families.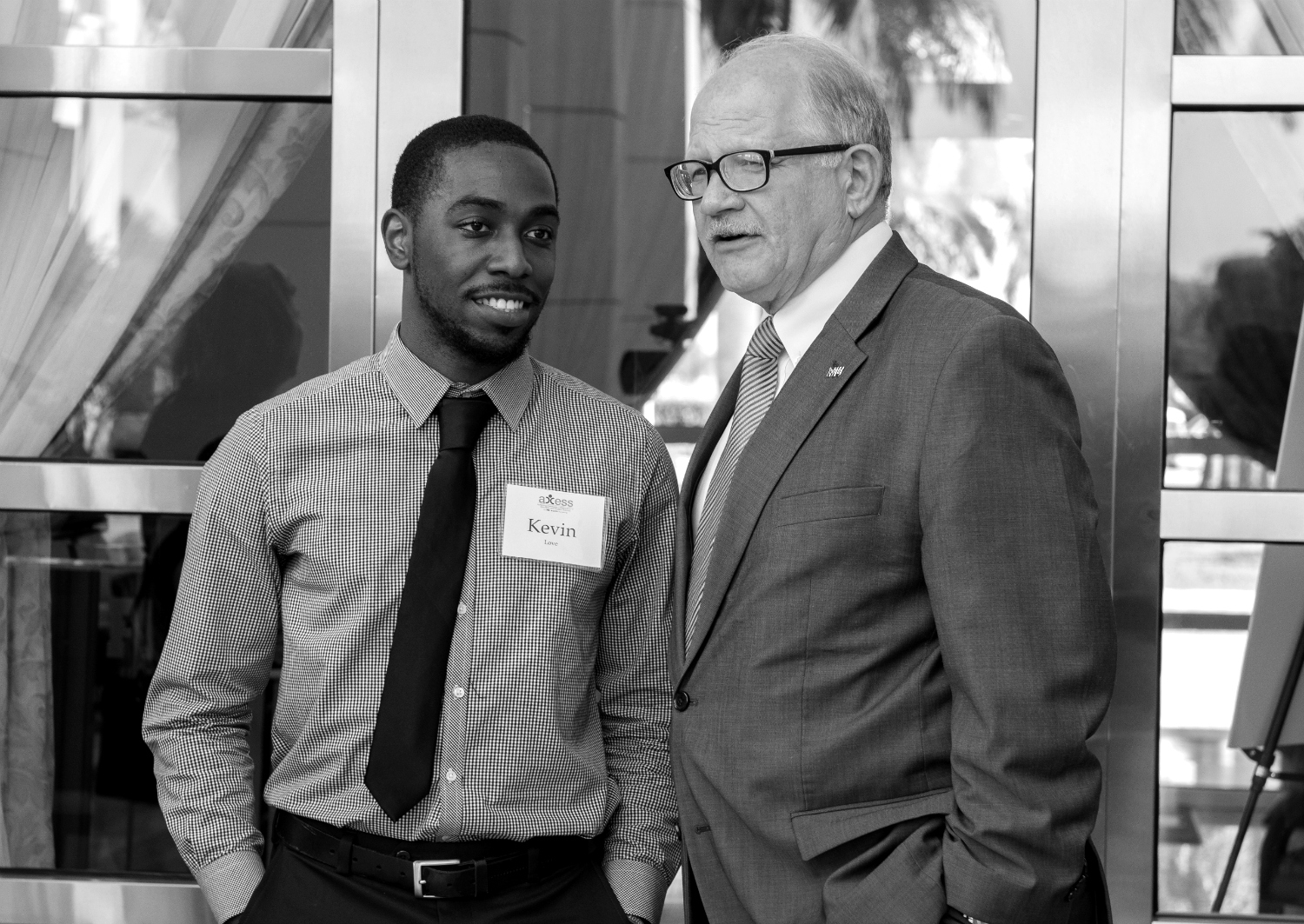 "For some of these kids, school is the only consistency in their lives,'' said Debra Albo-Steiger, program manager for Project UPSTART, the homeless education division of Miami-Dade County Public Schools. "Against all odds, they get their high school diploma, so we want to ensure they are able to go to college. What's happening at FIU is very exciting."
Overcoming the odds
Despite the obstacles, the success stories at FIU are plentiful – even incredible.
At 15, Kevin Love watched as every member of his immediate family – his mother, sister and two brothers – were locked up.
He ended up in foster care and though he went through periods of hopelessness, several role models helped him find his way to FIU, where he became a resident advisor, joined a fraternity and was accepted into the Order of Omega Greek honor society.
Love graduated in spring of 2015 with a degree in civil engineering and accepted a position with the construction firm of Moss & Associates. He wants to use his experience to show others that they, too, can find success.
"The kids I used to know are out selling drugs and getting into fights,'' he said. "I want to use what I've been through to help push other people in the right direction. There's no use having a story if you don't use it for something good.''
Kenya Adeola, recognized as a "Worlds Ahead Graduate" at commencement in the spring of 2015, lived in nine different foster homes by the time she was 18. She refuses to let that experience define her.
Getting an education – and breaking the cycle of drug addiction and abuse she was born into – has been her number one priority.
"I had a period where I was very angry, very depressed,'' said Adeola, who earned her degree in Spanish. "School became my only outlet. I knew that, if I didn't do it for myself, who would?''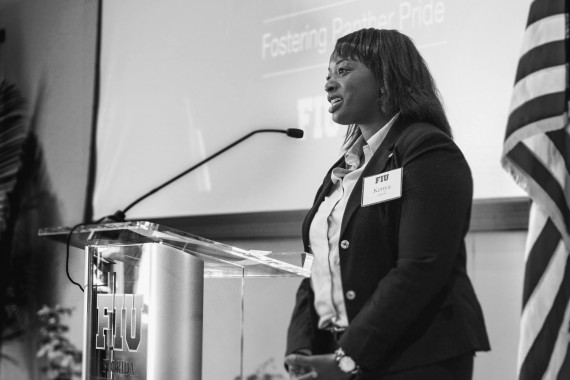 At FIU, Adeola was a peer advisor, a member of the homecoming committee and participated in Academy of Leaders. This summer, she completed two internships in Washington, D.C., one as a legislative aide to Sen. Tim Scott, the other for the Congressional Coalition for Adoption Institute, where she helped draft policy for children in foster care.
"These are students who refuse to let their circumstances define them,'' said President Mark B. Rosenberg, who has touted what he calls FIU's "super stars" on television, in speeches and at commencement.
"What they have seen – and overcome – is a testament to their strength and resilience. We don't take credit for their success. But we are committed to supporting them in whatever way they need."
Support for FIU's program – from the private, nonprofit and public sectors – has been considerable. In addition to Educate Tomorrow, the Miami Foundation, the Miami Coalition for the Homeless, Voices for Children and UPS Foundation all stepped forward with funding to launch the program. Helping Abused, Neglected and Disadvantaged Youth (HANDY), a nonprofit based in Fort Lauderdale, and Our Kids of Miami-Dade/Monroe have helped with planning and referrals.
FIU alumnus Chad Moss '94, a board member at HANDY and mentor to a former foster care student at FIU, has committed $10,000 per year for five years for students from the program who are first in their families to attend college. The state matches those dollars for a total impact of $100,000.
"I view this as an investment in lives,'' said Moss, a member of the FIU Foundation Board of Directors. "I firmly believe in early intervention in youngsters' lives to show them there is a ladder to a better way of life.''
In a major milestone for the program, the state Legislature this year allocated a recurring commitment of $300,000 annually to fund housing and other assistance.
One anonymous FIU employee donated $10,000 to cover the cost of on-campus housing and meals for one student this year.
"It's overwhelming what this program has done in a very short time,'' said Janie Valdes, assistant vice president of undergraduate education, who oversees the program. "Much of that is due to the uber-commitment of our staff. And the work of Ana Ramos.''
Ramos, the program's success coach and a former teacher and social worker from Honduras, is the heart of Fostering Panther Pride. Hers is a dedicated, fulltime position focused solely on helping students navigate the myriad services for which they may be eligible, both inside and outside the university.
"I clear the path for them,'' Ramos explains. "Whether it's housing, financial aid or food stamps, I help them meet their needs so they can graduate on time. I can't work harder than they work, but I can help them make a plan and prioritize what's most important."
Douglas Robertson, dean of undergraduate education, has described Ramos as the "earth mother" of Fostering Panther Pride.
"The university has lots of tools to help students succeed – some high tech and some high touch,'' he said. "For these students, Ana Ramos is a lifeline to all of that.''
That lifeline can mean the difference between persevering – and giving up.
"It's hard enough for students with family support to navigate the system of higher education,'' said Charisse Grant, senior vice president for programs at the Miami Foundation, which provided an initial grant of $15,000 for FIU's program and has committed another $25,000 this year. "To attempt to create that kind of a support in a university setting is really significant."
Working for change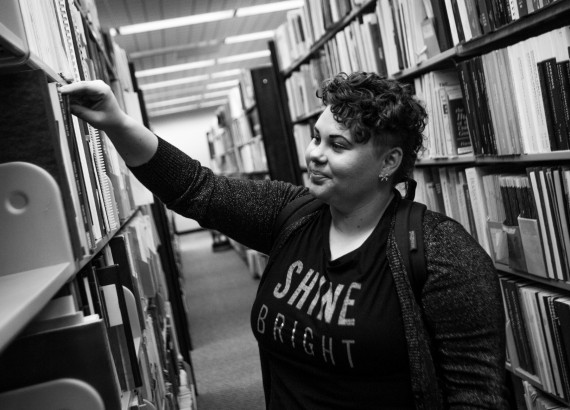 With the right support, students who have faced the worst circumstances can succeed. Students in Fostering Panther Pride are demonstrating that.
Ashley Hunter, a senior majoring in psychology, lived in six different foster homes after the state removed her from her father's care when she was in elementary school. Both her parents were addicted to drugs. Her father is now in prison.
Hunter came to FIU from Miami Dade College in January 2014 and said she felt alone and scared. Soon she met Ana Ramos and the team at Fostering Panther Pride.
"Kids in foster care are often overlooked,'' Hunter said. "We're on our own, so having that extra support, someone you can call when you have a question, is so important.''
For Christian Aguilar, attending FIU has brought more stability to his life than he's had in years. After his mother died, he bounced from one relative to another before landing in foster care at 17.
At 18, while still a senior in high school, he found an apartment with a co-worker and thought his situation was turning around. Then, outside his Kendall apartment late one night, he was shot in the stomach by three masked gunmen in an attempted carjacking. He spent two weeks in the hospital and another couple months recuperating. His attackers have not been caught.
"It was surreal,'' said Aguilar, who with the support of Educate Tomorrow managed to graduate high school and enrolled at FIU in Fall 2014. "It's a miracle that I'm alive and I'm here for a purpose.''
Though he has struggled academically, he said he knows that Fostering Panther Pride is there to support him. "I'm not going to give up," he said, "and I know they aren't giving up on me.''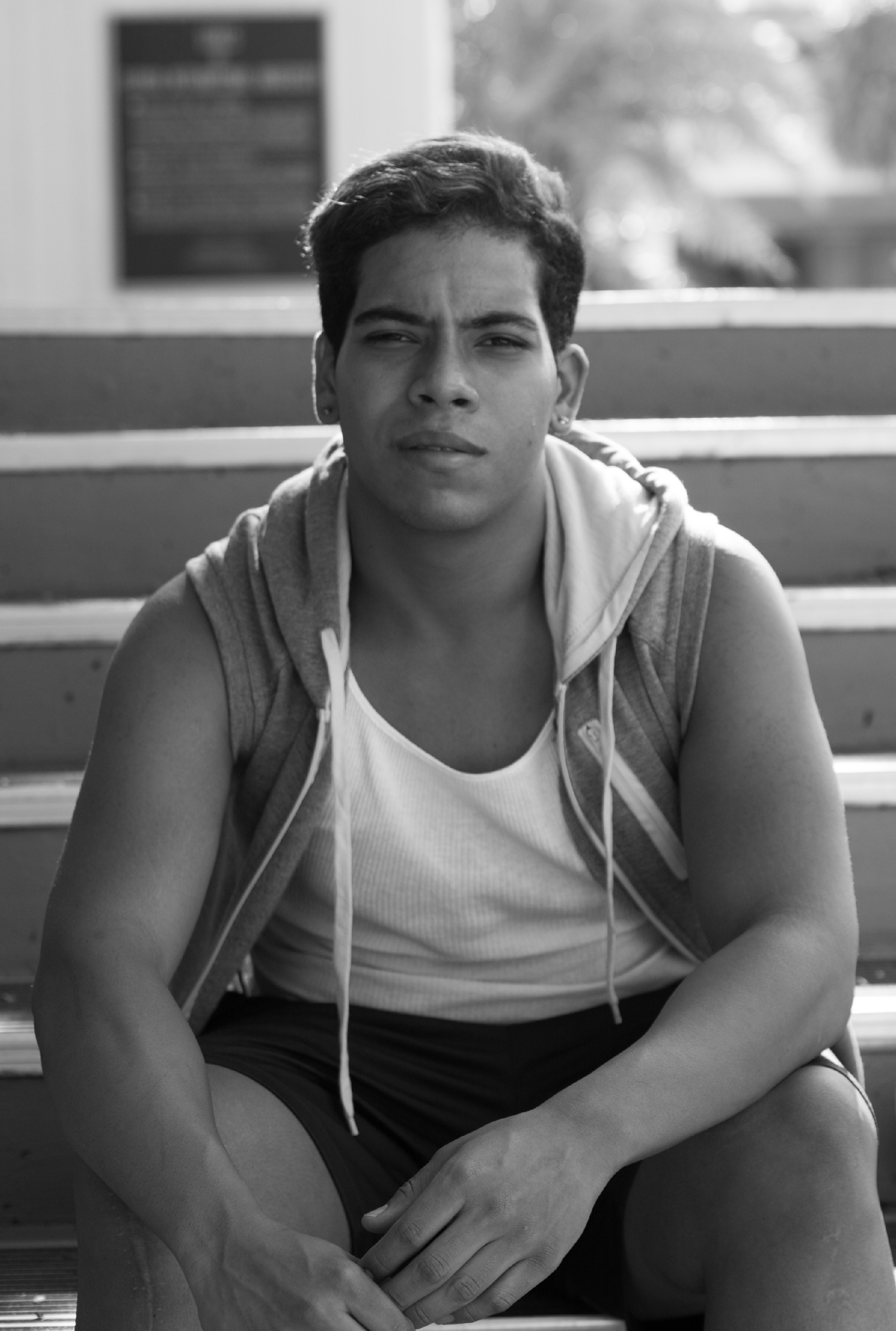 Researching how students succeed
Just as essential as the services FIU is providing is research to document results, experts say.
"Collecting data on the impact these programs have on student progress and retention is critical to their sustainability,'' said John Emerson, a postsecondary education advisor with Casey Family Programs. "Funders want to see results.''
A portion of the state dollars for Fostering Panther Pride will fund faculty and student research into former foster care and homeless youth. In addition, the university is tracking grades, retention and graduation statistics, as well as employment and enrollment in graduate or professional school.
"Our vantage point as a research university is that we have an opportunity to engage our faculty who are either already doing original research on these underrepresented populations or are interested in doing so,'' said Janie Valdes, assistant vice president of undergraduate education, which oversees Fostering Pather Pride.
"There is no doubt in my mind that the findings will further inform how best to support our students, as well as make a significant contribution to the existing literature,'' said Valdes. "At the core, our faculty are adding a puzzle piece that no one else can add."
"For these are all our children, we will all profit by, or pay for, whatever they become."
— James Baldwin
For more information on the Fostering Panther Pride program, click here or contact Ana Ramos at 305-348-6106 or by email at anramos@fiu.edu. To make a donation, click here.