The summer before her senior year of high school, a crippling medical condition changed Jazzmin Peluchette's life. She was driving home from a summer class at FIU when she felt a sharp pain in her chest, which put her in the hospital.
The doctor gave her pain medication, but then she had a seizure that knocked her unconscious.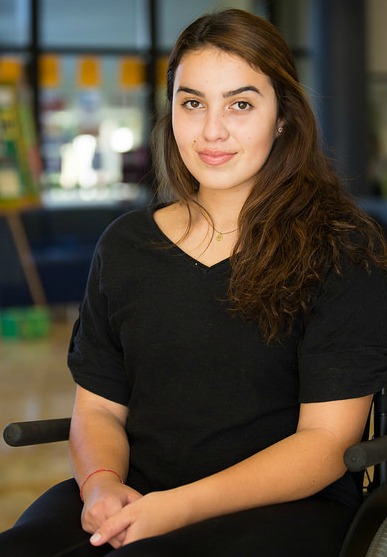 A spinal tap revealed she had Neuromyelitis Optica, an autoimmune disease that attacks the nervous system and is particularly aggressive in young people.
After four months in the hospital, she began to regain her vision and some upper-body mobility, but she would be confined to a wheelchair the rest of her life.
Staggering medical bills threatened Peluchette's dream of attending college, and she found herself nominated for the Miami Herald's "Wish Book Project," a section of the newpaper that runs in November and December and features members of the community in need of assistance.
Peluchette was already familiar with FIU, where she had taken a summer class on campus as part of a high school-based dual-enrollment program that earned her an associate's degree from the university.
FIU's Honors College immediately took an interest in the determined Peluchette and quickly set about coordinating a scholarship and housing for her in Everglades Hall.
"My first day in college, I don't think my parents slept a wink," Peluchette said. Soon however, their fears were allayed. "When I came to FIU, we just felt more at ease the second we got here. FIU is always very welcoming."
Peluchette, who is now a sophomore studying finance, said everyone here from the janitors to the faculty is always willing to help her without her having to ask.
Peluchette is not the only "Wish Book" nominee in whom the Honors College has taken interest.
Dean Lesley Northup reads the Wish Book stories to scan for stories of high school students with great potential but also great need. When she sees one that appears a fit with the Honors College, her first reaction is "We can fix that." With a little more research and conferring with staff, she finds out what is possible.
"Like FIU, we in Honors consider ourselves a solution center," Northup said. "This works both ways: We can solve a problem for these special students, and by coming to Honors and FIU, they help us build a college of hard-working, motivated students."
"And heck," she said, "it's just the right thing to do."
Online access for the community do-gooder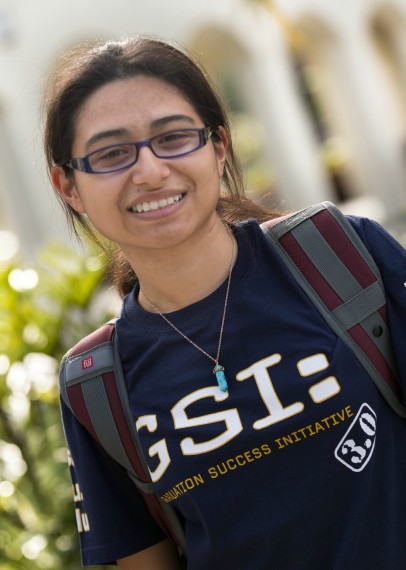 Stephanie Flores, a freshman majoring in biology and education, appeared in a Wish Book story because she needed a computer and Internet access at home. The Honors College reached out to her last year, offering her a laptop and a grant to pay for Internet.
As a student at Southridge Senior High School, Flores spent her evenings, weekends and holidays in the school office using the computer to complete her class assignments because she didn't have one at home.
Despite the pressure from her assignments, Flores managed to clock over 2,500 hours of community service through the Parent-Teacher Association, recruiting students for volunteer work. But being so involved in high school left Flores no extra time to get her license, so her dad now drives her to and from FIU everyday for class.
Since many of her assignments are on BlackBoard.com, the university's online-campus platform, having Internet at home makes her family's lives much easier.
"Now I don't have to say so late at school, and I have easy access at home when I don't have time to go to the university," Flores said.
Flores, who is the first in her family to attend college, said the Honors College surprised her with its generosity.
"In the Honors College, I made some new friends," Flores said. "It's challenging, but it's interesting."
Scholarship for a robotics wiz
Even prospective FIU students, like Nathan Hagood, have benefitted from the Honors College's outreach through Wish Book.
Hagood is a senior at North Miami Beach High School who hopes to study engineering and computer science at FIU in the fall.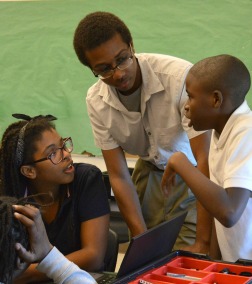 He was one of the first students in the Miami-Dade County Public School District to be certified in LabVIEW, a system-design platform for programming, and he works with engineering and design programs like AutoCAD and Dream Weaver.
His love for engineering and robotics stemmed from an interest in gaming and programming in middle school.
In high school, he joined the high school robotics club and built robots for competition for three years before the program lost funding.
"Basically, I had a passion for it," said Hagood, which is why he now spends his free time teaching younger students how to build robots using Legos.
The Honors College contacted Hagood last year after seeing his "Wish Book" article in the Miami Herald, offering him a scholarship and entrance to the Honors College, pending receipt of his ACT scores.
"I just couldn't believe that one article in the Herald got him noticed like that," said Hagood's mother, Kathleen, 44. "I was ecstatic."
How does Hagood feel about the prospect of entering FIU as a member of the Honors College?
"I always like a challenge," he said.