By JoAnn Greco
Last summer, some 35,000 visitors each week streamed to a previously forlorn patch of Philadelphia waterfront rejuvenated by a placemaking initiative that emphasized the fast, the cheap and the temporary. They sprawled in hammocks suspended over the water and dined on a flotilla of barges that had been repurposed into a verdant setting in which to enjoy brews and burgers. Landscape architect David Fierabend MLA '06 says he considered both the site's context and its intended users as he transformed the space.
"You can start with a concept and some rough design ideas, but none of that is important if it isn't organic to the site," he says. "This was an underutilized space which had great bones: a small harbor area, mature shade trees and gentle slopes. I let those dictate the end use. For example, the hammocks and floating barges extended the park onto the water, while the shipping containers reflected the fact that the Delaware is still an active shipping channel."
It's fair to say that the project — called Spruce Street Harbor Park — has proved to be Fierabend's greatest success. As principal and founder of Groundswell, which has offices in Philadelphia and New Jersey, the 55-year-old Fierabend juggles projects that range from converting a 1940s Bay Area naval aircraft hangar into a distillery to repurposing a derelict Philadelphia alley into a neighborhood gateway.
He's usually found dressed in chukka boots and jeans, but he brands himself a "lifestyle designer," which sounds like he should be wearing a suit and coaching folks through transitions in their personal lives.
What he's really getting at, though, is the recognition that "sights, sounds, smells, and textures all call to mind different thoughts, emotions, memories, and ideas." It's an understanding he traces to a successful stint in retail that resulted from a series of "weird meetings and random happenings."
Back in the early-'80s, he was a recent college grad from central New Jersey brandishing a marketing degree that he wasn't sure how to leverage. A chance encounter with the owner of a high-end clothing boutique lured him from the executive training program at Macy's. "She was like Auntie Mame, she drove a Rolls, she draped herself in furs," he smiles. "I thought, hmmm, this could be for me."
Soon enough, "she had me picking fabrics and colors — I guess I tapped into some unknown passion because what I picked, sold." It was there that Fierabend first recognized the value of appealing to all of the senses. "People enjoy that kind of curated experience across the board, in any design," he says, "whether it's display merchandising or landscape architecture."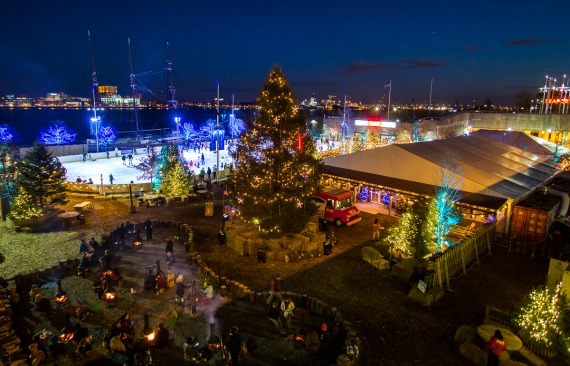 When the owner retired, Fierabend assumed the store's inventory and expanded to some 20 stores along the East Coast. "Things just grew organically," he remembers, brushing back a shock of gray hair.
Eventually, the chain's made-in-America concept became diluted as hometown mills shut down and manufacturing shifted abroad. Fierabend began closing stores as their leases came up and, at age 42, found himself in search of a new path. He remembered how he had loved watching his father cultivate the family's rose bushes. He thought about how much he enjoyed gardening at his own home in Newport, Rhode Island. And, he came across an article about landscape design.
Back to school, he would go.
Researching graduate programs in the field, he honed in on FIU. "It was sunny, warm and had a brand new school of architecture," Fierabend says, referring to FIU's completion in 2003 of the signature Bernard Schumi-designed building that houses the now-35-year-old School of Architecture. Once on campus, he was reinvigorated — and reinvented. "I had so many inspiring instructors," he recalls. "Maya Lin, Andres Duany, people from Arquitectonica." Their varied disciplines and courses fostered an interest in public space that has since become central to his work. A studio class brought him to work on a master plan for a gated community in Peru, while his master's thesis, completed in Dec. 2006, saw him re-envision a Frederick Law Olmsted-designed park in Trenton.
In 2006, just before he graduated, Fierabend received an invitation to contribute to Quark Park, a conceptual garden in Princeton devoted to the wonders of science. It set him on a path of collaboration with other designers and artists that he still pursues. And, its accolades quickly translated into commissions for Fierabend to design residential gardens in New Jersey's toniest towns, such as Princeton and Newport, with which he was already familiar.
From there, forays in the public realm followed; first to design restaurants with significant outdoor components like one whose garden was adorned with repurposed pipes and reclaimed wood. Larger canvases followed, such as Spruce Street Harbor Park and then a riverfront ice skating rink, tricked out with a complete apres-ski environment of fire pits and haystack "sofas."
It's been a whirlwind, but Fierabend's personal life remains tranquil. He lives in a log cabin with his long-time partner on 14 pastoral acres in central New Jersey, where he indulges in gardening, his "favorite form of meditation," and thinks and draws and putters.
Inspiration, he says, is all around. "Whether it's the feel of an everyday material or the reflection of light through a window or the sound of laughter, I think about how I might remake it and bring it to other people."
JoAnn Greco is a freelance journalist based in Philadelphia.